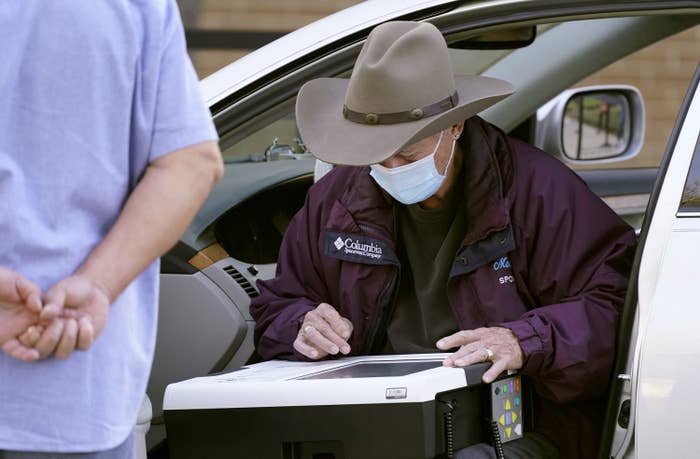 WASHINGTON — The Texas Supreme Court on Sunday rejected an effort by Republicans in the state to halt drive-thru voting and invalidate more than 100,000 ballots already cast in the state's most populous county, Harris County.
The court's one-line order doesn't end the fight over Harris County's efforts to expand the ways that residents can vote during the coronavirus pandemic — the challengers, a group of Republican state lawmakers and registered Republican voters, still have a lawsuit pending in federal court seeking to get the ballots tossed out. The judge in that case has set a hearing for Monday.
There are 10 drive-thru voting sites in Harris County, which covers Houston, and each is next to a standard indoor polling location, according to the county's court papers. Early voting began on Oct. 13, and as of Oct. 29, more than 117,000 county residents had voted at a drive-thru site; county clerk Chris Hollins estimated that more than 135,000 people would cast ballots at one of these sites through Election Day.
The Republican challengers had tried before to stop drive-thru voting in Harris County, filing a petition with the Texas Supreme Court in mid-October; the court rejected that effort as well. This go-around, they argued that the drive-thru voting sites were prohibited by state election law.

The county had argued that state law explicitly allowed polling sites to be located "in a movable structure," and that the metal-framed tents that the county was using to accommodate voters in their cars to vote satisfied the law's requirements. They included photographs in their brief that showed voters sitting in their cars in lines waiting to vote and cars pulling up to large white tents where people could cast ballots.

Susan Hays, a lawyer for Harris County, told BuzzFeed News in an email that they were "pleased the Court recognized how absurd the state election law arguments were."

"Drive-thru voting is legal under Texas law. And, lawsuits brought to disrupt elections near or during an election should be promptly denied," Hays wrote.
Jared Woodfill, a lawyer for the challengers, wrote in an email to BuzzFeed News that they were considering petitioning the US Supreme Court to get involved.
"Tomorrow we will be in front of a federal judge who will have an opportunity to review the federal claims we have asserted. It appears that Hollins is not only breaking the law, but has failed to properly record the drive-thru votes, leaving drive-thru voters uncertain as to whether their votes will be counted," Woodfill wrote.
Federal courts are not bound by rulings from a state supreme court, but federal judges traditionally defer to interpretations of state law by their state court counterparts. In the federal case challenging drive-thru voting in Harris County, which is before US District Judge Andrew Hanen, lawyers for national Democratic party organizations and US Senate candidate MJ Hegar, who is running against Republican Sen. John Cornyn, have asked to intervene to support Harris County.
"Plaintiffs ask this Court to throw Texas's election into chaos by invalidating the votes of more than 100,000 eligible Texas voters who cast their ballots at drive-thru voting locations at the invitation of county officials and in reliance on the Texas Supreme Court's decision to allow drivethru voting to proceed. Plaintiffs' request is wholly unreasonable and should be rejected outright," lawyers for the Democratic groups wrote in a brief filed on Saturday.
Harris County, which has a population of nearly 5 million people, has taken a number of steps to make it easier for residents to vote during the coronavirus pandemic. Last week, it kept some polling locations open for 24 hours to try to accommodate more voters. By the time early voting ended in Texas on Friday, the number of ballots cast surpassed the total number of Texans who voted in the 2016 general election, according to the US Election Project.