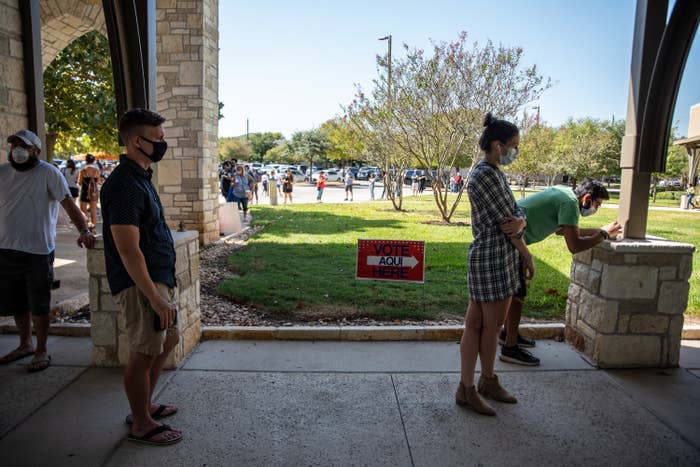 WASHINGTON — A federal appeals court ruled on Friday that Texans will not be required to wear a mask to vote or to work at a polling location if they don't want to.

The US Court of Appeals for the 5th Circuit granted Texas's request to block an injunction entered by a federal judge in San Antonio who had ruled that the state's mask exemption for polling sites imposed a "discriminatory burden" on the voting rights of Black and Latino voters.
Nearly every state will allow people to cast ballots in person even if they refuse to wear a mask, according to a nationwide survey of state practices by BuzzFeed News, but voting rights groups and Texas voters took Texas to court for explicitly carving out polling locations from the state's mask rules.

The appeals court found that Texas Gov. Greg Abbott and Secretary of State Ruth Hughs were likely to win their argument that the lower court judge had "improperly altered election rules on the eve of the election."
"[T]he Governor and Sectary's unrebutted evidence establishes that changing the election rules in the midst of voting would create disparate treatment of voters, and significant confusion and difficulty for voters and poll workers," the three-judge panel wrote.
BuzzFeed News has journalists around the US bringing you trustworthy stories on the 2020 Elections. To help keep this news free, become a member.
The Texas attorney general's office presented the court with evidence from county election administrators who said that requiring masks "would cause voters
to become angry and confused, and it would slow down our ability to run ... polling places" and would require local election officials to quickly train poll workers about what to do if voters showed up without a mask. A state election official said there wasn't time to do statewide training and voter outreach.
The mask mandate issued by Abbott includes an exemption for people who are "voting, assisting a voter, serving as a poll watcher, or actively administering an election." In an Oct. 27 order, US District Judge Jason Pulliam cited evidence presented by the challengers that given the higher risks that Black and Latino individuals faced from COVID-19, the disease caused by the novel coronavirus, the exemption likely violated the Voting Rights Act.
"[A]ny disruption is outweighed by the racially discriminatory deterrent effect on Black and Latino citizens' fundamental right to vote," Pulliam wrote.
If you have a news tip, we'd like to hear from you. Reach out to us via one of our tip line channels.
Texas immediately appealed to the 5th Circuit, and a three-judge panel temporarily paused Pulliam's order while it considered whether to block it in time for Election Day. The order from Chief Judge Priscilla Owen and Judges W. Eugene Davis and Leslie Southwick was "per curiam," which meant no one judge was listed as the main author.
Although the party of the president who appointed a judge can sometimes be an indicator of how they'll rule on politically contentious issues, that's not always the case — the three 5th Circuit judges involved in Friday's ruling were nominated by Republican presidents, but Pulliam, one of President Donald Trump's nominees, was, too.