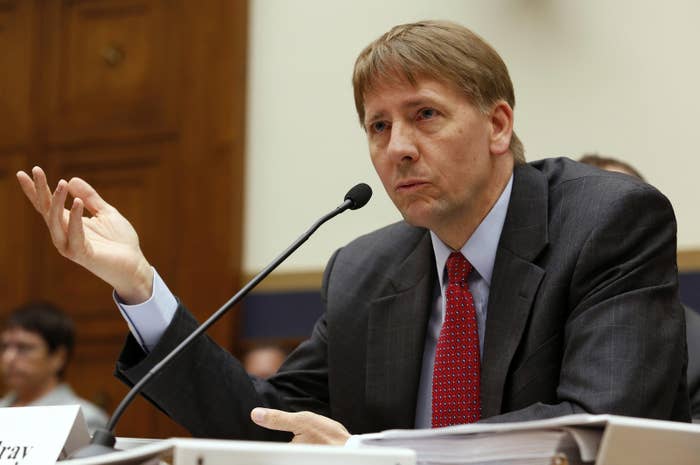 WASHINGTON — State attorneys general, Democratic lawmakers, and advocacy groups cannot join an ongoing lawsuit in their attempt to defend the independence of the Consumer Financial Protection Bureau — an agency that they fear could be gutted under President Trump.
A federal appeals court denied the three requests to intervene in the pending lawsuit challenging the constitutionality of the bureau in a brief order on Thursday. If the current ruling in the case stands, Trump would have an easier time removing the head of the bureau.

The would-be intervenors asked to join the case amid concerns that the Trump administration would drop the government's defense of the agency in court. Under President Obama, the US Department of Justice and the agency fought against challengers who argued — successfully so far — that the CFPB's single-director structure was unconstitutional.
In a one-paragraph order on Thursday, a three-judge panel of the US Court of Appeals for the DC Circuit denied intervention requests filed by a group of state attorneys general, Sen. Sherrod Brown and Rep. Maxine Waters, and a coalition of civil rights and consumer protection groups. The judges did not give a reason for their decision.
The same panel in October found that the bureau's structure was unconstitutional because the president had limited authority to remove the sole director. If that decision stands, it would be easier for Trump to remove Richard Cordray, Obama's CFPB head, if he wants to do so. Republicans have opposed the bureau since it was created as part of the Dodd-Frank financial reform package in 2010.
The bureau's lawyers asked a full sitting of the DC Circuit in November to reconsider the panel's decision, a move that the Justice Department under Obama supported. It's not clear yet whether the Trump administration will take steps to drop that challenge.
In the week after Trump's inauguration, Democratic state attorneys general and other groups went to court to attempt to intervene in several cases where they feared the new administration would change course. Intervention requests are pending in cases that deal with the environment, sex discrimination, and the regulation of for-profit colleges.