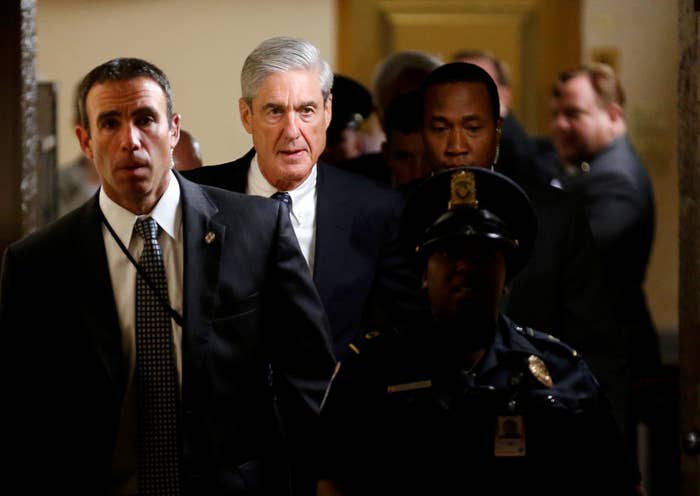 The federal government on Monday braced for the first work week of the shutdown, but for the team of lawyers investigating Russian interference in the 2016 election, it was business as usual.
Special counsel Robert Mueller's office, which is funded through a permanent, indefinite appropriation, will continue to operate during the shutdown. A spokesperson for the special counsel's office confirmed to BuzzFeed News Monday morning that the office is open and people are showing up to work.

The permanent, indefinite appropriation funds not only the special counsel office's operations, but is also used to reimburse other Justice Department sections that support the special counsel's work. It was not immediately clear if any offices that support the special counsel team would be affected by the shutdown. The special counsel's office referred questions about funding to the main Justice Department press office; a spokesman did not immediately return a request for comment.
Ty Cobb — the White House lawyer representing Trump in connection with the Russia probe — declined to comment on whether he would be affected by the shutdown; a White House spokesman did not immediately return a request for comment. John Dowd, the president's lead private attorney on the Russia investigation, told BuzzFeed News Monday morning that he didn't know Cobb's status.
The federal judiciary has enough money on hand to stay open through Feb. 9, according to a Jan. 17 memo from the director of the Administrative Office of the US Courts. That means the courts can pay not only employees, but jurors and grand jurors.

A large number of Justice Department employees will be exempt from furlough, according to a contingency plan the department adopted in September for the 2018 fiscal year. Of the more than 114,000 employees on board as of early September, 83%, or about 95,000, would be excepted from furlough during a shutdown.

"A significant portion of the Department's mission relates to the safety of human life and the protection of property, and primarily for this reason, the Department has a high percentage of activities and employees that are excepted from the Anti-deficiency Act restrictions and can continue during a lapse in appropriations," Justice Department spokesman Wyn Hornbuckle told BuzzFeed News in an email.
Some Justice Department employees would also still work during a shutdown because their positions are funded through multiyear or no-year appropriations.
The Justice Department tweeted Monday morning that it would not "regularly" update the @TheJusticeDept account "due to the lapse in appropriations."