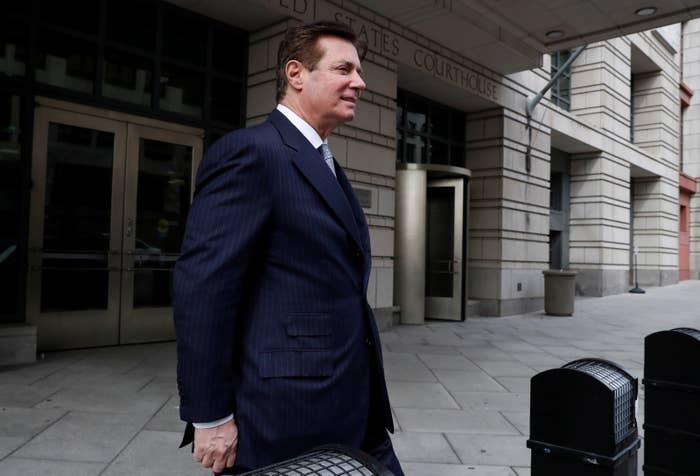 Special counsel prosecutors say they have uncovered new evidence of alleged criminal activity by former Trump campaign chair Paul Manafort, according to a newly unsealed court filing Friday evening.
Lawyers from special counsel Robert Mueller's office wrote that they had learned new information about Manafort since the judge first ruled on a bail package that would allow him to leave home confinement, and were opposing Manafort's bid to modify those terms of release.
"That criminal conduct includes a series of bank frauds and bank fraud conspiracies," prosecutors wrote, including criminal conduct related to the mortgage on one of the properties that Manafort said he would agree to forfeit if he failed to show up to court.

Bank fraud was not part of the indictment returned by a federal grand jury against Manafort and his longtime associate and former senior Trump campaign official Rick Gates in late October. As of Friday evening, no new charges had been filed against Manafort or Gates on the public docket. Prosecutors wrote in the redacted document made public Friday that they were prepared to present the new evidence they had found at a future bail hearing for Manafort.
Manafort and Gates were charged with conspiracy to launder money, failing to report overseas bank accounts, failing to register as agents for foreign entities, and making false statements. Both pleaded not guilty, and Manafort has sued the Justice Department and Mueller, challenging the validity of Mueller's appointment as special counsel.
Since the indictment, the case has been tied up in fights over Manafort and Gates's conditions of release. They were both placed under home confinement at their first court appearance on Oct. 30, and spent the following months trying to have that house arrest lifted.
US District Judge Amy Berman Jackson ruled in mid-December that Manafort could go free if he met certain conditions, including agreeing to forfeit four properties if he failed to come to court, and living in Florida, abiding by an 11 p.m. curfew, and needing the judge's approval to travel elsewhere in the United States. But Manafort did not file the required paperwork to fulfill the judge's order, and Friday filed a redacted version of a request he originally filed under seal dated Feb. 9 seeking to modify the judge's conditions.
Manafort's new request proposed putting up several different real estate properties, which he said were jointly valued at $10.05 million, and living in Alexandria, Virginia, instead of Florida. Jackson's December order required Manafort's wife and daughter to serve as sureties and certify that they had $7 million in cash or securities on hand in case the value of the real estate was less than $10 million, but Manafort in his new proposal asked to remove the surety requirement.
Manafort's latest proposal prompted a response from Mueller's team, which was filed with the court on Feb. 13, but not made public until Friday night. Prosecutors said Manafort's new bail proposal was worth less than $10 million, and warned that they had uncovered evidence that Manafort secured a mortgage for one of the properties "through a series of false and fraudulent representations" to the bank. They alleged that in 2015 and 2016, Manafort "provided the bank with doctored profit and loss statements" for his company, DMP International, which overstated its income by "millions of dollars."
On the removal of the surety requirement, prosecutors wrote that, "The fact that Manafort has not been able to find any responsible surety to cosign a bond for this package suggests that neither those closest to him, nor anyone else, is willing to assume the risk of being a surety for him."

Manafort's lawyer Kevin Downing did not immediately return a request for comment, and a spokesperson for Manafort declined to comment. Jackson has ordered Manafort and Gates, their defense lawyers, and the prosecutors not to make public statements that could prejudice the case.
In a separate filing late Friday in Manafort's civil suit challenging the special counsel appointment, his lawyers said they brought the case "shortly after and in direct response to the Special Counsel's threats to bring additional charges against Mr. Manafort in venues outside the District of Columbia." The filing didn't provide details on what exactly prosecutors may have told Manafort about the possibility of other charges in other courts.

The Justice Department has asked the judge to dismiss Manafort's civil lawsuit, defending the validity of Mueller's appointment and arguing that Mueller "is properly operating within the scope of his authority." Manafort's lawyers filed their objections to that Friday.
UPDATE
This post has been updated with information about a new court filing from Manafort's lawyers Friday evening in his civil case.