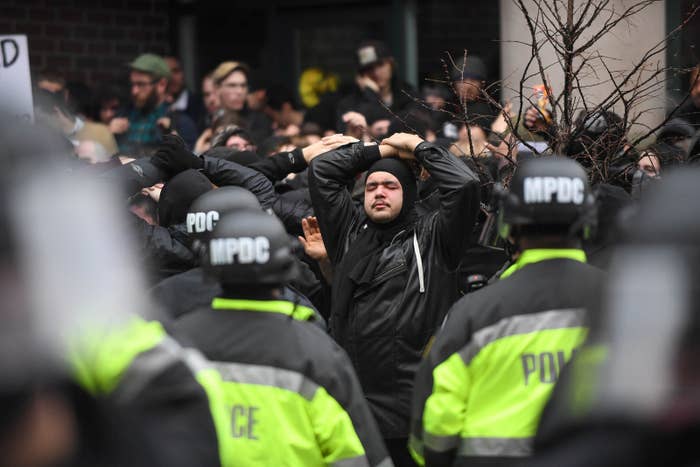 WASHINGTON — A small but growing number of the 200-plus defendants charged with felony rioting on Inauguration Day are pledging to reject any plea deal offer from prosecutors.
A statement outlining the pledge, obtained by BuzzFeed News, was written in response to the first guilty plea entered in the rioting cases in late March. The statement represents the views of at least 20 defendants, and is still being circulated, according to Ben Aubin, one of the defendants who helped draft it.
"We do not concede that plea bargains such as this legitimize the charges against us and we will continue to fight our cases and demand trials. The risk of imprisonment, fines, and probation is far less meaningful than giving even tacit legitimacy to these charges," the statement says.
People participating in a demonstration billed as an anti-capitalist and anti-fascist protest in Washington during President Trump's inauguration on Jan. 20 smashed the windows of cars and stores, causing more than $100,000 in property damage, according to police.
DC law defines a riot as a "public disturbance" involving at least five people that leads to violence or the threat of violence against people or property. The felony rioting charge isn't limited to individuals directly involved in acts of violence, though — it also covers those who "willfully incited or urged others to engage in the riot."
The charge carries a maximum penalty of 10 years in jail and a maximum fine of $25,000. Of the 214 defendants indicted on the felony rioting charge, one has pleaded guilty so far. Jack Sorensen, 18, of Pittsford, NY, entered a guilty plea on March 24 to a lesser charge of misdemeanor rioting. In the plea agreement papers filed with the court, he admitted not leaving as the protests turned violent. Sorensen did not admit direct involvement in any property damage.
Sorensen was sentenced to 180 days in jail, but that sentence was suspended. He'll spend year on probation, pay a $500 fine, and do 50 hours of community service. He declined an interview request.
The statement from the defendants who say they won't plead guilty isn't accompanied by a list of signatories. It's signed, "L12," a reference to the fact that the mass arrests on Inauguration Day took place at the corner of L and 12th streets in northwest Washington. BuzzFeed News spoke or messaged with seven defendants who joined the statement, and some said they feared retaliation from prosecutors as well as professional and other personal consequences if they went public.

"To accept plea bargains under these circumstances could be considered admitting guilt and giving legitimacy to the state's charges against us," the statement says. The statement also pledges not to cooperate with prosecutors or provide evidence against other defendants.
Aubin told BuzzFeed News that the purpose of the statement wasn't to throw Sorensen "under the bus," but rather to express their intention to fight what they contend are unlawful prosecutions. Aubin, who said he's been a participant in anarchist culture but wasn't directly involved in any of the property damage, said he hasn't been offered a plea deal.
"Because this is such an important case, we would rather accept jail time," Aubin said. "Going to jail is not something that any of us is fearful of because we represent more than ourselves at this moment."
A spokesperson for the US attorney's office declined to comment on whether plea deals have been offered to other defendants.
Prosecutors have told the District of Columbia Superior Court judge presiding over the rioting cases that they plan to group the defendants into categories based on the specific type of criminal activity they're accused of, the evidence available, and the extent to which certain evidence relates to multiple defendants. The first group includes 12 people, and prosecutors said they're prepared to immediately set a trial date.
One member of the first group, Spencer Kaaz, told BuzzFeed News that he supported the statement pledging not to take a plea deal. Kaaz, who said he has been arrested before for participating in political demonstrations, denied any direct involvement in the property damage on Jan. 20. He said he learned from his lawyer that there were evidence records indicating he was carrying smoke bombs at the time, which he denied. He said he hadn't been offered a plea deal.
"The whole rationale behind [the statement] is to say, these charges are illegitimate, we do not recognize these allegations because they're falsified, they're trumped up charges. For many different reasons, just to oppose it in general," Kaaz said.
A number of defendants are pursuing efforts in court to get their cases dismissed, arguing that prosecutors have failed to identify specific evidence tying them to any particular act of destruction.
More than 100 defendants also jointly filed papers in court earlier this week opposing the government's proposal to make all of the electronic data gathered by police and prosecutors available all at once to defense lawyers via one central database. Defense lawyers argue that this approach raises privacy concerns and wrongly absolve the government of its responsibility to identify the evidence that is relevant to each individual case.
Statement from "L12":