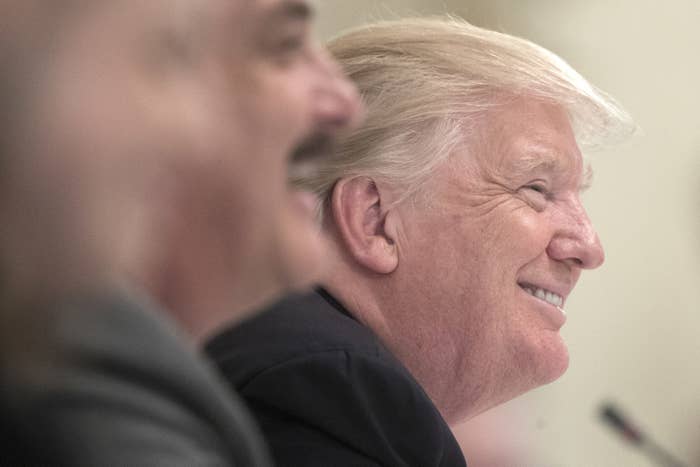 The Senate on Thursday confirmed Kentucky lawyer John Bush to a federal appeals court seat, handing another defeat to Democrats and civil rights groups that had hoped to tap into anger on the left over the confirmation of US Supreme Court Justice Neil Gorsuch to block Bush.
Bush faced criticism for his pseudonymous political blogging. His opponents pointed to his posts as proof that he lacked the temperament and objectivity needed to serve on the bench. In one frequently cited post, he wrote that the "two greatest tragedies in our country" were slavery and abortion. Even a Republican who ended up voting to confirm Bush, Louisiana Sen. John Kennedy, told Bush at his confirmation hearing that he was "not impressed."
But ultimately the Senate voted along party lines, 51-47, to confirm Bush to the US Court of Appeals for the 6th Circuit, a sign that it's going to be difficult for Democrats to stop the Trump administration from making progress in one area where the White House has had success so far — filling the 100-plus federal court vacancies across the country.
Bush was not immediately reached for comment.
This is the second judge that the Trump administration has had confirmed to the 6th Circuit, which handles cases from Michigan, Ohio, Kentucky, and Tennessee, and already has a majority of Republican-nominated judges. Judge Amul Thapar, Trump's first lower-court nominee, was confirmed to the court in May. Another 6th Circuit nominee, Michigan Supreme Court Justice Joan Larsen, is pending in the Senate.
Advocacy groups on the left have raised concerns about several of Trump's lower-court nominees, but they especially focused their energy and their dollars on Bush. Bush, who was backed by Senate Majority Leader Mitch McConnell, said at his confirmation hearing that there were comments he'd wished he hadn't made in his blog posts — he wrote under the pseudonym "G. Morris" on the blog Elephants in the Bluegrass — and he vowed to treat all litigants who would come before him fairly.
But his explanations and apologies weren't enough to win over Democrats, and groups on the left hoped that they could swing one or two Republicans, given Kennedy's remarks at the confirmation hearing. In the end, no Republicans broke ranks.
"It is a sad day for the Senate and the American people when an individual like John Bush can be confirmed for a lifetime position on the federal bench," Vanita Gupta, president and CEO of the Leadership Conference on Civil and Human Rights, said in a statement. "Few nominees in history have had such a clear record of extreme and intemperate remarks. Federal judges must be impartial and fair – two qualities that Mr. Bush clearly lacks."
With Bush's confirmation, there are now 135 pending federal court vacancies, and at least 20 more seats are expected to open up in the coming months, according to the federal judiciary. Trump has 22 nominees pending.