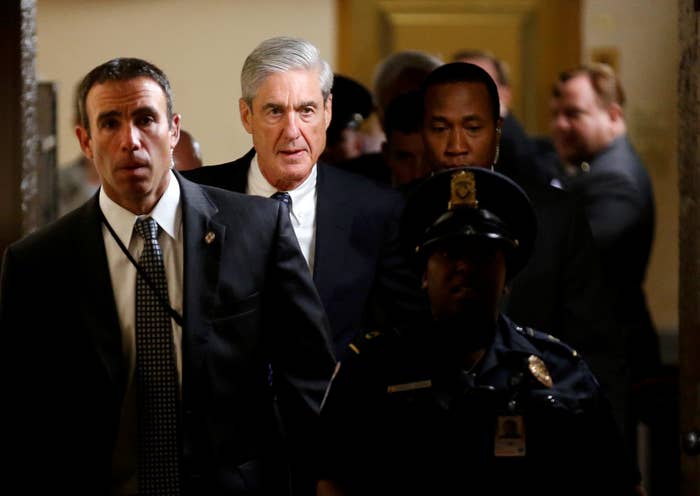 Concord Management and Consulting, the only defendant to engage so far in the election meddling case filed by special counsel Robert Mueller's office, pleaded not guilty on Wednesday.
Concord Management was one of 16 defendants, including Russian troll farm Internet Research Agency, named in an indictment announced in February alleging widespread efforts to try to interfere in the 2016 presidential election. Concord Management, according to the charging papers, was controlled by Yevgeny Prigozhin, a defendant with reported ties to Russian President Vladimir Putin. Concord, prosecutors alleged, controlled funding and oversaw the Internet Research Agency's activities.
Leading up to the arraignment, lawyers for Concord Management and Mueller's office filed papers indicating there was uncertainty over whether Concord Management was properly served with the indictment, a step that's required under federal court rules. US Magistrate Judge G. Michael Harvey asked Concord's lawyer, Eric Dubelier, if they understood that by appearing in court, that meant they must comply with court rules and procedures. Dubelier said they did.
The defendants are all Russian individuals or companies, complicating efforts by Mueller's office to force them to appear in a US court. No lawyers have entered appearances for any other defendants in the case. The judge asked Dubelier if he was also appearing for defendant Concord Catering, which is related to Concord Management and also controlled by Prigozhin, according to the indictment. Dubelier said he was not.
Special counsel lawyer Jeannie Rhee told the judge that based on an April 11 filing by Concord Management's lawyers with the Treasury Department's Office of Foreign Assets Control (OFAC), prosecutors were under the impression that Dubelier and his cocounsel Katherine Seikaly, who are partners at the law firm Reed Smith, also represented Concord Catering. Concord Management and Concord Catering are subject to US sanctions; lawyers can represent sanctioned companies, but must report their involvement to OFAC.
Dubelier replied that there was a difference between representing clients and being authorized to appear for them in court. Dubelier said it was "disturbing" to learn that Mueller's office had access to "confidential" information concerning their OFAC filing.
The lawyers are scheduled to return to court on May 16 for their first appearance before the federal judge who will be presiding over the case (magistrate judges typically handle arraignments and then US district judges take over), US District Judge Dabney Friedrich.
Rhee said that her office would continue to pursue trying to serve the indictment on other defendants in the case. Harvey set a hearing for July 9 for an update on their progress.