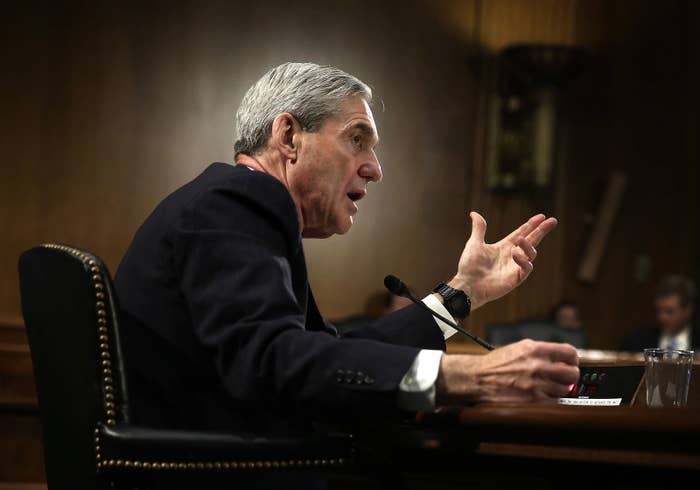 Twelve Russian military officers were indicted Friday by a federal grand jury for hacking Hillary Clinton's presidential campaign and two Democratic organizations — marking the latest charges to come out of special counsel Robert Mueller's investigation.
The defendants, all members of the Russian intelligence agency GRU, are accused of conspiring to hack into computer networks, steal documents, and orchestrate their release with the goal of interfering with the 2016 presidential election.
Although the Russian defendants communicated with unnamed Americans, according to the indictment, there is no allegation in the charging papers that any American citizen knew they were participating in unlawful activity or that they were communicating with Russian intelligence. The charging papers indicate that the defendants were in touch with an unnamed person who was in contact with senior members of the Trump campaign.

The indictment also alleges a scheme to hack into state government networks to steal voter information. According to charging papers, hackers stole the personal information of more than 500,000 voters from the website of an unidentified state board of elections, including names, addresses, partial Social Security numbers, birthdates, and driver's license numbers. The indictment doesn't specify what happened to that information, and Deputy Attorney General Rod Rosenstein did not elaborate when asked about it on Friday. Rosenstein said there was no evidence that the alleged criminal activity affected vote counts or election outcomes.
At a press conference on Tuesday announcing the indictment, Rosenstein warned against public speculation about federal investigations.
"I want to caution you that people who speculate about federal investigations usually do not know all of the relevant facts. We do not try cases on television or in congressional hearings. Most anonymous leaks are not from the government officials who actually conduct investigations," Rosenstein said in prepared remarks. "We follow the rule of law, which means that we follow procedures and reserve judgment. We complete our investigations and evaluate all of the evidence before we reach any conclusion."
Rosenstein said he had briefed President Donald Trump about the indictment. Asked about Trump's repeated characterization of Mueller's investigation as a "witch hunt," Rosenstein said he could only comment on the evidence. When charges are filed, he said, they represent "a determination by prosecutors and agents, without regard to politics, that we believe the evidence is sufficient to justify the charges."

Although the case came out of Mueller's investigation, Rosenstein said it would be transferred to the Justice Department's National Security Division.
Mueller's investigation is ongoing, Rosenstein said Friday. White House spokesperson Lindsay Walters put out a statement highlighting Rosenstein's comments that no Americans were accused of criminal activity and that there was no allegation that votes were affected.

"Today's charges include no allegations of knowing involvement by anyone on the campaign and no allegations that the alleged hacking affected the election result. This is consistent with what we have been saying all along," Walters said.
Responding to news of the latest charges, Trump's personal lawyer Rudy Giuliani tweeted, "Time for Mueller to end this pursuit of the President and say President Trump is completely innocent."
The charges come as Trump will meet face-to-face with Russian President Vladimir Putin in Finland on Monday. Trump has in the past defended Russia and said he believes Putin when Putin said he didn't meddle in the election.

"I don't think anybody knows it was Russia that broke into the DNC. She's saying Russia, Russia, Russia. Maybe it was. I mean, it could be Russia, but it could also be China, but it could also be lots of other people, it also could be someone sitting on their bed that weighs 400 pounds, OK?" Trump said in September 2016.

In a brief, hastily organized press conference, Sen. Mark Warner, the ranking member of the Senate Intelligence Committee, commended the Mueller investigation, which he said had resulted in "direct evidence of Russian agents interfering in our elections." He said a "vast majority" of the information from today was new, at least to that level of specificity, and he stated his surprise at the information.
"What is remarkable about special prosecutor Mueller's work was the level of specificity to identify the actual Russian spies who specifically interfered in our state's election systems, who hacked into the DNC, who hacked into the Democratic Congressional Campaign Committee, who hacked into John Podesta's emails. That's pretty good investigation work by Mueller and his team," Warner said. He spent time criticizing the White House's attitude toward Russia, and called on Trump to stop taking one-on-one meetings with Putin, expressing a fear that Trump could be taken advantage of.

According to the indictment, as of at least March 2016 the GRU officers had launched a sustained effort to hack into the computer networks of the DNC, Clinton's campaign, and the Democratic Congressional Campaign Committee. That included hacking the email account of Clinton's campaign chair, John Podesta.
Within months, the defendants are accused of having staged the release of tens of thousands of stolen documents. According to the indictment, the officers registered a domain, DCLeaks.com, and created the "fictitious persona" Guccifer 2.0, to facilitate the release of documents. When the DNC announced it had been hacked in June 2016, prosecutors say the defendants created Guccifer 2.0 to falsely make it seem as though it was the work of a single Romanian hacker. They also allegedly used the Guccifer 2.0 persona to release documents through the website of an additional unnamed entity, referred to as "Organization 1."
According to the indictment, the defendants, through the Guccifer 2.0 persona, communicated with an unidentified person "who was in regular contact with senior members" of the Trump campaign, asking what they thought about the released documents and offering to send information. The charging papers also alleged that the defendants, via Guccifer 2.0, also communicated with an unnamed US congressional candidate, a state lobbyist, and a reporter.
The indictment alleges that the GRU officials used spear-phishing to target volunteers and employees of Clinton's campaign. They allegedly were able to steal the usernames and passwords of numerous individuals, and then use those credentials to steal emails and maintain access. The defendants allegedly sent Podesta a "spoofing" email that was made to look like a security notification from Google, instructing the recipient to click on a link. According to the indictment, the hackers stole more than 50,000 emails from Podesta's account.
Once the hackers had access to the DCCC network, they allegedly searched one computer for the terms "hillary," "cruz," and "trump," copied a folder called "Benghazi Investigations," and targeted computers with opposition research and 2016 field operations information.
During his news conference, Rosenstein spoke about the nonpartisan nature of the investigation.

"When we confront foreign interference in American elections, it's important for us to avoid thinking politically as Republicans or Democrats and instead to think patriotically as Americans," Rosenstein said. "Partisan warfare fueled by modern technology does not fairly reflect the grace, dignity, and unity of the American people."

"Our response must not depend on which side was victimized," he said.

When asked about the timing of the indictment, days before Trump is scheduled to meet with Putin, Rosenstein said, "The timing, as I mentioned, is a function of the collection of the facts, the evidence, and the law."
The defendants are Russian nationals, and assuming they don't travel to the United States or otherwise participate in the US litigation, it will be difficult for the Justice Department to pursue the charges against them. The pending case could make it difficult for them to travel internationally, and could make them subject to the US sanctions.
This is the second case brought by Mueller's office against a group of Russian nationals accused of attempting to interfere in the 2016 election. In February, a grand jury returned an indictment against the Russian-based troll farm Internet Research Agency, two other Russian entities, and 13 Russian individuals accused of creating fake US personas to manage social media accounts and collect intelligence. Only one of the defendants in that case, Concord Management and Consulting, has engaged in the case to date. Concord has pleaded not guilty and is contesting the legitimacy of Mueller's appointment.
This is the ninth case brought by Mueller's office. It was filed in the US District Court for the District of Columbia, and assigned to US District Judge Amy Berman Jackson — the same judge presiding over one of the special counsel office's prosecutions against former Trump campaign chair Paul Manafort.
No one from Trump's campaign has been charged with colluding with the Russian government, but prosecutors have connected people involved in the campaign and Russia-affiliated individuals in court papers. Alex van der Zwaan, a Dutch lawyer, pleaded guilty earlier this year to lying to investigators about his contacts with former deputy Trump campaign chair Rick Gates — who had been Manafort's co-defendant but has since pleaded guilty and agreed to cooperate — and an unnamed person known as "Person A." According to a March filing by prosecutors, Gates told van der Zwaan that Person A, who Gates was in touch with in 2016, was a former Russian intelligence officer with GRU; the FBI assessed that Person A still had ties to Russian intelligence in 2016.
Media reports speculated that Person A was Konstantin Kilimnik, a longtime Russian-Ukrainian business partner of Manafort; Kilimnik has denied ties to Russian intelligence. In June, Kilimnik became Manafort's new co-defendant — Mueller's office charged him with attempting to interfere with potential witnesses.
Two civil lawsuits have made the jump in connecting the DNC hack to the Trump campaign, alleging a conspiracy with the Russian government. One, filed last year in DC federal court on behalf of two DNC donors and a former DNC employee, was dismissed earlier this month after a judge found it was filed in the wrong jurisdiction; the judge did not rule on the substance of the allegations. The plaintiffs refiled the case this week in the US District Court for the Eastern District of Virginia.
In April, the DNC filed a lawsuit of its own in federal court in Manhattan in April. That case is pending.

Lissandra Villa contributed to this report.