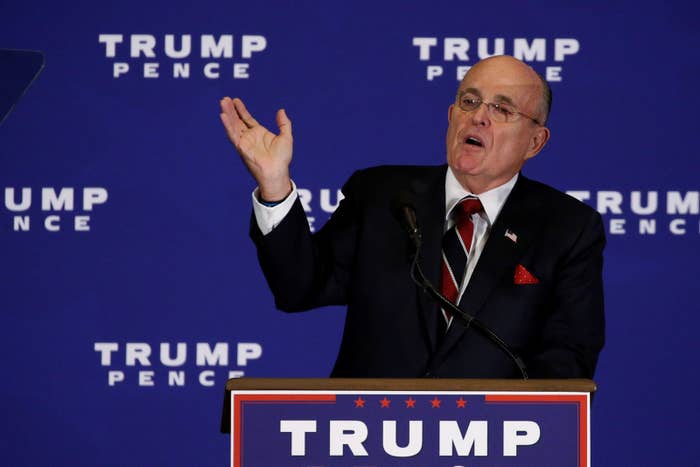 Rudy Giuliani, the former New York City mayor and Donald Trump loyalist, is joining the president's legal team.
In a statement on Thursday, Trump attorney Jay Sekulow announced that Giuliani would be joining the president's team along with two former federal prosecutors who run a Florida law firm, Jane Serene Raskin and Martin Raskin.
"I have had the privilege of working with Mayor Giuliani for many years, and we welcome his expertise. Mayor Giuliani expressed his deep appreciation to the President for allowing him to assist in this important matter. In a statement, Mayor Giuliani said, 'It is an honor to be a part of such an important legal team, and I look forward to not only working with the President but with Jay, Ty, and their colleagues,'" Sekulow said in a statement.
Giuliani, who also once served as the US attorney in Manhattan, did not return requests for comment. He told the Washington Post on Thursday that he hoped to "negotiate an end" to special counsel Robert Mueller's investigation into Russian interference in the 2016 election.

Per Sekulow's statement, Trump said of Giuliani: "Rudy is great. He has been my friend for a long timeand [sic] wants to get this matter quickly resolved for the good of the country."
Giuliani will be taking a leave of absence from his law firm, Greenberg Traurig, according to a statement from the firm. His leave took effect on Thursday.
Giuliani backed Trump during the campaign, and was in the mix for the secretary of state or attorney general jobs. Last summer, Axios reported that Trump was considering replacing Attorney General Jeff Sessions with Giuliani, but that did not happen.
The Raskins provided no comment, directing inquiries to Sekulow. They also bring Justice Department experience to Trump's team. According to her law firm bio page, Jane Serene Raskin prosecuted organized crime at the Justice Department, served as counsel to the head of the Criminal Division, and was a senior federal prosecutor in Massachusetts. Martin Raskin served as a federal prosecutor in New Jersey and Florida, and also worked on organized crime. According to their firm's website, they handle white-collar criminal defense matters, including "Congressional and Independent Counsel investigations."
The new additions to the president's legal team follow on the departure of his former lead outside attorney in the Russia investigation, John Dowd. Trump's first lawyer, Marc Kasowitz, stepped away from an active role related to the Russia investigation last summer; he is still representing Trump in a defamation case filed by a former contestant of The Apprentice, Summer Zervos.
Traveling to Key West on Thursday, Trump was asked by reporters about Mueller a few times, but he ignored all shouted questions, giving no indication that his legal team was bringing on Giuliani.
The news broke after he made it back to Mar-a-Lago, his private club in West Palm Beach.

Although Trump has been angry over the FBI raiding his personal attorney's office and hotel room — lashing out about Mueller and Deputy Attorney General Rod Rosenstein, who signed off on the raid, in his tweets and comments to reporters in recent days — he appeared to be in a good mood in Key West, commenting on the large crowds that had assembled along the route. "It was really very inspirational," he told reporters.

Tarini Parti contributed additional reporting from Florida.