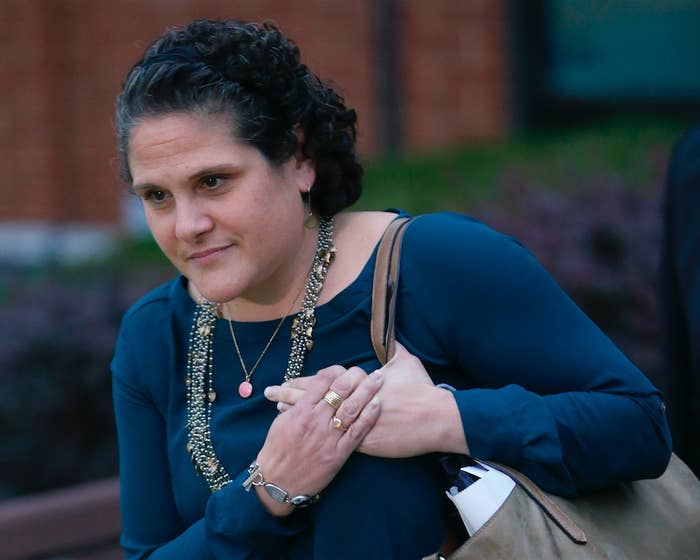 WASHINGTON — Rolling Stone has settled a defamation lawsuit brought by the University of Virginia administrator featured in a since-retracted article about campus rape.
UVA administrator Nicole Eramo filed notice late Tuesday in federal court in Virginia that she was dropping her lawsuit against Rolling Stone, the magazine's parent company Wenner Media, and reporter Sabrina Rubin Erdely.
Eramo's lawyer, Libby Locke, told BuzzFeed News that an "amicable" settlement was reached, but that the terms are confidential.
"We're happy that the case is settled now," Locke said. "It allows Nicole to move on and really focus on what she does best, which is help victims of sexual assault. i think she's thrilled to have this behind her."
A spokesperson for Rolling Stone's parent company, Wenner Media, said in an email to BuzzFeed News that the parties "have come to an amicable resolution" and confirmed that the terms are confidential. A lawyer for Rolling Stone declined to comment.
A jury in November awarded Eramo $3 million, with Erdely ordered to pay $2 million, and Rolling Stone and Wenner Media were ordered to pay $1 million. The defendants all challenged that verdict before the federal district judge who presided over the trial, who heard arguments in February and had yet to issue a ruling.
Eramo sued for defamation over the 2014 article, "A Rape on Campus," claiming that she was falsely portrayed as the personification of the university's alleged indifference to sexual assaults on campus and was cast as the "chief villain of the story." Eramo argued that contrary to the story's narrative, she actively tried to help a student, identified in the story as Jackie, who claimed she was raped at a fraternity house, and did not attempt to persuade Jackie to remain silent about the allegations.
Rolling Stone later retracted the story after questions arose about the truthfulness of Jackie's account. The federal jury in Charlottesville, Virginia, that heard Eramo's case concluded in November that Erdely and the magazine acted with "actual malice" in publishing certain statements about Eramo and her handling of Jackie's case.
In court papers challenging the verdict late last year, lawyers for Rolling Stone, Wenner Media, and Erdely contested the "actual malice" finding, and argued the Eramo failed to show that she was actually harmed by the sections of the article at issue, as well as comments that Erdely made about the article after it was published.