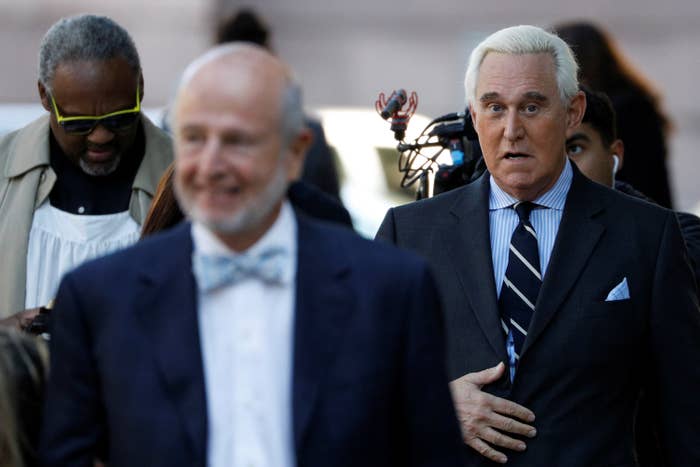 WASHINGTON — At the start of Roger Stone's criminal trial Wednesday, a federal prosecutor told the jury that the case was "not about politics."

Except it's all about politics. Stone, a longtime adviser to President Donald Trump, is charged with lying to Congress about trying to contact WikiLeaks and its founder, Julian Assange, during the 2016 campaign and communicate what he was learning to Trump's campaign. To prove that, prosecutors spent the first day of the trial presenting evidence that Stone did try to contact WikiLeaks — and that he was, in fact, not only in touch with the campaign, but with Trump himself.
The jury saw emails, text messages, and call records documenting Stone's communications with the campaign around the same time that he was in touch with two associates about tracking down emails stolen from the Democratic National Committee that were eventually released by WikiLeaks; the US intelligence community later concluded that Russian intelligence was involved in hacking the DNC and orchestrating the release of the stolen emails through WikiLeaks.
The jury saw records of phone calls between then-candidate Trump and Stone in 2016, including on June 14, 2016, when the DNC announced it had been hacked, and in the weeks that followed. Prosecutors made clear that they didn't know what the two men discussed — they only had the call logs — but they placed those calls in the middle of a timeline of Stone's alleged efforts to get messages to WikiLeaks and Assange.
"Evidence will show Roger Stone lied to the House Intelligence Committee because the truth looked bad. The truth looked bad for the Trump campaign and the truth looked bad for Donald Trump," Assistant US Attorney Aaron Zelinsky told the jury.
The trial in the US District Court for the District of Columbia is expected to last at least two weeks. The courtroom was full on Wednesday, and a handful of demonstrators for and against Stone have shown up to the courthouse this week — on Wednesday, someone had set up a large, inflatable statue of Trump depicted as a rat outside one of the entrances. During a lunch break, Stone was joined by several far-right figures attending the trial, including Milo Yiannopoulos, Gavin McInnes, and Jack Posobiec.
The fact that Stone is on trial at all is also tied to politics. He was the last person charged by former special counsel Robert Mueller's office — a probe Trump has continued to try to undermine, months after it ended — and Stone has repeatedly, albeit unsuccessfully, tried to use the case as a vehicle to challenge the legitimacy of Mueller's and Congress's investigations into whether Russia interfered in the 2016 election.
Stone's lawyer Bruce Rogow tried to draw a distinction on Wednesday between the subject of Russian interference in the election and the role of WikiLeaks and Assange in releasing emails stolen from the DNC.
Rogow argued that the House Intelligence Committee had said the subject of its investigation was Russian interference, and made no explicit mention of WikiLeaks or Assange in announcing that investigation or in its communications with Stone about his voluntary testimony. He said the government was right that the jury would see texts, emails, and Stone's testimony, but what also mattered was Stone's intent when he gave information to Congress.
"What isn't there for you to see is Mr. Stone's state of mind," Rogow said. He argued there was no evidence of "corrupt intent" by Stone, and disputed that there were ever any actual "intermediaries" between Stone and WikiLeaks — he argued Stone was being "played" by then-associates Jerome Corsi and Randy Credico.
Leading up to the trial, the judge rebuffed Stone's challenges to the indictment as well as his efforts to use the trial as a forum to criticize the Russia investigation and push the unsubstantiated conspiracy theory that Russia wasn't involved in hacking the DNC. In September, the judge denied Stone's request to introduce evidence that WikiLeaks did not receive emails stolen from the DNC from Russia, and granted the government's request to limit evidence or arguments about whether Russia did actually try to interfere in the election.
Stone is facing a seven-count indictment: one count of obstructing Congress, five counts of making false statements to Congress, and one count of witness tampering. He faces up to 20 years in prison on the tampering count and up to five years in prison for each of the other charges.
He's charged with lying or giving misleading information to the House on a number of subjects, including: allegedly saying he didn't have any records of communications about the hacked DNC materials, when he did; saying that he hadn't directed associates to contact WikiLeaks, when he had; saying he only had one intermediary with WikiLeaks, when there were two, Credico and Corsi; and saying that he hadn't discussed his conversations with an intermediary about WikiLeaks with the Trump campaign, when he had.
Prosecutors on Wednesday showed the jury messages between Stone (who served as an unofficial adviser to Trump during the 2016 campaign) and top campaign officials and key supporters, underscoring Stone's efforts to influence the direction of the campaign. The jury saw an email Stone sent to Paul Manafort, then the Trump campaign chair, on Aug. 3, 2016, with the subject line "I have an idea" and the body text, "To save Trump's ass."
That email to Manafort was sent the day after Stone received a message from Corsi telling Stone that "word is friend in embassy plans 2 more dumps," according to evidence introduced by the government on Wednesday. The jury saw an email that Stone had sent to Corsi the previous month telling him to "Get to Assange," who was living at the Ecuadorian Embassy in London at the time.
Later in August 2016, shortly after Stone messaged with Corsi about getting additional information from WikiLeaks, Stone told Steve Bannon, then the Trump campaign chair, in another email shown to the jury on Wednesday: "I do know how to win this but it ain't pretty."
The jury saw an email on Oct. 3, 2016, from Stone to Erik Prince, the founder of Blackwater who supported Trump's campaign but wasn't formally part of it. Stone told Prince that he "spoke to my friend in London last night" and that "the payload is still coming" — the same day that Stone was texting with Credico, who sent Stone selfies outside the Ecuadorian Embassy in London, an FBI case agent testified.
On Oct. 4, 2016, after Assange gave a much-anticipated press conference but didn't release any new information from the DNC servers, the jury saw an email from Bannon to Stone asking what had happened. He replied that there were "security" concerns, but that there would be "a load every week going forward."
Rogow argued that Stone's communications with Bannon, Gates, and Prince only reflected their shared interest in Trump's success and a "joint effort" to get Trump elected.
"That is not a crime. That's a First Amendment right that people have," Rogow said.
Stone is also accused of trying to convince Credico to lie to Congress about their communications, and of threatening him when he pushed back. Prosecutors alleged that in December 2017, as Credico faced a congressional subpoena to testify, Stone asked him to do a "Frank Pentangeli" — a reference to a character in The Godfather Part II who was cooperating with law enforcement but then gave false testimony before Congress after his brother was threatened.
Whether the jury could see the movie scene in question became a source of contention between prosecutors and Stone's lawyer. The government argued the jury needed to see the clip to fully understand the context of the message to Credico. Stone argued it would be prejudicial. The judge approved a compromise — that the government could read a description of the scene, but not show the film.
The jury also saw messages that the government described as Stone urging Credico to not cooperate with the Mueller investigation. "Waste of your time - tell him to go fuck himself," Stone messaged Credico, who replied: "Who?" "Mueller," Stone responded.
Credico is expected to testify. Anticipating attacks on Credico's credibility, Zelinsky told the jury that Stone knew about some of Credico's weaknesses — that he had struggled with alcohol and was "excitable" — and those made him a good person to "pin something on." Zelinsky also tried to anticipate attacks on the credibility of another government witness, former deputy Trump campaign chair Rick Gates, noting that Gates would be testifying as part of a cooperation agreement; Gates took a plea deal after being charged in Mueller's investigation. The testimony would be backed up by documents, however, Zelinsky said.