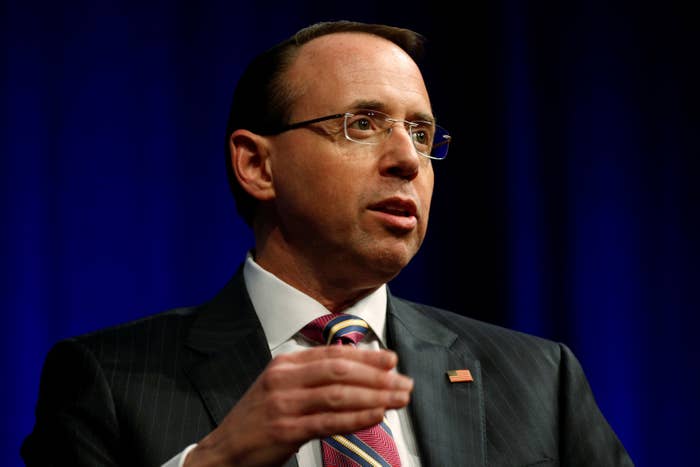 Deputy Attorney General Rod Rosenstein said Tuesday that threats against the Justice Department would not "affect the way we do our job," after being asked about a report that some members of Congress aligned with the president had drafted articles of impeachment against him.

"I can tell you that there are people who have been making threats privately and publicly against me for quite some time, and I think they should understand by now, the Department of Justice is not gonna be extorted. We're going to do what's required by the rule of law," Rosenstein said at a Law Day event at the Newseum in Washington, DC.
Rosenstein said he had seen the draft document produced by members of the House Freedom Caucus, but did not know who wrote it. The Washington Post reported that members of the House Freedom Caucus recently finalized the document, with caucus leader Rep. Mark Meadows calling it a "last resort" if the Justice Department failed to satisfy his requests for information.
"I just don't have anything to say about documents like that, that nobody has the courage to put their name on," Rosenstein said. He began his answer to the question, posed by moderator and law professor Ronald Collins, with a joke: "They can't even resist leaking their own drafts."
House Republicans have accused the Justice Department of slow-walking requests for documents. House Intelligence Committee chair Devin Nunes earlier this year threatened to hold Rosenstein and FBI Director Christopher Wray in contempt, and even possibly proceed to impeachment proceedings, if members weren't given access to a document related to the Russia investigation. The situation de-escalated when the Justice Department announced it would give the committee access to the document.

The House Judiciary Committee has subpoenaed the department for records about the investigation into Hillary Clinton's use of a private email server while she was secretary of state, as well as the firing of former deputy FBI director Andrew McCabe. The FBI doubled the number of employees reviewing documents, and the Justice Department has said it is "expeditiously" reviewing documents to produce to members.
Rosenstein responded to Collins' question by comparing it to how the Justice Department proceeded when it accused someone of wrongdoing, noting that a prosecutor had to sign his or her name on the charging documents and come prepared to prove the case with admissible evidence and witnesses. Law enforcement officers similarly had to swear that information was true to the best of their knowledge and belief in applications for warrants under the Foreign Intelligence Surveillance Act, he said.
"We have people who are accountable," he said.
Responding to a different question from Collins about how he decides how to comply with demands for information from Congress, Rosenstein said that courts had previously weighed in and said that the different branches of government had a responsibility to try to compromise. But he also said that he and Attorney General Jeff Sessions had a responsibility to defend the department's independence.
"If we were to just open our doors to allow Congress to come in and rummage through the files, that would be a serious infringement of the separation of powers. And it might resolve the dispute today, but it would have major repercussions in the long run," Rosenstein said.
Collins asked Rosenstein to explain how the Justice Department was independent. Rosenstein said it was independent of "inappropriate political considerations," but wasn't independent of the executive branch — the department "has a responsibility to be in accord with the priorities of the administration," he said.
As for decisions about whom to prosecute, he said, "those decisions have to be made without regard to politics."
Rosenstein declined to discuss his role overseeing special counsel Robert Mueller's investigation into Russian interference in the 2016 presidential election.
Asked during the Q&A section of the program by a reporter what his mindset was on whether a sitting president can be indicted, Rosenstein replied that the Justice Department had opined in the past that a sitting president cannot be indicted, and said he didn't have anything else to add on that.
Responding to a question from another attendee about morale at the Justice Department, Rosenstein said he thought it was high, based on his conversations with attorneys. President Donald Trump has repeatedly lashed out against the department and Sessions over decisions Trump has disagreed with, especially Sessions' decision to recuse himself from the Russia investigation and Mueller's appointment.