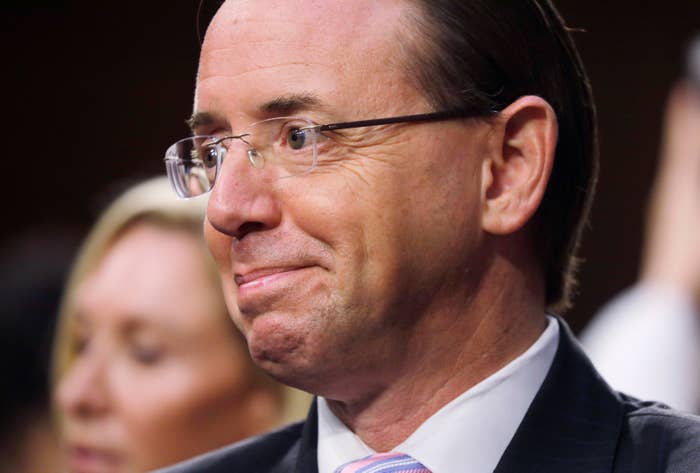 WASHINGTON — The White House announced Thursday that a planned meeting between President Donald Trump and Deputy Attorney General Rod Rosenstein would be postponed, signaling that Rosenstein will stay on the job for now.
The White House had said Monday that the two men would meet amid a flurry of reports that Rosenstein was resigning, or expected to be fired, following a New York Times article that said he'd talked about wearing a wire around Trump and raising the possibility of removing Trump from office. But with all eyes on Capitol Hill on Thursday for a blockbuster hearing on Judge Brett Kavanaugh's US Supreme Court nomination, those plans were scuttled.
"The President spoke with Rod Rosenstein a few minutes ago and they plan to meet next week. They do not want to do anything to interfere with the hearing," press secretary Sarah Huckabee Sanders said in a statement Thursday afternoon.
Rosenstein had been at the White House earlier on Thursday for a previously scheduled meeting and returned to the Justice Department as Trump was traveling back to Washington from New York. The White House didn't say exactly when the meeting would be rescheduled.
Trump had suggested the meeting might be postponed at a press conference Wednesday. The president said he was considering asking for a "little delay" because he didn't "want to do anything that gets in the way of this very important Supreme Court pick." Trump said his "preference" would be to keep Rosenstein as the Justice Department's second-ranking official, but he also didn't rule out the possibility of firing him.
The latest round of speculation about Rosenstein's future was prompted by a Sept. 21 report in the New York Times that said Rosenstein last year talked about wearing a wire to record Trump and also about the possibility of having Cabinet members invoke the 25th Amendment, which gives the vice president and the Cabinet the power to remove an incapacitated president. Rosenstein has said the report was incorrect.
Trump told reporters Wednesday that he and Rosenstein had discussed the story. "I'm talking to him. We've had a good talk. He said he never said it. He said he doesn't believe it. He said he has a lot of respect for me, and he was very nice and we'll see," Trump said.
Rosenstein is overseeing special counsel Robert Mueller's investigation into Russian interference in the 2016 presidential election — a probe Trump has repeatedly called a "witch hunt" — raising the stakes of his potential firing. Trump's critics fear the president wants to oust Rosenstein in order to get rid of Mueller. Previous reports indicated Trump considered firing Rosenstein in the past, but the Wall Street Journal over the summer reported that their relationship had warmed.