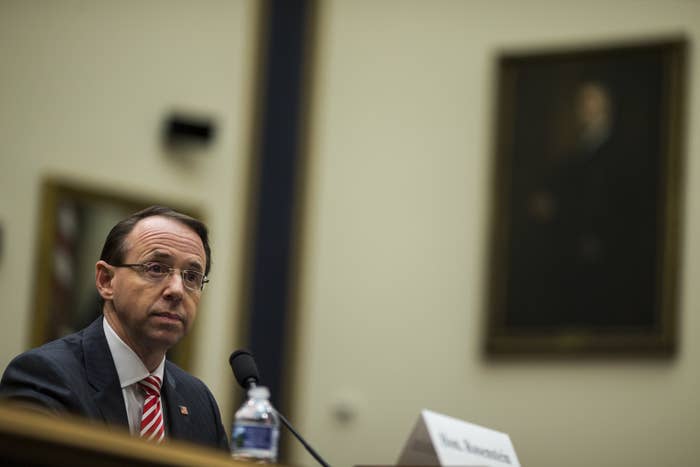 Deputy Attorney General Rod Rosenstein is standing by special counsel Robert Mueller amid a growing chorus of bias allegations from Republicans, telling a congressional panel on Wednesday that he continued to believe there was no "good cause" to remove Mueller from his post.
Asked if Trump had ever asked Rosenstein to fire Mueller, Rosenstein said he wouldn't discuss his communications with the president. However, he said, "I can tell you that nobody has communicated to me a desire to remove Robert Mueller."
Rosenstein's testimony before the House Judiciary Committee comes as some Republicans have pointed to news reports about members of Mueller's office and investigators who have worked on the Russia probe as proof of anti-Trump bias. On Tuesday, the Justice Department provided Congress with approximately 375 texts — which have been viewed by BuzzFeed News and include anti-Trump missives — sent last year between senior FBI officials who were involved in the Russia probe.
The texts were exchanged between FBI agent Peter Strzok and FBI lawyer Lisa Page, who were involved in a romantic relationship at the time, according to the Washington Post. Strzok had been a top investigator working with the special counsel investigation, but Mueller removed him over the summer after learning about the messages. The Washington Post reported that Page left Mueller's team before the texting issues came up.
Between August 2015 and December 2016, Strzok and Page — often reacting to news about last year's unconventional campaign — made several critical remarks about Trump, including that he is a "loathsome human" and "an idiot." The texts, discovered as part of a Department of Justice Inspector General probe into the FBI's handling of the investigation into Hillary Clinton's use of a private email server, also included disparaging remarks about other political figures, such as Sen. Bernie Sanders, House Speaker Paul Ryan, and former attorney general Eric Holder.
Republicans have also cited an email that a senior prosecutor on Mueller's team, Andrew Weissmann, sent to former acting attorney general Sally Yates after she refused in January to defend Trump's first travel ban executive order and was fired by Trump soon after. "I am so proud" was the subject line on Weissmann's email to Yates the evening of Jan. 30. The body of the email read: "And in awe. Thank you so much. All my deepest respects, Andrew Weissmann."
Rosenstein said that he wasn't aware of any impropriety or violation of Justice Department rules by members of Mueller's team. Republicans have also pointed to political donations to Democrats by multiple attorneys in Mueller's office as proof of bias — something Democratic Rep. Ted Lieu contested by pointing to donations FBI Director Christopher Wray has made to Republican candidates throughout the years. Rosenstein said that there was a difference between political affiliation and bias, and that Mueller understood that.
"I've discussed this with director Mueller. And he and I, collectively, have a lot of experience managing offices in the Department of Justice. We recognized that we have employees with political opinions. And it's our responsibility to make sure those opinions do not influence their actions. I believe that director Mueller understands that and that he is running that office appropriately," Rosenstein said.
Strzok and Page's criticisms of Trump and other politicians were numerous. Former Democratic presidential candidate Martin O'Malley was "a douche" and "a freakshow," Strzok wrote on separate occasions. Sanders was "an idiot like Trump," he texted in August 2015.
"Hillary should win 100,000,000 - 0," Strzok wrote in March 2016 after saying he was a "conservative Dem."
"Also did you hear him make a comment about the size of his d*ck earlier?" Page said of Trump. "This man can not be president."
"Yes I did," Strzok replied. "In relation to the size of his hands. And all the 'Little Marco' blah blah blah."
In November of the same year, Page sent Strzok a news article, adding: "I hope Paul Ryan falls and crashes in a blaze of glory."
"Me too," he responded. "At some point the Rep party needs to pull their head out of their *ss. Shows no sign of occuring any time soon."
One exchange upon which Republican critics have seized is one from early August 2016 that shows Strzok and Page discussing his ability to "protect the country."
"Of course I'll try to approach it that way," Strzok tells Page. "I just know it will be tough at times. I can protect our country at many levels, not sure if that helps…"
Wray, during an appearance before the House Judiciary Committee last week, said FBI agents are allowed to possess and privately express political opinions. He said circumstances would determine whether an agent's privately expressed opinions would be cause for action. Wray noted that Strzok has not faced disciplinary action; rather, he has been moved to the FBI's HR department.
With Attorney General Jeff Sessions recused from the Russia investigation, Rosenstein — the second-ranking Justice Department official — is in charge of overseeing Mueller's investigation.
Under federal regulations, Rosenstein has authority to remove Mueller "for misconduct, dereliction of duty, incapacity, conflict of interest, or for other good cause." Rosenstein said he had not seen anything that would lead him to believe there was reason to fire Mueller.
Democratic Rep. Sheila Jackson Lee asked if Rosenstein would protect Mueller from being removed from office if Rosenstein believed Mueller deserved protection, invoking the Saturday Night Massacre in 1973, when senior officials in the Nixon administration resigned when directed to fire the special prosecutor investigating Watergate. Rosenstein replied: "I won't take any action unless he's violated his duties."
Mueller's office to date has brought charges against four people in Trump's orbit: Trump's former national security adviser Michael Flynn, who pleaded guilty to lying to investigators about his Russia contacts during the campaign; former campaign chair Paul Manafort and Manafort's longtime associate Rick Gates, who have pleaded not guilty to money laundering and other charges unrelated to the campaign; and former campaign adviser George Papadopoulos, who also pleaded guilty to lying about his Russia connections during the campaign.
The order that Rosenstein signed on May 17 appointing Mueller as the special counsel said that the special counsel's had authority to investigate whether there was collusion between the Trump campaign and the Russian government, as well as "any matters that arose or may arise directly from the investigation."
Republican Rep. Lamar Smith asked if Mueller had ever asked to expand the scope of the investigation. Rosenstein said he discussed with Mueller early on what matters the office would investigate, and that Mueller had acted within the scope of that understanding. To the extent Mueller asked about ambiguity in the May order, Rosenstein said, he had given Mueller permission to include those matters in the investigation. Asked if the personal finances of Trump's family would fall under Mueller's authority, Rosenstein said he wouldn't discuss specifics.
"There are a lot of media stories speculating about what the special counsel may or may not be doing. I know what he's doing," Rosenstein said. "I'm appropriately exercising my oversight responsibilities. So I can assure you that the special counsel is conducting himself consistently with our understanding about the scope of his investigation."
Democratic Rep. Hank Johnson asked if Rosenstein was afraid of Trump firing him.
"No, I am not," Rosenstein said.
CORRECTION
Rosenstein said on Wednesday he wasn't aware of any impropriety or violation of Justice Department rules by members of Mueller's team in response to a question about political donations. A previous version of this post misstated it was in response to a question about the text messages.