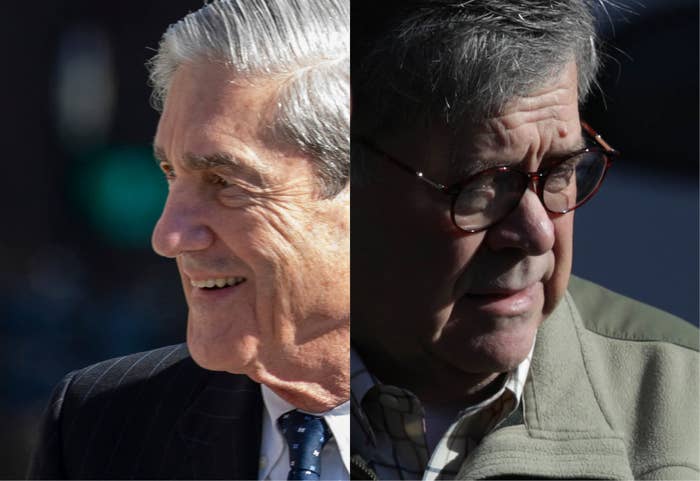 WASHINGTON – Special counsel Robert Mueller found that neither the Trump campaign, nor anyone associated with it, "conspired or coordinated with Russia in its efforts to influence the 2016 presidential election," according to a letter that Attorney General Bill Barr sent to Congress on Sunday.
Barr also wrote that after reviewing the evidence compiled by Mueller, he and Deputy Attorney General Rod Rosenstein "concluded that the evidence developed during the Special Counsel's investigation is not sufficient to establish that the President committed an obstruction-of-justice offense."
Mueller himself did not reach a conclusion about whether President Donald Trump committed any obstruction offenses, instead presenting the facts his office had gathered and leaving the final call up to Barr. Barr said he and Rosenstein reached their conclusion after consulting with other DOJ officials and the Office of Legal Counsel.
Although Trump lauded the attorney general's summary as vindication, Barr wrote that Mueller stated in the report that "while this report does not conclude that the President committed a crime, it also does not exonerate him."
Soon after Barr's letter became public, Trump tweeted: "No Collusion, No Obstruction, Complete and Total EXONERATION. KEEP AMERICA GREAT!"
In his letter to Congress, Barr, quoting from Mueller's report, wrote that Mueller recognized that "the evidence does not establish that the President was involved in an underlying crime related to the Russian election interference." The absence of evidence of underlying criminal activity went to the question of whether the president could have committed obstruction, Barr wrote.
White House press secretary Sarah Huckabee Sanders tweeted that Mueller "did not find any collusion and did not find any obstruction," but that is not what Barr told lawmakers. On the obstruction issue, Mueller's report "sets out evidence on both sides of the question and leaves unresolved" whether the president obstructed justice, Barr wrote. Sanders also described DOJ's findings as "a total and complete exoneration of the President of the United States."
Barr wrote that he and Rosenstein had reached their conclusion on the obstruction issue without delving into the "constitutional considerations" around whether a sitting president can be criminally charged. He told Congress that in looking at Trump's actions, including many "which took place in public view," the report didn't identify anything that would "constitute obstructive conduct," was specifically related to a pending proceeding, or was "done with corrupt intent."

Not long after Barr sent the four-page letter to Congress on Sunday summarizing the key conclusions from Mueller's report, House Judiciary Committee Chair Jerry Nadler tweeted that his committee would ask Barr to testify about "very concerning discrepancies and final decision making at the Justice Department" related to the report.
The full report from Mueller, which Barr received on Friday, remains confidential. Barr previously told Congress that he, Rosenstein, and Mueller would consider what additional information could be made public going forward.

A senior Justice Department official said Sunday that Barr's chief of staff, Brian Rabbitt, called Emmett Flood, a lawyer in the White House counsel's office, to summarize Barr's letter at around 3 p.m., just under an hour before the letter was sent to Congress and released to the public. That was the only communication between the Justice Department and the White House about Barr's latest letter, according to the official.
Mueller finished his investigation into Russian interference in the 2016 election after 22 months on the job. His team of experienced current and former federal prosecutors brought criminal charges against 34 individuals — including members of Trump's 2016 campaign and his inner circle — and three Russian entities, including a troll farm charged with orchestrating election interference efforts.

Barr's Sunday letter confirms reporting from Friday that Mueller did not recommend any further indictments, as well as that there are no pending sealed indictments that Mueller's office obtained before finishing its investigation. The letter does not say if the federal grand jury in Washington, DC, that had been working with the special counsel's office is still active, and a Justice Department spokesperson declined to comment on the status.
Barr wrote in Sunday's letter that Mueller's investigation found two "main Russian efforts to influence the 2016 election." The special counsel's office had previously brought criminal charges related to both of those efforts — first, against a Russian troll farm accused of orchestrating "disinformation and social media operations in the United States designed to sow discord," and second, against Russian intelligence officers charged with hacking email accounts of the Democratic National Committee and Hillary Clinton's campaign.
"But as noted above, the Special Counsel did not find that the Trump campaign, or anyone associated with it, conspired or coordinated with the Russian government in these efforts, despite multiple offers from Russian-affiliated individuals to assist the Trump campaign," Barr wrote.
Barr notified Congress on Friday that Mueller had finished his investigation and submitted his final report. Mueller's report is confidential, per Justice Department regulations, but Barr has authority to make information from it — or the report itself — public. DOJ spokesperson Kerri Kupec has declined to comment on how long Mueller's report was, but told reporters that it was "very comprehensive."
Barr wrote in Sunday's letter that Mueller's report included grand jury information that is restricted under federal court rules. How long it will take to release more information from Mueller's report will depend on how quickly DOJ officials can identify that sensitive grand jury information, as well as information that shouldn't be public because it could affect "ongoing matters," he wrote.
Although Mueller is finished with his work, Barr's letter indicated there may still be other investigations related to the probe, including ones that were referred out by Mueller's office.
"As I have previously stated, however, I am mindful of the public interest in this matter," Barr wrote. "For that reason, my goal and intent is to release as much of the Special Counsel's report as I can consistent with applicable law, regulations, and Departmental policies."
According to Barr's Sunday letter, Mueller had 19 lawyers on his team, worked with 40 FBI agents and other law enforcement experts, issued more than 2,800 subpoenas, carried out more than 500 search warrants, made 13 requests to foreign governments for information, and interviewed approximately 500 witnesses.
Seven of the defendants in the Mueller probe pleaded guilty and were sentenced to time behind bars: former Trump campaign adviser George Papadopoulos, former campaign chair Paul Manafort, former deputy campaign chair Rick Gates, former national security adviser Michael Flynn, former Trump attorney Michael Cohen, Dutch lawyer Alex van der Zwaan, and Richard Pinedo, a Californian accused of unwittingly helping Russians fund their interference efforts.