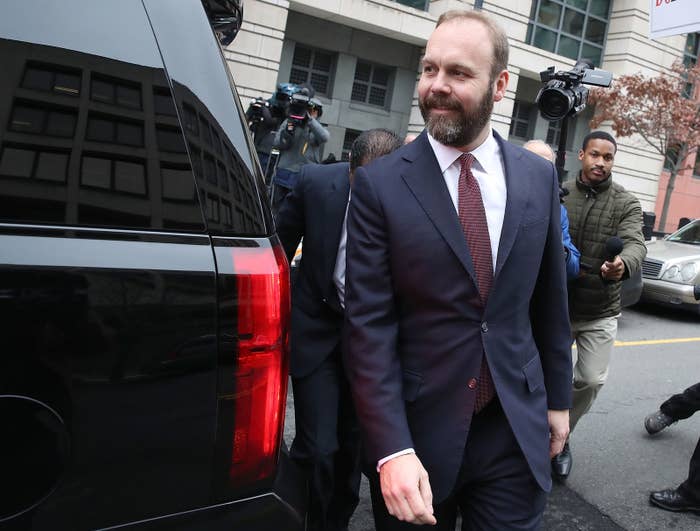 Rick Gates — Paul Manafort's former right-hand man turned star prosecution witness — took the stand Monday afternoon to testify against his longtime boss, accusing Manafort of orchestrating years of criminal activity.

Gates served at Manafort's side for years, working on political campaigns and managing much of Manafort's day-to-day business affairs, according to other witnesses. His testimony is expected to continue for several more hours on Tuesday, delving into the details of how exactly he contends Manafort directed him to hide income and foreign accounts from the US government. On Monday, he offered a broad assessment of their relationship.

"Did you commit crimes with Mr. Manafort?" special counsel prosecutor Greg Andres asked.
"Yes," Gates replied.
Gates's blockbuster testimony pits two former senior Trump campaign officials against each other. Manafort spent several months in the summer of 2016 leading President Donald Trump's presidential campaign. Gates was his deputy and stayed on after Manafort left in August 2016 amid scrutiny over his ties to Ukraine and Russia. The two men are now at odds, but when asked under oath on Monday to assess Manafort's skills, Gates called him a "brilliant" political strategist.
There was only the slightest hint at the politics — Trump has repeatedly called Mueller's investigation a "witch hunt" — hanging over the trial during Gates's testimony, though. In explaining his career to the jury on Monday, Gates said he had worked for "one of the recent presidential campaigns." He did not name the candidate. Trump's name has not come up during the trial, and there have been only offhand references to the fact that the prosecution is led by special counsel Robert Mueller's office; Mueller's name also has not come up.
Gates was originally charged with Manafort in two criminal cases brought by Mueller's office in federal court in Washington, DC, and Alexandria, Virginia. In February, Gates pleaded guilty in the DC case to two counts — conspiracy against the United States and making false statements — and agreed to cooperate with prosecutors. In exchange, he told the jury Monday that the government agreed to drop the remaining charges, to not oppose a request by his lawyer at sentencing for probation instead of jail time, and to not seek additional charges.
Andres asked what other crimes Gates might have been charged with. Gates said he stole hundreds of thousands of dollars from Manafort via fake expense reports for their work in Ukraine, among other illegal financial activity.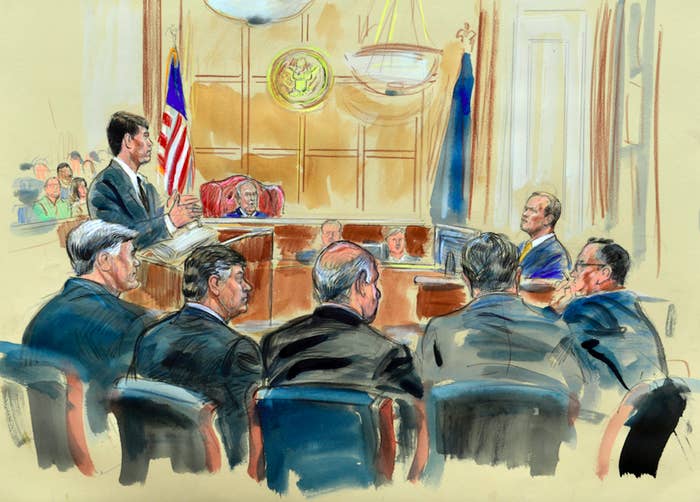 Gates's testimony is a central part of the case. Last week, when one prosecutor suggested they might not call him, a number of reporters caused a small disturbance in the courtroom as they rushed out, to the dismay of the judge. Prosecutors hadn't said when they might call Gates, but when they entered the courtroom Monday afternoon, they wheeled in a cart with a stack of boxes — at least two were marked "GATES."

Manafort's lawyers are expected to attack Gates's credibility. In their opening statement, they said Manafort's mistake had been to trust Gates with his finances, and that Gates was to blame for any problems. During cross-examination earlier in the trial of Manafort's accountants, Manafort's lawyers have sought testimony about Gates's unreliability in producing documents.

Gates said he and Manafort conspired against the United States in three ways: First, he said, he helped Manafort file false tax returns that understated Manafort's income and that failed to acknowledge Manafort's interest in foreign bank accounts. Second, Gates said, he conspired with Manafort to not file separate, required reports with the US Department of Treasury about Manafort's interest in foreign accounts. Third, he said, he aided Manafort in not registering in the US as an agent for a foreign entity.
Manafort is charged with failing to register as an agent in the DC case, but not in the Virginia case where he is first standing trial; the trial in DC is scheduled to start in September.
Gates testified that he acted at Manafort's direction. Andres asked Gates if he understood what he was doing was illegal. Gates said he did. Andres asked if Gates was truthful to Manafort's accounts and bookkeeper. Gates said no. Did he provide fraudulent documents to banks when Manafort was applying for loans, Andres asked. Yes, he said. Did he doctor documents? Yes, he said.
During the first week of testimony, the jury heard from Manafort's former bookkeeper and tax accountants, who said they believed that various overseas entities that were transferring money into Manafort's accounts were clients from his political consulting work. Gates said Monday that those foreign entities were in fact controlled by Manafort.
Before Gates took the stand on Monday, the jury heard the defense cross-examination of Cindy Laporta, one of Manafort's former accountants. Laporta last week testified that she went along with a scheme to change numbers in one of Manafort's tax returns based on information she did not believe was true. Manafort's attorney Kevin Downing asked Laporta about her interactions with Gates, and she testified that he didn't always provide documents when she asked for them and that she doubted the truth of information he was presenting to her.
Downing asked if Laporta ever called Manafort to tell him her concerns about Gates. Laporta said she did not — in most instances, it was clear Manafort was aware of what was going on, she said, although she acknowledges that was not always the case. Downing asked Laporta if she would have told Manafort if she knew Gates was embezzling money. Laporta said yes.
Manafort is accused of receiving millions of dollars for his political consulting work in Ukraine via overseas accounts, primarily in Cyprus, and then failing to report all of that money as income to the IRS in his tax returns; he's also accused of failing to report his interest in those accounts as required by US law. The jury previously heard from men's clothing retailers and home contractors who did work for Manafort and testified about being paid via international wire transfers from accounts identified by prosecutors as belonging to Manafort.
Gates bridged the testimony of the vendors and the financial service professionals who kept track of Manafort's money. Gates testified that some of the accounts in Cyprus, the Grenadines, and the United Kingdom were registered under Manafort's name, some were registered under Gates's name, and some were under the name of their longtime associate in Ukraine, Konstantin Kilimnik. Kilimnik is Manafort's codefendant in the DC case, where he's accused of trying to interfere with potential witnesses.

Gates identified a series of wealthy Ukrainian business executives and political figures who he said financed Manafort's work in Ukraine. Prosecutors initially used the term "oligarch" to describe Manafort's backers, but US District Judge T.S. Ellis III told them to stop, saying it implied a criminal element that wasn't at issue in the trial. Gates testified that Manafort's backers would use shell companies registered in Cyprus — Gates referred to them as "shelf companies" — to send money to Manafort's entities, also in Cyprus. Gates said the Ukrainian businessperson preferred the intracountry transfers because they were easier to do.

Ellis sparred with the government on Monday about how much evidence they could introduce through Gates about what exactly Manafort did in Ukraine, and why he was allegedly paid so handsomely for it. Manafort's former clients included the pro-Russia Party of Regions and former Ukrainian president Viktor Yanukovych. The jury heard last week from several political consultants about Manafort's work managing campaigns in Ukraine.
Andres appeared frustrated by Ellis's pushback on Monday, saying the motivation of these Ukrainian business executives — that they were rich oligarchs who stood to benefit financially from a particular political party gaining power — was relevant to help the jury understand why they would pay Manafort millions of dollars. Ellis has repeatedly admonished the government to speed up the presentation of its case. Andres on Monday said they were trying to move as quickly as they could, and that tracing the flow of money was a key part of the case.
At one point, Andres attempted to show the jury Gates's passport and the stamps documenting his overseas travel. Ellis cut him off, telling him to "get to the heart of the matter." When Andres started to say that they were, Ellis raised his voice, telling Andres, "Don't speak when I speak." It was one of several tense exchanges between Ellis and prosecutors during the trial — some have taken place while the jury is out of the room, but some, such as the "Don't speak when I speak" exchange on Monday, took place while the jury was listening.
After the jury left for the day, Ellis again asked Andres to explain why testimony about what Manafort and Gates did in Ukraine and the motivations of their backers was relevant. As the judge spoke, he accused Andres of not paying attention and looking away — Andres said he was listening, and that the judge was misinterpreting prosecutors' body language. Ellis last week admonished the lawyers not to roll their eyes, although at the time he didn't say which lawyers that comment was directed at.
Andres said Ellis had repeatedly stopped the government from explaining to the jury what Manafort did in Ukraine. Ellis disagreed, saying the record would reflect he was right. Andres countered that he, too, would stand by the record. "You will lose," Ellis replied.