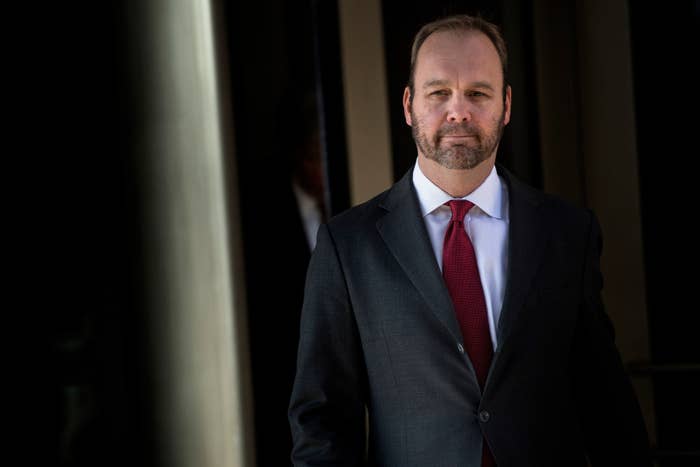 Rick Gates, a former Trump campaign aide and longtime associate of former Trump campaign chair Paul Manafort, pleaded guilty on Friday in the criminal case brought by special counsel Robert Mueller's office.
The special counsel's office filed a new criminal information — a type of charging document — against Gates shortly after noon Friday. He entered a guilty plea on that new set of charges a few hours later at a hearing the federal district court in Washington, DC. The new information lodged two charges against Gates: conspiracy against the United States and making a false statement.
Gates is now the the fifth person to plead guilty in connection with Mueller's investigation.
Gates and Manafort were accused of laundering millions of dollars to hide profits from their work on behalf of the Ukrainian government and Ukrainian individuals, failing to register their interests in foreign bank accounts, failing to register as agents for foreign actors, and making misleading statements to the US government about their activities abroad.
Gates faced eight counts in the indictment returned by a federal grand jury in Washington, DC, in late October. Both men pleaded not guilty at their first court appearance on Oct. 30 in the US District Court for the District of Columbia.
Gates' guilty plea came less than 24 hours after Mueller's office revealed that a federal grand jury in Virginia had returned a second, 32-count indictment against Manafort and Gates, featuring a slew of new charges. The new indictment included multiple counts of bank fraud, a charge that carries a maximum penalty of 30 years in jail — the stiffest of the charges the two men have faced so far.
The two counts in the new criminal information each have a maximum penalty of five years in jail. According to Gates' plea agreement with the special counsel's office, he faces an estimated sentencing guidelines range of between 57 and 71 months in jail and a fine between $20,000 and $200,000; those numbers could change when the guidelines range is ultimately calculated, the judge noted.
Gates' lawyer Thomas Green told the judge that he reserved the right to argue for a lower sentence based on Gates' "disproportionate conduct" as compared to Manafort.
Gates has agreed to cooperate with the special counsel's office. If prosecutors determine he has "provided substantial assistance," they have agreed to file a motion asking for a downward departure from the sentencing guidelines range. When Gates is sentenced, the government will dismiss the remaining counts in the original indictment as well as the new charges filed in Virginia.
As part of the plea deal, Gates agreed to delay his sentencing to give him time to cooperate. Asked how far out into the future the judge should set a deadline for the government to update the court on the status of the case, special counsel prosecutor Andrew Weissmann suggested three to four months. US District Judge Amy Berman Jackson set a deadline for a status report for May 14.
Gates spoke little during the plea hearing. He and Green declined to speak with reporters after the hearing as he exited the courthouse and got into a car. He'll remain free pending sentencing, albeit subject to continued GPS monitoring and certain limits on his ability to travel beyond his home city of Richmond, Virginia. He also had to agree to forfeit certain assets if he fled or failed to show up to court.
Paul Manafort, through a spokesman, released the following statement in response to Gates' decision to plead guilty: "Notwithstanding that Rick Gates pled today, I continue to maintain my innocence. I had hoped and expected my business colleague would have had the strength to continue the battle to prove our innocence. For reasons yet to surface he chose to do otherwise. This does not alter my commitment to defend myself against the untrue piled up charges contained in the indictments against me."
Gates was described in charging papers as Manafort's "right-hand man." The new charging document filed by special counsel prosecutors Friday accuses him of conspiracy to defraud the United States through his failure to report foreign bank accounts to the US government, his role in preparing false tax returns for Manafort, and his failure to truthfully disclose the extent of his and Manafort's work on behalf of Ukrainian officials and entities. Weissmann said in court on Friday that their work included secretly hiring former European officials to lobby in the United States, and wiring 2 million euros from offshore accounts to pay them.
The second count, making a false statement, accuses Gates of lying to the special counsel's office and the FBI on Feb. 1 about what Manafort told him about a March 19, 2013, meeting between Manafort, an unnamed lobbyist, and an unnamed member of Congress. Prosecutors said Gates stated that he was told by Manafort and the lobbyist that there was no discussion of Ukraine at that meeting, when in fact that was not what Gates was told. One of Gates' previous lawyers did not immediately return a request for comment.
The information includes few details on what exactly Manafort and the lobbyist did tell Gates, but states that Gates helped Manafort prepare a report for "Ukraine leadership" about "pertinent Ukraine discussions that Manafort represented had taken place at the meeting." Prosecutors also said that Manafort and the lobbyist told Gates that the "meeting went well." Green stressed during Friday's hearing that Gates was not in the meeting and did not know for a fact if Ukraine was discussed.

The charging document doesn't name the member of Congress, but documents that Manafort filed in 2017 with the Justice Department under the Foreign Agents Registration Act listed a March 19, 2013, meeting with Rep. Dana Rohrabacher. In June 2017, the Los Angeles Times reported that Rohrabacher, when asked about the meeting, said that they "discussed a myriad of things, a lot of personal stuff, a lot of different analysis of the politics of the day." The paper reported that Rohrabacher said Russia and the Baltic states probably came up during their dinner.
Rohrabacher spokesman Ken Grubbs confirmed in an email to BuzzFeed News that the meeting was with Manafort and former congressman Vin Weber, now a partner at the lobbying firm Mercury Public Affairs.
"As the congressman has acknowledged before, the meeting was a dinner with two longtime acquaintances – Manafort and Weber – from back in his White House and early congressional days. The three reminisced and talked mostly about politics. The subject of Ukraine came up in passing. It is no secret that Manafort represented Viktor Yanukovych's interests, but as chairman of the relevant European subcommittee, the congressman has listened to all points of view on Ukraine. We may only speculate that Manafort needed to report back to his client that Ukraine was discussed," Grubbs wrote.
The information accuses Gates of making the false statement on Feb. 1. That day, his previous lawyers in the case filed a motion asking the judge to allow them to withdraw. The motion didn't explain the reasons why, and court filings and hearings on that withdrawal request have in large place taken place under seal because of attorney-client privilege issues. But in one filing that was later unsealed, the lawyers stated that the reason for the break was "irreconcilable differences." One of Gates' former lawyers, Shan Wu, did not immediately return a request for comment.
No trial date in the Washington case has been set yet. As of midday Friday, Manafort and Gates had yet to make their first court appearance on the new indictment, returned in the US District Court for the Eastern District of Virginia.

Green had been meeting with Mueller in January on Gates's behalf and negotiating a plea deal, according to CNN. A source familiar with the situation previously confirmed to BuzzFeed News that Green had been representing Gates since late 2017, but Green didn't formally enter an appearance in the case until Feb. 22. Green, a partner at the law firm Sidley Austin, has a long track record of handling high-profile criminal cases with a political angle; his current clients include former Republican speaker of the house Dennis Hastert.

ABC News reported Friday morning that Gates had sent a letter to friends and family alerting them to his decision to plead guilty. He reportedly wrote that, "The reality of how long this legal process will likely take, the cost, and the circus-like atmosphere of an anticipated trial are too much. I will better serve my family moving forward by exiting this process."
Manafort, meanwhile, has been digging in for a fight. He's separately suing the Justice Department and the special counsel's office, arguing that Mueller's appointment should be declared invalid and, as a result, the criminal case against him should be tossed out. Gates did not join that lawsuit.

Late Friday afternoon, the federal court in DC unsealed a superseding indictment that a grand jury returned on Feb. 16 against Manafort. Shortly thereafter, however, the special counsel's office announced a further superseding indictment against Manafort returned by the grand jury on Friday. The Feb. 23 indictment, which largely mirrored the Feb. 16 indictment, included most of the same charges as the original October indictment, but removed the charges against Gates and removed four counts that were charged, under a different subsection of federal law, in the Virginia indictment.

The new Manafort indictment did include new information about the alleged scope of Manafort and Gates' work for Ukraine. It added details about their alleged role in the preparation of a report on the trial of former Ukrainian prime minister Yulia Tymoshenko, the political rival of their client, former Ukrainian president Viktor Yanukoyvch, such as the use of offshore accounts to pay a public relations firm more than $1 million to create and carry out a roll-out plan for the report. The original indictment had accused them of using offshore accounts to secretly funnel $4 million to pay for the report.

The new indictment included allegations that Weissmann had laid out in court earlier in the day, that Manafort and Gates, on behalf of their Ukrainian clients, secretly hired former European officials known as the "Hapsburg group" to take favorable stances on Ukraine, without making it known that they were paid lobbyists for Ukraine. The indictment also alleged that Manafort wrote a 2012 memorandum that laid out the scheme, and that he and Gates coordinated the group's lobbying in Congress and in the executive branch. The indictment states that an unnamed former European chancellor led the group.
Gates's guilty plea comes on the heels of not only the new indictment out of Virginia, but the revelation earlier in the week that a Dutch lawyer who Gates allegedly had ties to, Alex van der Zwaan, had taken a plea deal in connection with the special counsel investigation.
Van der Zwaan pleaded guilty on Feb. 20 to a single count of making false statements. He was accused of lying to the FBI and prosecutors about his communications with Gates and an unnamed person, referred to as "Person A," about a 2012 report van der Zwaan had worked on at his former law firm for the Ukrainian government.
This is a developing story. Check back for updates.

Chris Geidner contributed to this report.