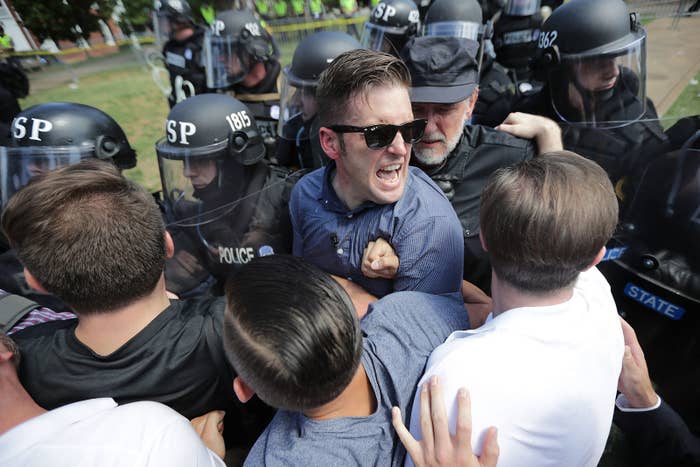 Richard Spencer says he couldn't find a lawyer to defend him against a lawsuit seeking to hold the prominent white nationalist, among others, responsible for the violence last August in Charlottesville, Virginia.
Spencer, representing himself, filed papers on Tuesday asking a judge to dismiss the lawsuit, which was filed by Charlottesville residents and protesters who said they were harmed — some physically, some mentally or emotionally — by the violence that erupted during white supremacist demonstrations. A man accused of driving into a crowd of antiracist protesters — one woman was killed and dozens were injured — is facing criminal charges, and there were clashes between demonstrators throughout the weekend.
Spencer is arguing that anything he allegedly did in connection with the events in Charlottesville were covered by the First Amendment's speech protections and the Second Amendment's protection of the right to bear arms.
In making the case for dismissal, Spencer wrote that the individuals suing him had "enormous resources at their disposal" — the plaintiffs are represented by attorneys from three law firms — and were using the legal system "to intimidate, silence, financially damage, or generally harass" him and the other defendants.
Spencer wrote that he tried to find legal help, but couldn't find a lawyer licensed in Virginia to represent him. He didn't provide details about his search for counsel, but suggested his lack of success was because lawyers didn't want to be associated with him. He wrote that he couldn't find a lawyer "despite the supposed but
apparently illusory ethical obligation lawyers have to represent unpopular clients
and to assure at least a semblance of a fair trial."
Reached by phone Tuesday afternoon by BuzzFeed News, Spencer said he spoke with about a dozen lawyers about representing him. He declined to identify who he spoke with, adding that he didn't think he was treated unprofessionally in the process.

"I get into a conversation with a lawyer and it will end up with, 'Oh, this is very controversial, it could affect my career,'" Spencer said.
He said that if the judge denies his motion to dismiss, he would renew his search for an attorney.
"It's been a very difficult struggle. I don't think it's going to be impossible, but it's clearly difficult just because I'm controversial," he said.
Spencer is among more than two dozen defendants named in the lawsuit. His co-defendants include individuals and groups identified as white nationalist or white supremacist accused of organizing or participating in the events in Charlottesville that turned violent. One anti-racism protester, Heather Heyer, was killed when a car plowed into the crowd; the man accused of driving the car, James Alex Fields Jr., is facing criminal charges and is also named as a defendant in the same civil lawsuit as Spencer.
The plaintiffs in the civil case, filed in the US District Court for the Western District of Virginia, allege Spencer and the other defendants engaged in a conspiracy to violate civil rights, in violation of federal and Virginia laws. They accused Spencer of leading a torchlight rally across the University of Virginia campus on Aug. 11, promoting the "Unite the Right" rally in Charlottesville the next day, and of inciting "intimidation and violence based racial, religious, and ethnic animosity."
In his court papers on Tuesday, Spencer wrote that his previous statements embracing white nationalist ideas did not amount to a call for violence. The lawsuit quotes him as saying, "What brings us together is that we are white, we are a people. We will not be replaced." Spencer argued that rather than a call for violence, that language was "consistently defensive in nature."
Spencer wrote that he had participated in peaceful demonstrations in the past, and blamed the violence at these events on the antifacist, or antifa, movement. He disputed that the torchlight rally was intended to be violent, saying the organizers had tried to keep it secret in advance and didn't invite counterprotesters. On the phone with BuzzFeed News, he said that he wasn't involved in organizing the events in Charlottesville and described the lawsuit as "lawfare" designed to waste his time and drain his financial resources.
Other defendants have also moved to dismiss the lawsuit, and Spencer concluded his filing by saying that he was adopting arguments raised in some of those motions as well. Other defendants are represented by counsel, but Spencer told BuzzFeed News that he wanted to separately pursue his defense because there could be "conflicting strategies."
Charlottesville officials and local business are pursuing another lawsuit in the Circuit Court for the City of Charlottesville against groups accused of organizing the August rally, seeking a court order to stop them from participating in alleged "unlawful paramilitary activity" in the future. Spencer is not a defendant in that case.