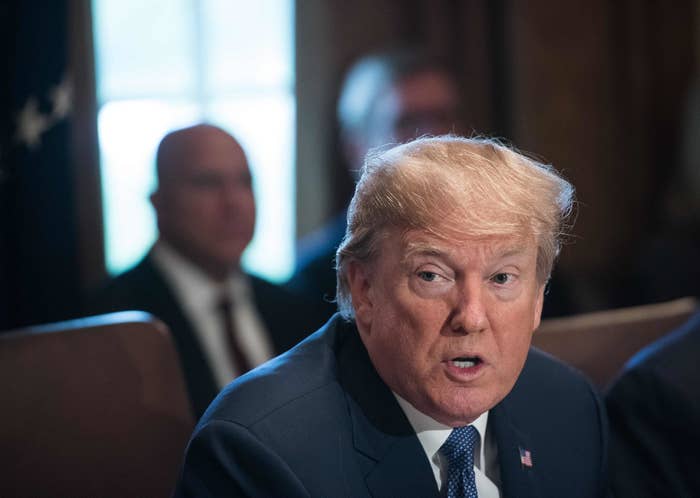 At a cabinet meeting on Wednesday, President Donald Trump stressed his desire to swiftly reshape the federal judiciary, promising that a "big percentage" of the courts would change "over a very short period of time."
Senate Republicans are pushing to make that a reality. Accusing Democrats of abusing Senate rules to delay votes on Trump's judicial nominees, several senators in the past week have renewed calls for a rules change that would speed up the pace of confirmations.
The Senate this week has voted to confirm two judges, and two more votes are expected by week's end. But Republicans say they're being hampered from moving even faster by Democrats' use of a rule that draws out the timeline for confirmation. Democrats, meanwhile, are accusing Republicans of trying to rush through nominees.
The recent back-and-forth on nominees reflects the latest escalation in the fight over how quickly Trump can fill the hundred-plus federal court vacancies — lifetime appointments that have provided the administration with a steady stream of wins even as its legislative agenda has stalled.
Over the summer, the fight over judges focused on the Senate Judiciary Committee, with Republicans accusing Democrats of holding up confirmation hearings through an informal system known as the blue slip process, which gives senators sway over nominees from the states they represent. But with a growing number of nominees moving out of committee, Republicans are shifting their attention to the final Senate floor vote.
Absent unanimous consent from Democrats to allow votes on judicial nominees, Senate Majority Leader Mitch McConnell has been invoking cloture, which triggers a vote on whether to end debate on the nominees and move on to approving them. Under current Senate rules, once the Senate agrees to end debate — a move that requires only a simple majority vote for lower court nominees — there is still another 30-hour period for debate before the final vote can take place.
In some instances, Trump's nominees have been confirmed with bipartisan support after McConnell invoked cloture, spurring accusations by Republicans that Democrats are unnecessarily dragging out the process by not just allowing a vote to begin with.
Several Republicans have advocated changing the rules to require only two hours of post-cloture debate for federal district court nominees, citing a temporary rules change that the Senate adopted in 2013 as a model. Reviving the previous rules wouldn't affect the pace of appeals court confirmations, though, since the Senate at the time kept the 30-hour period in place for circuit and US Supreme Court nominees.
Still, Republicans say the change would help ease the backlog of nominees building on the Senate floor.
"It is time to take the vote — either to go back to what we did in a bipartisan way in the 113th Congress or to go to what we … need now, because it's time to vote, either for the nominees or for a rules change," Sen. John Barrasso, a Wyoming Republican, told reporters on Tuesday.
Sen. James Lankford, an Oklahoma Republican, has also advocated adopting the 2013 rules. A spokesman for his office said in an email on Wednesday that Lankford "is receiving positive feedback from his colleagues on both sides of the aisles" for the proposal, but did not specify which Democrats might be supportive.
Sen. Dianne Feinstein, the ranking Democrat on the Judiciary Committee, said in a statement to BuzzFeed News on Wednesday that it was "absurd" for Republicans to accuse Democrats of obstruction, given efforts by Republicans to block former president Barack Obama's judicial nominees.
"Threatening to eliminate the blue slip, scheduling hearings before nominees are reviewed by the American Bar Association, rushing controversial circuit court nominees to the floor to minimize scrutiny — taken together it's clear that Republicans want to remake our courts by jamming through President Trump's nominees as quickly as possible," Feinstein said.
There are currently 18 judicial nominees waiting for a Senate vote, and 32 nominees pending before the Senate Judiciary Committee. McConnell invoked cloture on Oct. 26 for four appeals court nominees, two of whom have had a vote this week. The latest, Michigan Supreme Court Justice Joan Larsen, was confirmed to the US Court of Appeals for the 6th Circuit on Wednesday, 60-38.
On Tuesday, McConnell indicated he would support changing the post-closure timeline, saying that "the delays post-cloture that have been employed are just simply ridiculous." Asked for details on what new rules McConnell would back and when he might try to make a change, a spokesman for his office on Wednesday declined to comment.
Christopher Kang, who worked on judicial nominees in the White House counsel's office under Obama, said it was "disingenuous" for Republicans to criticize Democrats for using the cloture rule to delay votes when Republicans did the same thing under Obama. He said Democrats are in a different posture than Republicans were, because Trump's nominees are moving from committee to a final vote at a faster pace. Two of the four nominees expected to get a vote this week — 3rd Circuit nominee Stephanos Bibas for the 3rd Circuit and 10th Circuit nominee Allison Eid — were voted out of committee on Oct. 26, the same day that McConnell filed cloture.
"It's appropriate to use the leverage available to give senators the time to review these nominations," Kang said.
Nominations moving forward
Delays notwithstanding, Democrats and liberal groups have been unable to stop any of Trump's nominees from being confirmed by the Republican-controlled Senate. No Republicans have voted against a Trump judicial nominee.
At a hearing on Wednesday for 8th Circuit nominee Leonard Grasz, who received a rare "not qualified" rating from the American Bar Association, Republicans dismissed concerns raised by the lawyers' group as politically motivated.
According to a report released Monday by the ABA's Standing Committee on the Federal Judiciary, the body that reviews all federal court nominees, lawyers interviewed in Grasz's home state of Nebraska questioned Grasz's commitment to following court precedents and his ability to detach himself from a "deeply-held social agenda and political loyalty." An ABA representative is scheduled to appear before the Senate Judiciary Committee on Nov. 15.
Grasz on Wednesday told the committee that he understood he would need to set aside his previous role as an advocate as well as his personal opinions in ruling from the bench.
"If the judiciary is saying what they want the law to be rather than what the law is, I think that undermines the integrity of the judicial system," he said.
Grasz distanced himself from the Nebraska Family Alliance, a nonprofit he served on the board of from 2015 until recently this year. Grasz's opponents have pointed to the group's opposition to same-sex marriage and protections for LGBT individuals as well as its defense of conversion therapy as signs that Grasz harbors anti-LGBT biases. Grasz said that as a board member he wasn't responsible for day-to-day activities, and wasn't involved in writing some of the articles cited by his critics.
Grasz declined to elaborate on his personal opinions about conversion therapy and LGBT rights, saying it would not be appropriate under judicial ethics rules.