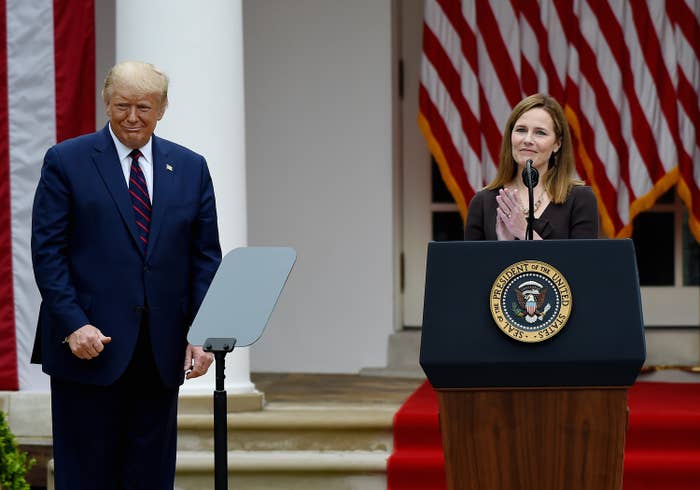 WASHINGTON — Republicans are setting the fastest Supreme Court nomination timeline in nearly five decades as they rush to confirm Judge Amy Coney Barrett with just five weeks until the election.
Multiple polls have shown that a majority of Americans believe the winner of the Nov. 3 election should fill the late justice Ruth Bader Ginsburg's seat on the Supreme Court. But Republicans have said they will vote this year on Barrett's nomination, regardless of whether President Donald Trump wins, and after they blocked then-president Barack Obama's Supreme Court nominee in 2016 because it was an election year. Senate Judiciary Committee Chair Lindsey Graham has scheduled Barrett's confirmation hearing to start on Oct. 12, just 16 days after President Donald Trump announced her nomination on Saturday.
Defending the speedy timeline, Senate Majority Leader Mitch McConnell and Republicans say history is on their side, pointing to examples of justices who went from a nomination announcement to a Senate hearing in a two-week time frame. But that data skips over 45 years of recent history, going back to an era when Supreme Court nominations weren't the fierce partisan fights that they are now.
Since the 1980s and the political battles over then-president Ronald Reagan's Supreme Court picks, it's taken nominees at least a month to get to a hearing before the Senate after being nominated, and it's often taken much longer.
It took 57 days for Trump's last Supreme Court nominee, Justice Brett Kavanaugh, to appear for his first confirmation hearing after being announced at the White House; his nomination was briefly held up over sexual assault allegations from his high school days, which he denied during a quickly scheduled second hearing. Justice Neil Gorsuch, Trump's first nominee, had his hearing 48 days after his White House reveal. Ginsburg's nomination moved more quickly, but it still took 36 days for her to have a hearing before the Senate after then-president Bill Clinton announced her nomination in June 1993.
Trump announced Barrett's nomination at the White House just over a week after Ginsburg died. The president has said that he's pushing Barrett's nomination in the hopes of getting her seated before the Nov. 3 election, saying he'll need a broader conservative majority on the Supreme Court if it plays a role in deciding the election's outcome. The courts are already considering dozens of cases related to mail-in voting during the coronavirus pandemic and Trump's campaign and the Republican National Committee are fighting multiple legal battles to limit remote voting.
Democrats are furious. Senate Minority Leader Chuck Schumer released a statement on Saturday accusing Republicans of "shamelessly rushing" to fill Ginsburg's seat and ignoring the late justice's wish that she not be replaced until after the election.
"This reprehensible power grab is a cynical attack on the legitimacy of the Court," Schumer said.
Responding to criticism about the timeline for Barrett's confirmation proceedings, McConnell's office put out a fact sheet identifying eight justices who went from a presidential announcement to a Senate hearing in two weeks or less. Those justices were all confirmed between 1962 and 1975.
"There's nothing inappropriate about filling this vacancy. Many Supreme Court vacancies have been dealt with in a shorter time frame than the time frame between now and the election or the time frame between now and the end of this Senate, which is at the end of this calendar year," McConnell told Fox News. "They don't like what happened. I understand that."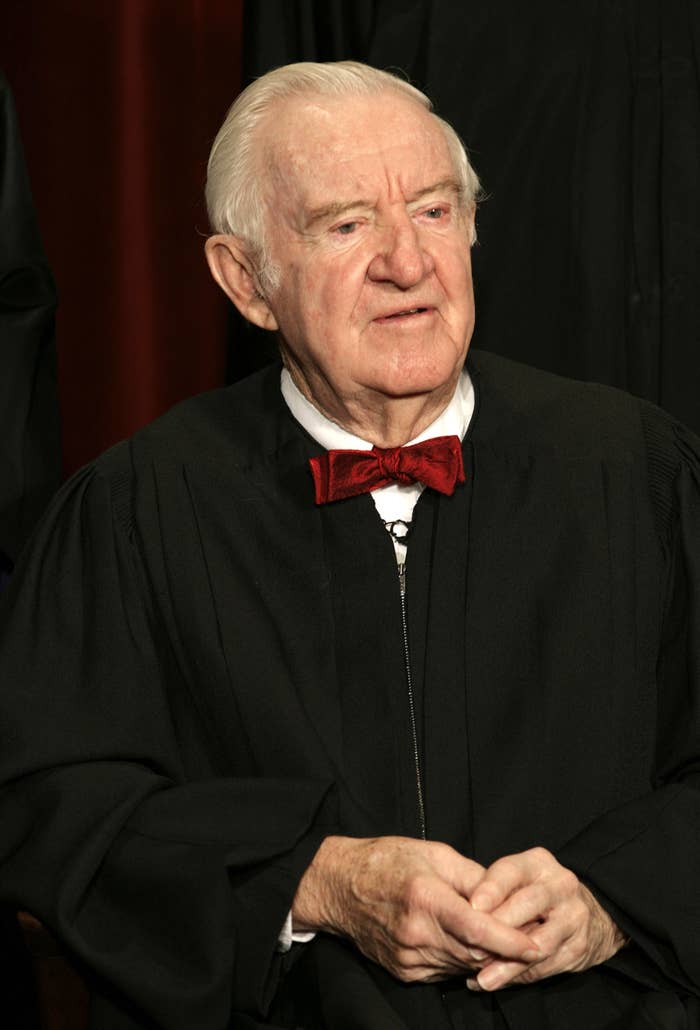 The late justice John Paul Stevens was the last nominee to go from a presidential announcement to a Senate hearing in less than two weeks — his hearings began 10 days after then-president Gerald Ford announced him as the nominee in November 1975. Of the 15 Supreme Court nominees since then who have made it to a hearing, none did it in less than 30 days (that includes the late judge Robert Bork, who had a Senate hearing but whose nomination ultimately failed).
In the weeks leading up to a Supreme Court confirmation hearing, Barrett is expected to hole up with White House and Justice Department officials, current and former senators, and outside strategists to do rounds of mock hearings and other preparation.
Senators of both parties and their staff, meanwhile, will comb through her record and writings and may try to schedule one-on-one meetings with the nominee. They'll also get feedback from constituents and outside advocacy groups. Conservative and liberal organizations have said they're spending millions of dollars on the Barrett nomination fight. A number of liberal activists have called on Democratic senators to refuse to meet with Barrett and to boycott the confirmation process as illegitimate.
Jeremy Paris, a Democratic strategist and former chief counsel on nominations for the Senate Judiciary Committee who worked on multiple Supreme Court nominations, told BuzzFeed News that given how politically fraught these nominations have become, senators and their staff need a longer timeframe to prepare.
"This is so close to an election, we obviously should be handling COVID-19 relief, other things should be a focus. The American people should have a say in this incredibly consequential pick," Paris told BuzzFeed News. "The fact that they're speeding this up instead of the normal time, let alone waiting until the election, is ridiculous."
Paris said there also hadn't been time to properly mourn Ginsburg before shifting gears to the fight over her seat, pointing out that former president Barack Obama waited a month after the late justice Antonin Scalia died in February 2016 before announcing Judge Merrick Garland as his nominee.
McConnell refused to allow a hearing on Garland's nomination in 2016, citing the fact that it was an election year. Charged with hypocrisy by Democrats for supporting Trump's effort to fill Ginsburg's seat so near to Election Day, McConnell has countered that Garland's situation was different because the White House and the Senate were controlled by different parties. (There are no laws or formal rules that govern the timing of a Supreme Court nomination.)
Ron Bonjean, a Republican strategist who led the communications strategy for Justice Neil Gorsuch's nomination, told BuzzFeed News that he disagreed that senators needed a longer timeframe to prepare for a Supreme Court nominee. He blamed the "hyper-polarized partisan environment" around Supreme Court nominations and rarity of consensus picks for the stretched-out confirmation process.
"It's because the opposing side is trying to score political points for their base as much as possible," he said.
The faster timeline for Barrett will likely mean fewer one-on-one meetings with senators — something senators often want to get press coverage at home, Bonjean said — and a much more compressed time frame for Barrett to prepare for her hearings. The mock rounds matter less in terms of preparing nominees to talk about the law, which they're already expected to be experts in, and more as media training for hours of intense questioning during nationally televised hearings, he said.
"The real goal here is to make them as confident and boring as possible in front of American voters," Bonjean said, clarifying that by "boring" he meant unemotional in the face of critical questions. "What the Democrats are looking for is for a nominee to give that Jack Nicholson from A Few Good Men moment, a 'You can't handle the truth' moment. They're trying to get an emotional reaction."
The longest wait during a Supreme Court confirmation process is typically between the nomination announcement and the Senate hearing. Assuming there aren't any other delays, the Senate Judiciary Committee will typically vote on a nominee about two weeks after a hearing. Graham has said he expects his committee to approve Barrett's nomination, just a week after her confirmation hearings are over, on Oct. 22. The full Senate can then go to a final vote in a matter of days, as was the case for Gorsuch; for the rest of the current justices, the final vote came a week to two weeks later.
Absent any unexpected issues with Barrett's nomination — only two Republican senators have said they opposed acting on a nominee before the election — and assuming the rest of the confirmation process unfolds on the usual schedule, she is poised to be confirmed before the election.