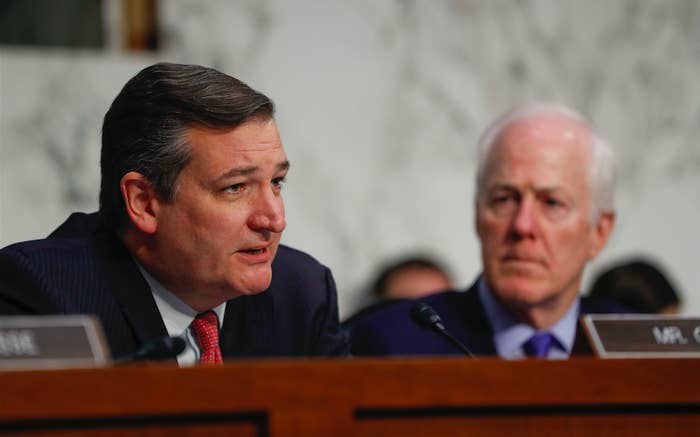 Senate Republicans on Wednesday lashed out at the American Bar Association over "not qualified" ratings for several of President Donald Trump's judicial nominees, charging that the nation's largest lawyers organization is a liberal advocacy group.
The ABA's Standing Committee on the Judiciary has for decades evaluated all federal court nominees, issuing one of three ratings: well qualified, qualified, or not qualified. But Republicans are now arguing the ABA — which has given four "not qualified" ratings this year to Trump nominees — shouldn't be given special weight, pointing to its positions on abortion rights, gun rights, and other controversial subjects, donations by ABA officers to Democrats, and complaints raised by conservatives about how ABA reviewers have gone about evaluating Trump's nominees.
Complicating Republican's assessment is the fact that more than half of Trump's federal court nominees — lauded by Republicans for their conservative credentials — have been or still are members of the ABA, according to information that the nominees shared in their Senate questionnaires. Of the 53 Trump nominees reviewed by the ABA so far, all but four have received "well qualified" or "qualified" ratings.
Trump so far has nominated 61 people for seats on the federal courts. According to the Senate questionnaires, 33 nominees reported being members of the American Bar Association at one point.
Texas Sen. John Cornyn tried to distance some of the ABA's other activities from its work on judicial nominations, noting that he had been a member of the organization for most of his career. The ABA "has a useful role to play" with respect to legal ethics and education, Cornyn said.
"But when they get outside their lane and start expressing opinions on nominees based on politics or ideology, I don't think their recommendations should have any weight in our deliberations whatsoever," Cornyn said.
Other Republicans on the Senate Judiciary Committee — Chairman Chuck Grassley, Texas Sen. Ted Cruz, and Nebraska Sen. Ben Sasse — took a harder stance on what they perceived as the ABA's political leanings.
"What's not okay is being a liberal advocacy organization and be masquerading as a neutral objective evaluator of these judicial candidates," Sasse said.
Carrie Severino, chief counsel of the conservative Judicial Crisis Network, told BuzzFeed News that conservative lawyers are members of the American Bar Association, but many of them "feel a tension."
"They don't want to abandon the organization entirely because they're hoping to have some positive influence. But a lot of people feel, 'Do I want to pay dues to an organization that is using them for all these liberal policy goals,'" Severino said.
With Republicans in control of the Senate, Trump hasn't encountered any serious obstacles to getting his nominees confirmed, but Republicans have been pushing to speed up the time it takes to get nominees through. Democrats have complained about nominees getting hearings before the ABA completes its review and issues a rating.

The ABA promotes itself as a nonpartisan organization with an ideologically diverse membership base. The ABA review of judicial nominees isn't an official part of the Senate confirmation process, but it has played a prominent role because of the perception that the ABA represents the views of the broader legal community on who is qualified to serve as a judge.
Pamela Bresnahan, the chair of the Standing Committee on the Federal Judiciary, testified before the judiciary committee on Wednesday and disputed that the group's work was rooted in political bias.

"We're not here to become a political arm of anybody, but we do want to have an exhaustive peer evaluation. If you choose to ignore it, you ignore it. But this is a process that's gone on for 60 years and I think we get it right most of the time," Bresnahan said.
The Trump administration distanced itself from the ABA early on, although it did tout the fact that Justice Neil Gorsuch received a "well qualified" rating. The ABA announced in March that the Trump administration said it would not submit potential nominees for review in advance of nominating them. That was former president George W. Bush's practice, but it represented a break with the rest of Trump's predecessors in the White House since former president Dwight Eisenhower.
Under former president Barack Obama, no nominees received "not qualified" ratings. The New York Times previously reported that the ABA was in fact handing down "not qualified" ratings for some of Obama's potential picks, who were then not nominated. Eight of George W. Bush's nominees received a "not qualified" rating, as did four of former president Bill Clinton's nominees.

Republicans are particularly upset about the "not qualified" rating for Leonard Grasz, who is nominated for the US Court of Appeals for the 8th Circuit. He is the only one of Trump's appeals court nominees to receive a "not qualified" rating. The ABA released a report about Grasz's review — it doesn't normally do so for district court nominees — explaining that lawyers interviewed in Grasz's home state of Nebraska had questioned whether Grasz could separate his personal beliefs from his work as a judge. Some lawyers reported being nervous about talking about Grasz for fear of retribution because Grasz was connected to state political leaders.

Republicans have dismissed the ABA's report as politically motivated, and other Nebraska lawyers have spoken out in favor of Grasz. At his confirmation hearing earlier this month, Grasz said that he understood he would need to set aside his personal beliefs if confirmed as a judge.

"If the judiciary is saying what they want the law to be rather than what the law is, I think that undermines the integrity of the judicial system," he said.