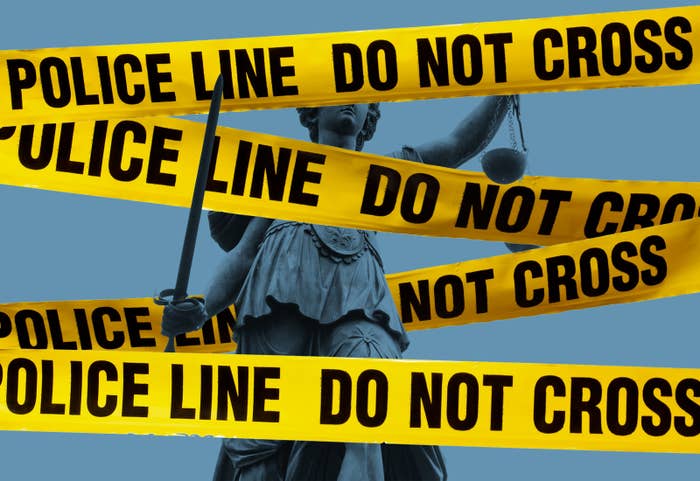 WASHINGTON — The videos documenting police violence during anti-racist demonstrations last weekend ricocheted online. Officers in New York driving SUVs into a crowd, and spraying pepper spray after pulling down a young man's face mask. Officers in Minneapolis firing paint canisters at people filming them from their porch. Officers in Atlanta tasing two college students in a car.
The drumbeat of voices calling for greater police accountability after George Floyd was killed in Minneapolis a week ago has only gotten louder. A legal doctrine known as qualified immunity that has long shielded cops from liability for using excessive force is getting fresh attention.
State officials and prosecutors have vowed to investigate police abuses during protests, as well as to take on uses of force that disproportionately affect people of color. The outcomes of those investigations are largely out of the hands of the people impacted on the ground, however. Individuals can take police officers to court, but justice in these cases can be slow, complicated, and sometimes nonexistent.
Federal law allows individuals to bring civil lawsuits against government officials, including law enforcement officers, for civil rights violations. The US Supreme Court and federal courts have ruled, however, that officers can claim immunity if they didn't violate "clearly established" laws or constitutional rights that a "reasonable" officer would be aware of at the time.
Even in cases where judges concluded that what officers did was unconstitutional, they've still granted immunity because the violation wasn't "clearly established" at the time.
In 2018, for instance, the 9th Circuit ruled that it was "not objectively reasonable" for a police officer to point a loaded gun at an unarmed man's head while the man was sitting "calm and compliant" under the watch of another armed deputy. But the officers accused of being involved in the incident were still entitled to immunity, the court held, because "the law was not clearly established at the time."
The 11th Circuit ruled in 2017 that a police officer accused of throwing an explosive device, known as a "flashbang," into a bedroom where two people were sleeping without first inspecting the room was an unconstitutional use of excessive force. One person was badly burned. But the court ruled that the officer was entitled to immunity because the "contours of the right" to be free from that kind of police force were not "clearly established."
Federal courts have grappled for decades with how to apply immunity to cops accused of abuses of power in practice. A Reuters investigation earlier this year found that in cases accusing police of excessive force, courts since 2005 increasingly have ruled in favor of police.
"What you see now is the end result of our culture of near-zero accountability for law enforcement," said Jay Schweikert, a policy analyst on criminal justice issues at the libertarian think tank the Cato Institute, who has organized efforts to end qualified immunity. "There are lots of complex causes of that culture, but in my view, the most significant is qualified immunity, because that is the doctrine that is undermining what is supposed to be the official means of ensuring accountability."
An ideologically diverse coalition of elected officials and legal and political advocacy groups want the Supreme Court to revisit qualified immunity and limit it, or get rid of it altogether. The justices have already declined to hear a handful of qualified immunity cases this term — one case involved police in Fresno, California, who were granted immunity despite allegations that they stole hundreds of thousands of dollars in cash and rare coins when they executed a search warrant.
There are 10 remaining cases that deal with qualified immunity (not all involve police) that the court is deciding whether to take up. The justices hadn't made a decision as of Monday, when the court released the latest list of orders. These cases include allegations that a deputy sheriff in Coffee County, Georgia, shot a 10-year-old child who was lying on the ground while the deputy was trying to shoot the family's dog; that two officers in Nashville used a police dog against a suspect who had surrendered; and that officers in Caldwell, Idaho, made a house uninhabitable when they shot tear gas inside even after they had permission to enter.
None of the cases waiting for action before the Supreme Court involve police encounters with demonstrators, but the same qualified immunity principles apply when protesters take law enforcement to court. These cases can get even more complicated when judges also have to decide if the protest activity at issue was protected by the First Amendment.
Last year, a federal judge in Washington, DC, denied qualified immunity to police officers accused of using excessive force against protesters during President Donald Trump's inauguration in January 2017. The judge ruled that at that early stage of the case, the plaintiffs had at least alleged that police surrounded protesters — a tactic known as kettling that police appeared to use in DC on Monday night — and indiscriminately arrested people without probable cause that they'd committed a crime.
But the judge dismissed a separate claim that accused police of retaliating against people for exercising their First Amendment rights. She wrote that simply stating in a lawsuit that protesters were arrested during a demonstration wasn't enough — the plaintiffs had to present factual evidence that they were arrested specifically because of First Amendment–protected activity. The case is pending.
The reason it's more critical now than ever that the Supreme Court review and revisit the rule of qualified immunity is both to ensure ... that the police are accountable for the horrific unprovoked violence that suspects, and particularly individuals of color, have experienced both recently and for a long time, and also so that demonstrators' rights are protected and police know that they have to toe the constitutional line," said Scott Michelman, legal director of the ACLU of the District of Columbia, who is involved in one of the cases pending before the Supreme Court as well as the inauguration protest case.
Law enforcement groups generally defend qualified immunity as necessary to make sure cops have the ability to respond to dangerous and fast-moving situations without fear of a lawsuit later. There are exceptions to that — a group that includes police and other law enforcement representatives has joined amicus, or friend of the court, briefs arguing against qualified immunity submitted to the Supreme Court by the Cato Institute.
The Justice Department hasn't weighed in on the cases pending before the Supreme Court, and a DOJ spokesperson did not return a request for comment.
Members of Congress, meanwhile, are considering legislative fixes. On Sunday, Rep. Justin Amash, a Republican turned Libertarian, announced he was introducing a bill to end qualified immunity, and Democratic Sen. Cory Booker included narrowing the immunity as part of a broader framework for police reforms.
The right to sue law enforcement officers and other government officials dates back to the Civil Rights Act of 1871. There is no federal law or section of the US Constitution that spells out the qualified immunity defense. Instead, the idea that public servants should have some defenses against being sued evolved over time through the courts, and the Supreme Court adopted much of the language that is used now in a series of decisions in the 1980s.
The long line of court decisions about qualified immunity in the decades since then show that what rights are "clearly established" when an officer uses force is not always clear. The fact that someone dies or is injured in police custody, or has their rights violated in some other way, isn't enough. It depends on case-specific facts, such as how police used force — Did they shoot a gun? Use a Taser? Fail to control a police dog? — or whether a certain type of protest activity was protected under the First Amendment.
In situations where police were sued for using a Taser, for instance, courts have looked at whether the person suing was clearly resisting arrest and, if so, how forcefully; how many times the device was deployed; and whether the person was also handcuffed at the time.
The law on qualified immunity can be different across states. The DC Circuit has issued a number of decisions about qualified immunity for police responding to protests, because there frequently are demonstrations in the nation's capital. But the DC Circuit's opinions aren't binding in other parts of the country, and absent clear guidance from the Supreme Court, Michelman said police elsewhere can try to argue for a different result.
"It is always open for officers to say the situation we faced and the steps we took were somehow different from prior cases that were decided. The problem with the Supreme Court's current jurisprudence is a number of those arguments are going to succeed," said Michelman, who is also involved in the DC inauguration protest case.
Cops don't always win in these cases. Confronted with allegations of extreme acts of police brutality and abuses, courts have denied immunity. In 2006, the 6th Circuit ruled that an officer in Cincinnati was not entitled to qualified immunity against allegations that he shot a man in the face with a "beanbag propellant" while the man was trying to move away from a riot and approached officers with his hands in a "surrender" position.
"It was clearly established law in this Circuit at the time of the underlying events that individuals have a right not to be shot unless they are perceived as posing a threat to officers or others," the judges wrote at the time.
Federal appeals courts have denied immunity to police accused of arresting a group of 12- and 13-year-old girls in Rancho Cucamonga, California, "to prove a point"; fatally shooting a man in Marion County, Florida, who was backing away from officers and using a Taser not only after shooting him, but also while he was handcuffed; and shooting and wounding a visibly unarmed man in Tulsa County, Oklahoma, who didn't pose any threat to officers.
Michelman said people should be able to take police to court and have their allegations decided on the merits. In most cases where police are found liable, he said it's usually the police departments and local governments that have to pay money damages to victims, not the individual officers.
"What the abolition of qualified immunity will do is incentivize governments that employ law enforcement to better train and better monitor their employees, because they're ultimately going to have to pay the judgments for their unconstitutional actions," Michelman said. ●
CORRECTION
Rep. Justin Amash is a member of the Libertarian Party. This article previously incorrectly stated his political party affiliation.