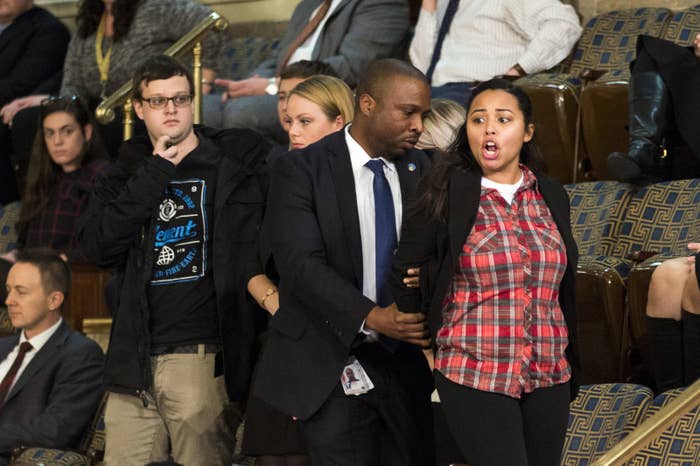 WASHINGTON — Two men and one woman were arrested on Friday at the US Capitol for staging a demonstration as Congress certified the results of the presidential and vice presidential elections.
The protesters, affiliated with the group Democracy Spring, stood up and shouted from the gallery of the House chamber during a joint session of Congress as Vice President Joe Biden read the tally of electoral votes. The certification makes Donald Trump and Mike Pence's victories official.
US Capitol Police said that the three protesters were each charged with one count of disruption of Congress, a misdemeanor that carries a maximum penalty of six months in jail and a maximum fine of $500. The protesters were identified as Tania Maduro of Connecticut, Renaldo Pearson of Massachusetts, and Ryan Clayton of New Hampshire.
The demonstrators stood and spoke out one at a time from different areas of the gallery. Biden called for order and asked the sergeant-at-arms to remove the protesters. The protesters made statements about voter suppression, coming shortly after several members of the House of Representatives unsuccessfully raised objections to the election results. The objections failed to proceed because a senator was required under law to join the objection, and none did so.
Kai Newkirk, mission director of Democracy Spring, told BuzzFeed News that five members of the group, including Newkirk, were in the gallery. Newkirk was there to support the protesters, he said, and a fifth person was there to record the event.
Newkirk said the group had tickets to attend the session, which they received from members of Congress. He declined to identify which members provided the tickets. He said the members were not told how the demonstrators planned to use the tickets when the requests were made within the past week.
Each member had one ticket to give away, and the tickets did not include any personal information that would identify who had made the request.
On a video of the incident on C-SPAN, security officers can be seen leading the demonstrators out by the arm or pushing them out of the chamber. Rep. Hank Johnson said he thought the protesters were mistreated when they were removed.
"They certainly were out of order, they should have been ushered out, but they were manhandled, and I hope this does not signify a change in how we respect First Amendment Rights around here to protest," Johnson told BuzzFeed News.
Democracy Spring organized a mass sit-in at the Capitol in April. More than 1,000 people were arrested, according to news reports at the time. Newkirk has also been involved with the group 99Rise, which staged protests over the past two years inside the US Supreme Court.
UPDATE
The protesters were released Friday evening after posting and then forfeiting $50, a process under District of Columbia law available for certain low-level misdemeanors that resolves the charges.
Lissandra Villa Huerta contributed to this report. This story was updated with additional information about charges.