WASHINGTON — As hundreds of thousands of demonstrators gathered on the National Mall to protest President Trump on Saturday, people arrested the day before during anti-Trump protests in downtown Washington, DC, made their first appearance in court.
Prosecutors are pursuing charges against all of the 230 people arrested on Friday for rioting, according to the US attorney's office in DC. Although anti-Trump demonstrations on inauguration day were largely peaceful, some turned violent, with participants breaking storefront windows, throwing bricks at police, and running through streets and parks downtown as they were chased by police.
The arraignment hearing at DC Superior Court began on Saturday around 1 p.m. and was still going six hours later. As of 7 p.m., 80 people arrested and charged with felony rioting had come before a judge. The court was expected to continue the hearing through the night until everyone arrested on Friday came through.
The defendants processed so far were released until their next court dates, with the condition that they not be arrested again in DC in the meantime.
Felony rioting is a crime under DC law that carries a maximum penalty of 10 years in jail and a fine of up to $25,000. According to police, six officers were injured in confrontations with demonstrators on Jan. 20, and three of those officers sustained minor head injuries after objects were thrown at them. The DC law defines felony rioting as a group of at least five people who, "by tumultuous and violent conduct and the threat thereof," cause "serious bodily harm" or property damage valued at more than $5,000.
A 21-year-old Texas man was also charged with pointing a laser at at US Park Police helicopter during the protests on Friday. He was arraigned in Superior Court but the case is being moved to federal court.
The individuals charged with rioting were generally brought in front of the judge in groups of 10 and were represented by a cadre of public defenders and other court-appointed lawyers. One exception came early in the hearing, when former White House counsel Kathryn Ruemmler entered an appearance for one of the defendants. Ruemmler said her client was a journalist on assignment filming the demonstrations who was swept up in the arrests.

Ruemmler served as President Obama's White House counsel for three years before going to the law firm Latham & Watkins. Ruemmler told reporters outside of the courtroom that her firm represents Vocativ, the media company that employed her client, which is how she got involved.
Dozens of people came to the courthouse on Saturday to support the arrestees. They cheered as defendants left the courtroom; some of the defendants were walking slowly to keep their shoes on because they had to remove their shoelaces after being arrested. The defendants were held by police overnight.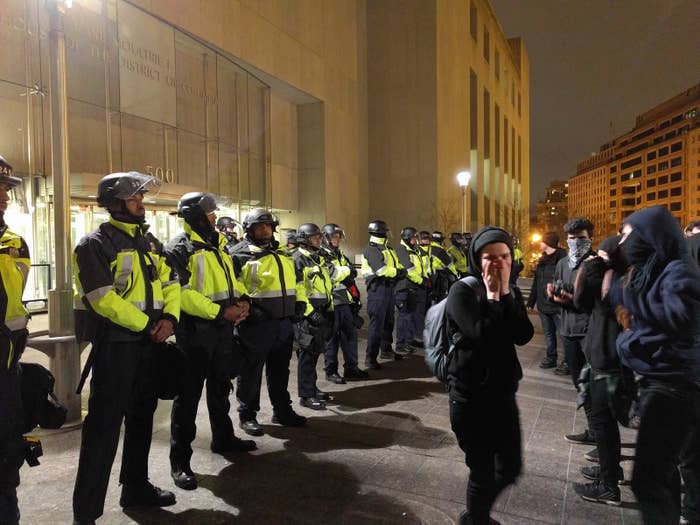 By Saturday night, a crowd had gathered outside the courthouse to greet the arrestees, cheering and applauding as they came out. A line of police formed in between the group and the courthouse entrance, and police were screening people trying to go inside.
Several lawyers offered a preview of their defense strategy during the hearing, arguing that the rioting charge should be dismissed because prosecutors hadn't shown that each defendant was specifically involved in the rioting described in charging documents. Although the defendants were brought out in groups before the judge, they're individually charged.

One lawyer argued that the US attorney's office should recuse from prosecuting the cases because the defendants were charged with participating in anti-Trump riots and Trump was now in charge of the US Department of Justice.
"I appreciate all the creative arguments," Magistrate Judge Rainey Brandt said in response, but she said that at this early stage of the case she only had to find that the government had shown probable cause to move the cases forward.
The defendants are due back in court on various dates in February and March.