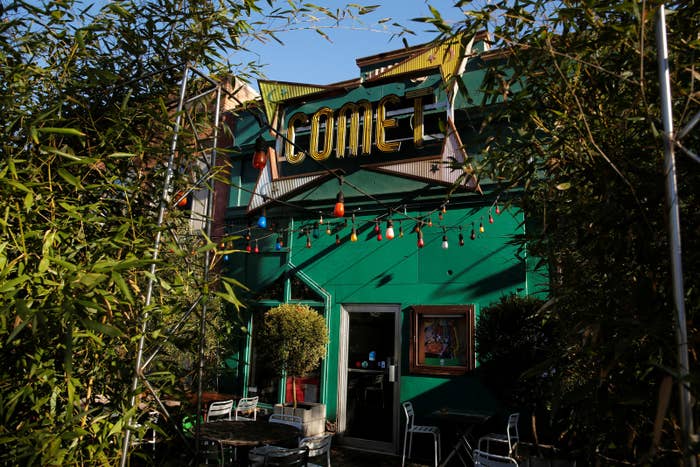 The North Carolina man charged with bringing loaded guns into a Washington, DC, pizza restaurant in connection with the "Pizzagate" conspiracy theory pleaded not guilty on Friday to federal and local firearm charges.
Edgar Welch, 28, will remain in jail as the case proceeds. Prosecutors had argued that Welch should stay behind bars because he was a flight risk and posed a danger to the community. Welch's attorney did not challenge that request at a hearing on Friday morning.
Welch allegedly walked into Comet Ping Pong, a restaurant in northwest Washington, around 3 p.m. on Dec. 4 carrying a loaded AR-15 rifle and a .38 caliber handgun. He later told police that he was investigating reports he'd seen online that the restaurant was the site of a child sex slave ring, according to charging documents.

A federal grand jury returned an indictment on Thursday charging Welch with one federal count of interstate transportation of a firearm with the intent to commit an offense, as well as two charges under DC law, for assault with a dangerous weapon and possessing a firearm during a crime of violence.
The local possession charge—which Welch wasn't charged with when he was first arrested—carries a maximum sentence of 15 years in jail, as well as a mandatory minimum sentence of five years. The federal charge and the local assault charge have maximum sentences of 10 years.
Employees and customers inside the restaurant at the time, including children, fled when Welch entered, prosecutors said. An employee who was outside said that he heard three loud bangs, and that when he came inside Welch pointed the rifle at him, an allegation that Welch has denied. No one was injured. Welch told police that he fired the rifle to try to open a locked door, and left the restaurant when he found no evidence of child sex trafficking, prosecutors said.
Investigators said they found a shotgun and more ammunition in Welch's car. They recovered messages from his phone which allegedly showed him trying to recruit others to join him in driving from North Carolina to Washington to investigate "Pizzagate." In one message quoted in the charging papers, he allegedly wrote that his plans included "possibly sacraficing [sic] the lives of a few for the lives of many."
Welch has been in jail since his arrest, but didn't have a formal detention hearing before a judge until Friday's court appearance. He was initially arrested only on local charges and appeared in DC Superior Court on Dec. 13 for a detention hearing, only to have the government dismiss that case as it pursued charges in federal court.

Welch's lawyer, assistant federal public defender Dani Jahn, argued at his first appearance in federal court that same day that a detention hearing should be held the following day, but the judge agreed with the government's request to schedule it for Friday.
Prosecutors had asked the judge to keep Welch behind bars because of the nature of the crimes he was charged with, arguing that he posed a danger to the community and was a flight risk. In court papers filed on Thursday, prosecutors said there were no conditions that could secure Welch's appearance back in court in Washington for future court dates.
"The defendant brought an assault rifle to a pizza restaurant, placing employees, customers, and children in danger. Earlier, he attempted to recruit others to join him. He also expressed and showed a willingness even to endanger his own life. He travelled hundreds of miles to commit these crimes; he has no means to support himself in the District of Columbia; and he has no contacts with this community," prosecutors wrote.
Welch is due back in court on Jan. 5 before US District Judge Ketanji Brown Jackson for a hearing to update the judge on the status of the case.