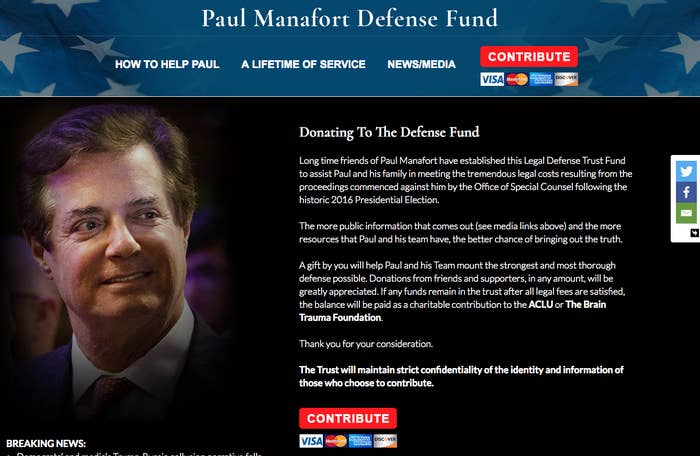 Friends of former Trump campaign chair Paul Manafort have launched a legal defense fund for him as he continues to fight charges brought by special counsel Robert Mueller's office.
Manafort and his family are "struggling to pay legal bills," according to an email on Wednesday announcing the fund that was provided to BuzzFeed News.
The fund was established by unnamed, "longtime" friends of Manafort. A spokesperson for Manafort declined to comment. Fund organizers did not immediately return a request for comment. NPR first reported the fundraising effort.
"Created by longtime friends, the Paul Manafort Defense Fund was established to support the Manafort family as they battle false allegations, government leaks and smear campaigns related to the proceedings brought against him by the Office of Special Counsel," the email announcement said. "The Defense Fund is urging anyone who values civil liberties and wishes to show the 'Deep State' that they cannot exert their will on ordinary citizens, to join them in supporting the Manafort family as they grapple against the Special Counsel to clear their name."
Manafort is facing criminal charges in federal courts in Washington, DC, and Alexandria, Virginia, in connection with his previous work for the Ukrainian government, including allegations that he conspired to launder money earned from that work and that he failed to register as an agent for a foreign entity. He's also facing bank fraud and tax charges.
The indictments include forfeiture claims against property and financial accounts that the government would seize if Manafort is convicted. In most criminal cases, the government doesn't seize assets subject to forfeiture at the start of a case, but those assets are subject to a pretrial restraining order that limits how they can be used while the case is pending.
At a hearing in April in the US District Court for the District of Columbia, one of Manafort's lawyers told the judge that Manafort was unable to access "millions of dollars" for his legal defense. Pursuing what was ultimately an unsuccessful effort to get the charges in DC dismissed, Manafort's lawyer argued at the time that the case was unusual because of the substantial assets tied up while it was pending.
The website for Manafort's legal defense fund doesn't specify a fundraising goal. According to the email announcement, any leftover money will go to the American Civil Liberties Union, "so that they may continue to uphold the civil rights of ordinary citizens." The website says that leftover funds will go to either the ACLU or the Brain Trauma Foundation. Manafort's friends also launched Twitter and Facebook accounts to promote the site.
The website says the trust will "maintain strict confidentiality" about the identity of donors, but also includes a disclosure stating that "Donations from foreign individuals, corporations and other entities are subject to public reporting."
Manafort isn't the only defendant charged in the Mueller investigation with a legal defense fund. Last year, friends and family of former national security adviser Michael Flynn set up a legal defense fund. Flynn pleaded guilty in December to lying in the Russia investigation, and agreed to cooperate with Mueller's office as part of his plea deal. He has not been sentenced yet. Flynn's legal defense fund website states that it will only take money from US citizens and permanent residents.
The Manafort fund website doesn't include restrictions on who can donate, but does state in a disclaimer that the trustees can "reject any gifts they deem inappropriate."
Manafort's codefendant, Rick Gates, has also had some financial help. Republican lobbyist Jack Burkman hosted several fundraisers for Gates, who pleaded guilty in February and agreed to cooperate with Mueller's office. Gates taped a video thanking his supporters that was shown at a December fundraiser hosted by Burkman, prompting questions from US District Judge Amy Berman Jackson about whether that violated her order barring the parties from making public statements that could prejudice the case. The judge ultimately did not find that Gates violated her order, but she issued a warning about making public statements via proxies.
The launch of a legal defense fund for Manafort alone is unlikely to get him in trouble with the judge. In the December order asking Gates to explain his behavior, Jackson wrote that she was "not intimating that the creation of a legal defense fund or the expression of personal views by third parties not acting at the behest of the defense would violate its order."