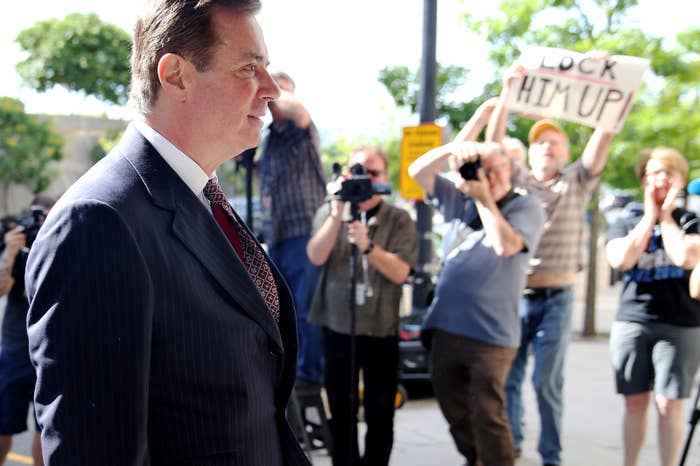 The jury weighing the criminal charges against Paul Manafort did not hear two names during the first day of trial Tuesday: President Donald Trump and special counsel Robert Mueller.
On its face, the case against Manafort in the US District Court for the Eastern District of Virginia has nothing to do with Trump: Manafort is charged with filing false income tax returns, failing to report foreign bank accounts to US authorities, and bank fraud. There are no charges related to the time Manafort spent as Trump's campaign manager in 2016. The case isn't about whether Russia interfered with the election, or whether Trump attempted to obstruct Mueller's investigation.
But the trial also has everything to do with Trump. It's the first case brought by Mueller's office to go before a jury; the rest of the cases out of the special counsel's office resolved via plea deals or are still pending. A jury verdict for Mueller's office would undercut Trump and his allies' challenges to the legitimacy of the investigation. A loss would give significant fuel to Mueller's critics.
There was one hint at Trump's connection to Manafort on Tuesday — during opening arguments, Manafort's lawyer Tom Zehnle told the jury that Manafort was a "talented political consultant and a good man" who had worked for multiple presidents. Zehnle did not name the presidents that Manafort worked for, however, although he also hinted at Manafort's Republican leanings. The judge has warned that he doesn't want the trial to become about politics, and rejected Manafort's request to ask jurors if they voted in 2016.
There were almost no references to the fact that the prosecutors trying the case are serving under Mueller, who has drawn the president's ire for overseeing what Trump has repeatedly called a "witch hunt." Zehnle made at least one reference to the "special counsel" on Tuesday, but generally, prosecutors and the government were referred to throughout the day as they normally would be in any other case handled by the Justice Department.
Manafort is facing 18 criminal counts in federal court in Alexandria, Virginia; he's facing additional charges in the US District Court for the District of Columbia, but that trial isn't scheduled to start until September.
On Tuesday, the first official day of trial, US District Judge T.S. Ellis III pushed to accomplish as much as possible, urging the lawyers to hurry up with the task before them, whether it was picking jurors or questioning a witness. The jury was seated within a few hours — six women, six men, and four alternates (three women and one man) — notwithstanding previous arguments by Manafort's lawyers that the high-profile nature of the case would make it difficult to seat an impartial jury. Most of the juror questioning took place at the bench, out of earshot of the public and the press, and those exchanges will be sealed at least until the end of the trial.
The judge delivered instructions to the jury, and the lawyers gave opening statements. The jury even heard from the government's first witness, Tad Devine, a top adviser to Bernie Sanders' 2016 campaign and a longtime political consultant who worked with Manafort and his company on Ukrainian elections for a number of years, starting in 2005.
The overarching theory of the government's case is that Manafort orchestrated efforts to hide the millions of dollars that he earned from his work for the pro-Russia Party of Regions in Ukraine and former Ukrainian president Viktor Yanukovych from the US government. When the work in Ukraine dried up, prosecutors claim Manafort applied for bank loans based on false information about his net worth, assets, and debts.
"A man in this courtroom believed the law did not apply to him. Not tax law, not banking law," Assistant US Attorney Uzo Asonye said during his opening statement. Asonye isn't part of Mueller's team — he's with the US Attorney's Office in the Eastern District of Virginia — but is working with Mueller's office on Manafort's case in Virginia.
Asonye said that Manafort misled his bookkeeper and tax accountants about the money he was earning, leading to the false tax returns to the US government.
"Garbage in, garbage out," Asonye said.
Asonye told the jury that the evidence at trial would show that Manafort hid millions in more than 30 accounts in Cyprus, Saint Vincent, and the Grenadines, and used that money to finance "his extravagant lifestyle." Asonye ticked off examples of luxury purchases that Manafort allegedly paid for via these accounts — $6 million for real estate, $500,000 for fancy clothes, $500,000 for rugs, millions on home renovations, a $21,000 custom watch, and a $15,000 jacket made from an ostrich.
That line of argument earned Asonye a brief rebuke from the judge, who noted that it was not a crime to buy expensive things. Focus on the elements of the crime, Ellis said.
Manafort's defense is rooted in placing the blame for any issues with his financial documents with his former associate — and former codefendant — Rick Gates. Gates, who also served as Trump's deputy campaign manager while Manafort was running the campaign, pleaded guilty earlier this year and agreed to cooperate with Mueller's office; he is expected to testify at the trial. Gates was in charge of the day-to-day operations of Manafort's company, Zehnle told the jury, and embezzled millions.
"This case is about taxes and trust," Zehnle said.
Zehnle said that Manafort set up the multiple offshore accounts because it's how the wealthy Ukrainians paying for his work — prosecutors referred to them as "oligarchs" — wanted to handle it. They did not want the fact of their support for a particular political party, and the extent of that support, known, Zehnle said. Manafort entrusted information about his finances and his accounts to the various financial services providers he hired, and tasked them with coordinating. While Manafort was traveling and focusing on high-level political strategy, Gates had access to the overseas accounts.
Opening arguments and Devine's testimony showed that a central tension going forward in the trial will be exactly how involved Manafort was in his businesses. Special counsel prosecutor Greg Andres asked Devine, who handled media strategy and advertising on the Ukraine campaigns, to talk about his communications with Manafort about strategy as well as their financial arrangements. Andres introduced a series of exhibits of emails and memos that the two men exchanged in the course of their work together.
Devine was the only witness to testify Tuesday. Zehnle asked Devine about the fact that he and Manafort had worked on opposite ends of the political spectrum in domestic politics — Devine was a top adviser to Sen. Bernie Sanders' 2016 campaign — but worked together in Ukraine. The question drew an unsuccessful objection from Andres. Devine said he felt good about working with Manafort at the time, saying it was part of an effort to open Ukraine more toward Western democracies.
The trial is expected to last several weeks. The government originally said it would need about two weeks to put on its case; when it later said it might need three weeks, Ellis told it to reconsider.