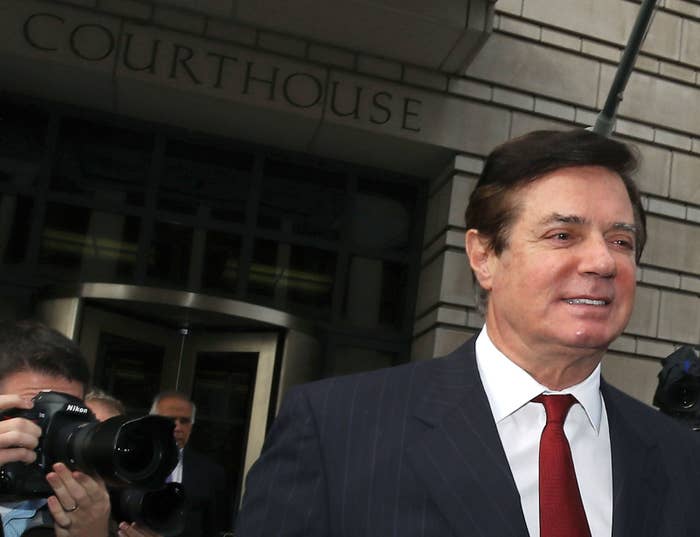 Paul Manafort's lawyers filed court papers on Thursday acknowledging that Manafort had been working on a draft editorial about his work, but they argued that Manafort did not violate a judge's order that he not make public statements that could prejudice the case.
Special counsel Robert Mueller's office told the court on Monday that Manafort recently had been ghostwriting an editorial about his political work for Ukraine with a "Russian colleague" who had ties to a Russian intelligence service. Prosecutors said that in light of Manafort's actions, which they believed would have violated the judge's order, they were no longer supporting a proposed bail package that he submitted to the court.
Manafort's lawyers on Thursday told the judge that Manafort had been editing a draft op-ed written by Oleg Voloshyn, a former spokesperson for the Ministry of Foreign Affairs of Ukraine who had served under former president Viktor Yanukoyvch — one of Manafort's former clients. The piece was intended for the Kyiv Post, an English-language newspaper in Ukraine, according to the filing.
Voloshyn's op-ed was published on the Kyiv Post's website on Thursday. It was accompanied by an editor's note quoting Voloshyn as saying that he had sent it to Manafort for fact-checking and that Manafort had nothing to do with writing it.

Early on in the case, US District Judge Amy Berman Jackson had ordered the parties and the lawyers to refrain from making any public statements that could prejudice the case. In response to the special counsel office's filing this week, Jackson had asked Manafort to explain why he wasn't in violation of her order. Manafort's lawyers argued in Thursday's submission that there was nothing in the op-ed that would be prejudicial.
"The Special Counsel's Opposition — devoid as it is of both legal analysis and
legal precedents — claims that Mr. Manafort has engaged in wrong doing when all he has tried to do is to correct the public record in Ukraine concerning his consulting activities in Ukraine," Manafort's lawyers wrote.
The judge's order did not prevent Manafort from publicly maintaining his innocence, his lawyers said. The special counsel office's interpretation of the speech restrictions on Manafort and his lawyers would be unconstitutional, they argued.
"A fair reading of the Local Criminal Rule establishes that to the extent speech may be restrained, it is not a 'gag order.' Even a cursory reading of Gentile establishes that a defendant (and his counsel) do not lose all of their First Amendment rights in a criminal prosecution," Manafort's lawyers wrote, referring to a 1991 US Supreme Court opinion that addressed restrictions on public statements by parties and lawyers involved in litigation.
Manafort on Nov. 30 submitted a proposed bail package to the court in which he said he would put up four properties valued at $11.65 million. He's asked the judge to lift the conditions of home confinement and GPS monitoring that he's been under since late October, when he made his first court appearance along with his codefendant Rick Gates. The special counsel's office had supported Manafort's bail proposal until this week's developments, according to court filings.
The parties are due back in court for a status hearing before Jackson on Monday.