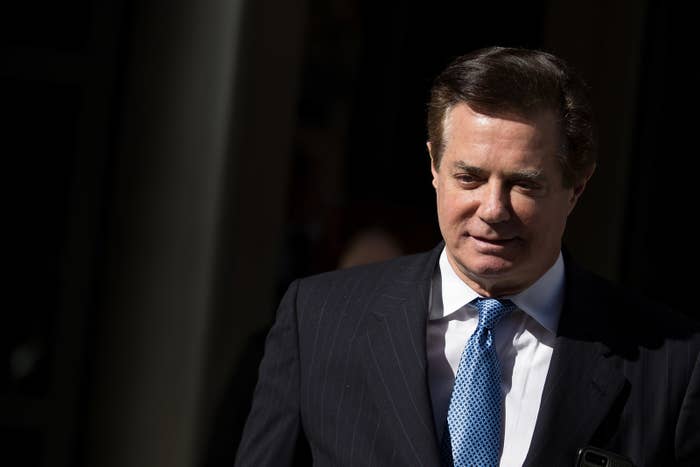 Former Trump campaign chair Paul Manafort is worried about being indicted again.
During arguments Wednesday about whether Manafort's lawsuit challenging special counsel Robert Mueller's appointment could go forward, Manafort's lawyer said the case wasn't about getting the existing indictments tossed out — it was about stopping future prosecutions against Manafort by the special counsel's office.
Pressed by the judge about how Manafort could sue now if he was trying to stop activity by the special counsel's office that hadn't happened yet, Manafort's lead attorney Kevin Downing argued that the harm to Manafort was ongoing because the special counsel's investigation and the grand jury were still active.
Without an order from the court stopping Mueller's office from pursuing other charges in the future — based on an appointment order that Downing contends was unlawful — Manafort would have to "sit and wait" and keep chasing the special counsel's office wherever they decided to prosecute him next in order to challenge Mueller's appointment, Downing said. He didn't specify what other types of charges he thought the special counsel might be investigating against Manafort.
Manafort's civil lawsuit against the Justice Department and the special counsel's office, filed in January in the US District Court for the District of Columbia, asked the court to not only declare Mueller's original appointment in May invalid, but also to set "aside all actions taken against Mr. Manafort pursuant to the Appointment Order."
But Downing has since walked that back, saying that they're only asking for a forward-looking order that blocks future action. Manafort is separately pursuing motions to dismiss the indictments returned by federal grand juries in Washington and Virginia, raising similar arguments about the validity of Mueller's appointment.
US District Judge Amy Berman Jackson — who is also handling Manafort's criminal case in DC — expressed significant doubts on Wednesday about whether Manafort could pursue a civil lawsuit. She questioned whether there was a clear limit on how broad a special counsel's authority could be from the get-go; how Manafort had standing to sue over a possible future prosecution that hadn't yet happened; and why he should be able to bring a civil lawsuit when he could make the same arguments in the criminal cases, where he clearly had the right to challenge the indictments.
The judge noted that the Justice Department regulations Manafort cited explicitly said that they did not create rights that could be enforced in a civil lawsuit. Downing said Manafort's defense was not suing under those regulations, but rather arguing that Mueller's appointment order was a final action by an agency that could be challenged under the federal Administrative Procedure Act.
Manafort is asking Jackson to invalidate the section of Mueller's appointment order that gives the special counsel's office the authority to investigate "any matters that arose or may arise directly from the investigation" into Russian collusion in the 2016 presidential election. That language was too broad, Downing argued, and Deputy Attorney General Rod Rosenstein violated Justice Department regulations in including it; Rosenstein is managing the special counsel investigation because Attorney General Jeff Sessions is recused from matters related to the 2016 presidential election.
Although Manafort's lawsuit originally asked the judge to invalidate the entire appointment order, Downing clarified that they were now only asking the judge to set aside the section referring to "any matters" that came out of the investigation. Manafort plans to file an updated version of the lawsuit that reflects the narrowed focus and also drops a second count that accused Mueller of exceeding the scope of his authority in the appointment order, according to a person familiar with Manafort's legal team.
Jackson asked why the Russia-specific part of Mueller's appointment order wouldn't apply to Manafort anyway since it referred to "any links and/or coordination between the Russian government and individuals associated with the campaign of President Donald Trump." Downing disputed the extent of Manafort's ties to Russia — Manafort never had an office there, he said — and argued that the Russia section should be interpreted as only applying to activities related to the Trump campaign.

The criminal indictments against Manafort in DC and Virginia state that Manafort's political consulting firm, Davis Manafort Partners Inc., had staff in Russia, Ukraine, and the United States. The criminal charges against him stem from his work on behalf of a pro-Russia political party in Ukraine, the Party of Regions, and former Ukrainian president Viktor Yanukovych. Manafort isn't accused of any criminal activity related to his work on Trump's campaign. The current charges include money laundering, conspiring to hide his work for Ukraine from US officials, filing false tax returns, and bank fraud.
In the criminal case in DC, the special counsel's office earlier this week filed a redacted copy of an August memo from Rosenstein saying Mueller's office could investigate not only Manafort's involvement in the campaign but also whether he committed crimes in connection with his work for Ukraine. The Justice Department didn't file that memo in Manafort's civil case, but Jackson asked Downing and the Justice Department about its significance on Wednesday.
Downing said it didn't undercut their case, pointing out that they were no longer pursuing the claim that Mueller exceeded his authority under the appointment order. Justice Department lawyer Daniel Schwei brushed off the memo, saying it didn't have any bearing on the purely legal arguments about why Manafort couldn't bring a civil lawsuit. If anything, Schwei said, the memo showed that the proper place to deal with Manafort's challenges to the special counsel appointment was in the criminal case.
Schwei argued that regardless of Manafort's efforts to narrow the focus of his civil lawsuit, it would "plainly interfere" with the ongoing prosecutions.
The Justice Department is handling the defense against Manafort's civil suit, but at least a half dozen lawyers from the special counsel's office attended Wednesday's hearing, including Manafort prosecutors Andrew Weissmann, Greg Andres, and Brian Richardson.

Jackson did not rule from the bench. She is set to hear arguments on Manafort's motion to dismiss the DC indictment on April 19.