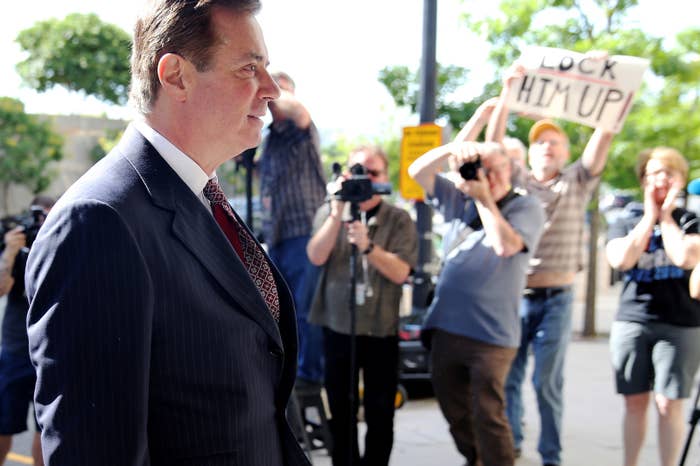 Paul Manafort's lawyers asked a judge to acquit Manafort of all charges after prosecutors rested their case on Monday.
The judge is expected to hear full arguments on Tuesday, but Manafort's lawyers gave a brief preview late in the day, before the judge closed the courtroom for arguments on a sealed matter also related to Manafort's case.
Manafort is charged with bank fraud, filing false tax returns that underreported his income by millions of dollars, and failing to report numerous foreign bank accounts he controlled overseas. His lawyers argued Monday that the government failed to show banks relied on the allegedly false information that prosecutors say Manafort provided to prospective lenders.
And the defense generally contends prosecutors failed to show that Manafort acted with the required "willfulness" when it came to the tax and foreign bank account reporting charges.
The motion from Manafort's lawyers will give US District Judge T.S. Ellis III an opportunity to consider the government's evidence before it goes to the jury, although he can defer a decision until after the jury deliberates. Under the rules that govern criminal cases in the federal courts, judges can acquit a defendant if they find the evidence is insufficient.
Manafort's lawyers have yet to say if they plan to present any witnesses or evidence. The judge said they should be ready to address that on Tuesday morning, as well as whether Manafort will testify or invoke his constitutional right to remain silent.
The strength of the government's evidence about Manafort's dealings with Federal Savings Bank has already come up in nonpublic discussions between the judge and the lawyers. According to a brief filed Monday morning by prosecutors, Ellis "expressed concern" last week during a sidebar conference at the bench about how the bank could be defrauded if its CEO Stephen Calk planned to approve the loans regardless of what Manafort submitted.
Calk hasn't been charged with a crime, but at an earlier hearing prosecutors alleged that Calk and Manafort had a quid pro quo arrangement — that Calk approved $16 million in loans in exchange for a job with the Trump campaign and in the Trump administration; Calk served as an adviser to the campaign, but has not served in the administration. One witness, Dennis Raico, testified last week that Calk asked him to ask Manafort if Calk was up for treasury secretary or secretary of housing and urban development. Raico said he didn't make the call.
The alleged fraud was "complete" when Manafort, with help from his former longtime associate Rick Gates, submitted "false and fraudulent" information to the bank, prosecutors argued in their filing earlier today. In a bank fraud case, it did not matter if a lender was actually influenced, they argued.
The jury has heard that Calk is the majority shareholder of Federal Savings Bank, but prosecutors argued that also doesn't matter — the bank was defrauded, not Calk individually, they contend.
Ellis has been critical of how the government presented its case to the jury, repeatedly urging prosecutors to hurry up and questioning the amount of evidence they wanted to put on. Last week, after the jury heard from a Citizens Bank employee about a loan Manafort applied for but did not ultimately get, the judge said in front of the jury, "You might want to spend time on a loan that was granted." Assistant US Attorney Uzo Asonye replied that the evidence went directly to a specific count of bank fraud that Manafort was charged with in the indictment.
The government filed a motion asking the judge to give the jury a "curative" instruction about his comment, arguing that it "misrepresents the law regarding
bank fraud conspiracy, improperly conveys the Court's opinion of the facts, and is likely to confuse and mislead the jury." The judge has yet to address that request.
The final government witnesses
Before the government rested its case on Monday, the jury heard from James Brennan, an executive at Federal Savings Bank who did underwriting work on Manafort's loan applications. Brennan testified about concerns he and others at the bank had about the information in Manafort's materials — that an income statement prosecutors say was falsified was "inconsistent," that Manafort wasn't making enough money and claiming income with no supporting documents, that there were existing mortgages that weren't listed, and that Manafort owed several hundred thousand dollars for New York Yankees season tickets.
"[The loan] closed because Mr. Calk wanted it to close," said Brennan, who was granted immunity to testify.
The jury saw a memo that Brennan prepared about Manafort's application for a set of loans for construction on a property in Brooklyn, in which Brennan gave Manafort a "risk rating" of 4 — if the number was higher than that, the loan wouldn't be approved, he said. But Brennan testified that he did not believe the loan was a "4" and did not think it should have been approved.
Special counsel prosecutor Greg Andres asked Brennan why he entered the rating if he didn't believe it. Brennan replied that the loan wouldn't go through if the number was higher, and the loan "was going through." Manafort's attorney Richard Westling asked if it was true that no one told Brennan to give the loan a "4" rating. Brennan said that was correct.
Westling asked if Brennan knew who actually filled out the information in Manafort's loan application. Brennan said he did not. Andres later asked Brennan if Manafort had signed the documents. Brennan said he had.
The jury previously heard that Manafort owned property via separate corporate entities, sometimes jointly with family members. Westling asked how an individual would know that they needed to report a mortgage owned by a corporate entity; Brennan said the application asked about any loans that an individual guaranteed.
Westling made a point he raised with another witness last week, which was that Manafort put up assets worth more than the value of the loan he was seeking — roughly $15.3 million for a $9.5 million loan against a property Manafort owned in Bridgehampton, New York. Westling asked if that was a "healthy" ratio; Brennan called it "standard."
The government's final witness was Paula Liss, a senior special agent with the Financial Crimes Enforcement Network. The jury had already heard from her — she testified that there was no record of Manafort reporting any foreign bank accounts with the US Department of Treasury. The government wanted her to also testify that there were no records that Manafort's businesses filed reports, but Manafort's lawyers argued that wasn't relevant — the businesses weren't charged with a crime, they said.
Ellis ruled Liss could testify, but gave the jury an instruction before she took the stand that they could not convict Manafort based on crimes that weren't in the indictment. Jurors could consider the information about his businesses if it was relevant in deciding what Manafort knew about the reporting rules, the judge said. There was no cross-examination.