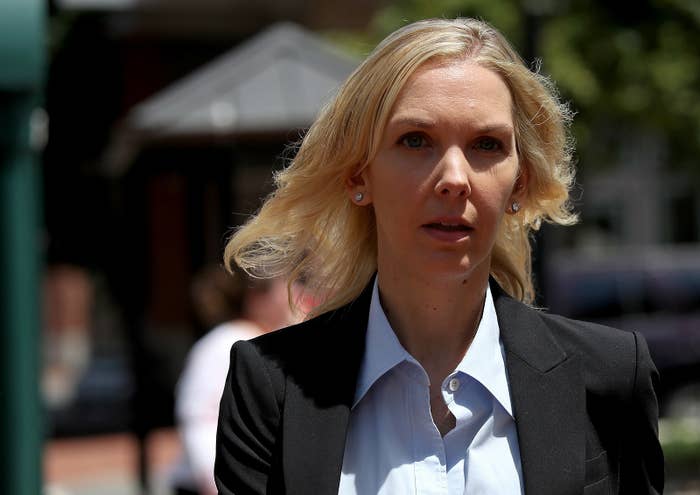 While Paul Manafort was running President Donald Trump's campaign in the summer of 2016, Manafort's once-lucrative political consulting business was suffering financially, Manafort's bookkeeper testified Thursday.
As of July 31, 2016, DMP International had a net income loss of $638,048, the bookkeeper, Heather Washkuhn, said. By the end of the year, she testified that the loss had grown to $1,193,325.

Whether those numbers accurately reflect Manafort's financial situation that year is a matter of dispute in the trial that's unfolding this week in the US District Court for the Eastern District of Virginia. Manafort's apparent wealth was a selling point in Trump's decision to bring him on as campaign manager, according to the New York Times, as was the fact that Manafort offered to work for the campaign without pay.
Special counsel Robert Mueller's office has charged Manafort with underreporting income he earned from his political consulting work in Ukraine from 2010 to 2014, failing to report foreign bank accounts, and committing bank fraud in 2015 and 2016. Washkuhn's testimony touched on all of the charges, taking up much of the third day of Manafort's trial.
Washkuhn said she'd worked for Manafort from 2011 to 2018, and served as his lead bookkeeper starting in 2014. She oversaw his personal and business transactions, everything from tracking his income and paying his bills to managing the finances of properties he owned. At the end of each year, she said she prepared a year-end financial statement that she sent to his accountants to use in preparing his taxes.
Washkuhn testified she only knew about accounts that Manafort told her about. She said she would sometimes ask for documentation when she saw transactions she wasn't aware of — sometimes she got those documents, and sometimes not, she said. She testified that she was not aware of any foreign bank accounts controlled by Manafort. When she saw international wire transfers come in, she said, she thought they were from whoever was paying Manafort for his work abroad.
Special counsel prosecutor Greg Andres presented 14 names to Washkuhn, asking if she knew if Manafort had accounts under those names. She said she did not know, and that she didn't know what the accounts were. Previously in the trial, the jury heard from vendors — high-end clothing retailers and home contractors — who testified that Manafort was a client and that they received international wire transfers from him from several accounts that Andres asked Washkuhn about on Thursday.
Prosecutors allege Manafort's financial backers in Ukraine paid him by depositing money into overseas bank accounts, and that Manafort would wire money from those accounts for personal expenses and did not report all the money as income in his taxes. On Thursday, the jury saw records that at least some money from the overseas accounts identified by prosecutors was listed as income in Washkuhn's records.
Washkuhn described Manafort as "knowledgeable" and "detail-oriented."
"He approved every penny of everything we paid," she said.
When one of Manafort's lawyers asked if Manafort's longtime associate Rick Gates was involved in signing off on transactions for Manafort's accounts, Washkuhn said his involvement was minimal, and that the bulk of her contact was with Manafort. Gates was originally charged with Manafort, but he pleaded guilty earlier this year and agreed to cooperate with Mueller's office. Manafort's lawyers plan to blame Gates for issues with Manafort's finances, per their opening presentation to the jury earlier this week.
The jury saw evidence and heard testimony from Washkuhn that appeared to go toward the government's claims that Manafort engaged in financial trickery to make it seem as though he had less income to avoid paying taxes during some years, and more money other years when he was trying to convince banks to give him loans.
In 2012, for instance, Washkuhn said her records included an entry for a $1.5 million loan to DMP International from Peranova Holdings — an entity that prosecutors have said was incorporated in Cyprus and controlled by Manafort. She also testified about an entry for a $1.5 million loan from Peranova in 2014. In 2015 — when prosecutors say Manafort wasn't earning as much money but trying to show banks he was a safe candidate for a loan — Washkuhn testified that her ledger showed the Peranova loan was reclassified as income, after she received word from Gates that the loan had been forgiven and should be treated as income.
Washkuhn did not testify about the overall status of Manafort's finances, including other entities he controlled and his personal accounts, during those years. But Washkuhn did testify that in 2016 he was having trouble paying his bills, including for personal expenses and for her services as his bookkeeper. In 2014, Washkuhn said DMP International's net income was $3.4 million. In 2015, she said, it was down to $400,744. In 2016, Washkuhn's records showed the $1,193,325 loss in net income.

The judge asked Washkuhn if it was true that when she described something as income, that was her opinion — couldn't a tax preparer have a different opinion, he asked. Yes, she replied.
The jury saw other documents about DMP International's income with sums that didn't match what Washkuhn recorded. The government has charged Manafort with fraudulently obtaining bank loans by misrepresenting his income and debts. The jury saw a financial statement that Washkuhn said she prepared that showed DMP International as having $400,744 in net income in 2015. The government then showed Washkuhn another document that appeared to be an email from Gates to the Banc of California, with Manafort and Manafort's former son-in-law Jeff Yohai included. A document attached to that email looked similar to Washkuhn's record, but she said she hadn't prepared it — the font was different, the heading was different, and it didn't include a disclaimer that goes at the bottom of documents from her company.
It listed DMP International's net income in 2015 as $4.4 million. Andres asked Washkuhn if that was correct. "Not to my knowledge," she replied.
The jury saw Washkuhn's statements of DMP International's income in 2016 — net losses of $638,048 by the end of July and more than $1.1 million by the end of the year. Andres then showed Washkuhn a document that Manafort appeared to have emailed to an officer at another bank in September 2016. The document looked similar to Washkuhn's statements, but she said she hadn't prepared it. The September document had typos — "Septembe" instead of September, for instance — and it was missing entries and had a different font, she noted. It listed DMP International's net income as more than $3 million as of September 2016.
On cross-examination, Manafort's lawyer Tom Zehnle asked if Manafort's financial affairs were complicated to manage. Washkuhn said yes. Zehnle asked if other people were involved in collecting documents for mortgage loans, including Gates and Manafort's tax accounting company. Washkuhn said they were.
The jury also heard Thursday from two other contractors who said they did business for Manafort and received wire transfers from accounts based in Cyprus to pay for that work. Near the end of the day, the jury started to hear from one of Manafort's tax accountants, Philip Ayliff; his testimony is expected to continue on Friday. Ayliff testified that his company communicated to clients, including Manafort, the importance of reporting foreign bank accounts. Manafort's 2014 personal tax return indicated he did not have any financial interest in overseas accounts, Ayliff said.
Interactions between the judge and the government were less tense than they were on Wednesday, when the judge repeatedly chastised prosecutors for the amount of evidence they presented about Manafort's personal expenses and luxury lifestyle. The judge did continue to urge the government to hurry up on Thursday, and a few times expressed frustration with how long prosecutors were taking to question witnesses.
During one exchange — after the jury had left the courtroom — the judge asked prosecutors to try to keep their questions as focused as possible. Andres said they were doing their best.
"Your best is all I expect," Ellis said. "I just ask you not stint in giving me your best."
"Always," Andres replied.