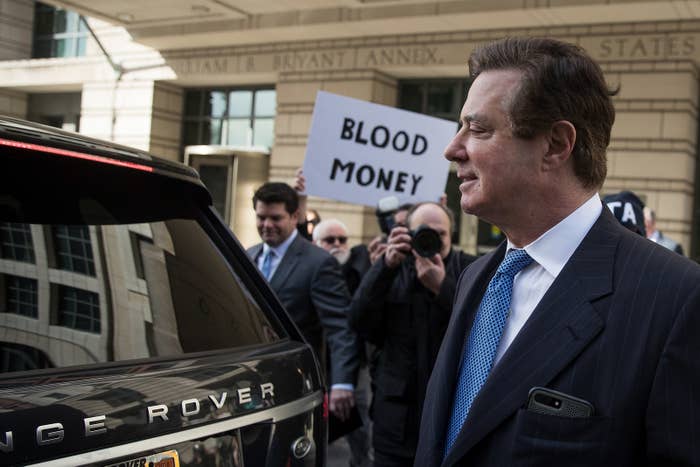 Former Trump campaign manager Paul Manafort on Wednesday night asked a judge to dismiss the criminal case filed against him in federal court in Washington, DC, arguing that special counsel Robert Mueller's appointment was invalid and that Mueller had exceeded the scope of his authority.
This is the second time that Manafort has attempted to challenge the lawfulness of Mueller's appointment last year as special counsel as well as the reach of the special counsel's investigation. Manafort is separately pursuing a civil lawsuit that raises the same arguments.
"This prosecution breaks sharply with a principle fundamental to this Nation's structure and traditions — that the power to enforce criminal laws must be exercised by officers who are politically accountable to the people," Manafort's lawyers wrote.
Manafort's challenge is twofold. First, he's arguing that Deputy Attorney General Rod Rosenstein's order in May appointing Mueller as special counsel was invalid because it gave Mueller too much power at the start.
The appointment order states that the special counsel is authorized to investigate any coordination between the Russian government and the Trump campaign. It also gives Mueller the authority to investigate "any matters that arose or may arise directly from the investigation," and that's where Manafort argues it went too far. Manafort contends that federal regulations require that for a special counsel to go beyond his or her "original jurisdiction" — in this case, collusion with Russia — the special counsel must consult with the attorney general and get their permission. With Attorney General Jeff Sessions recused, Rosenstein, as second in command, is overseeing the probe.
Manafort then argues that even if the appointment order was valid, Mueller nevertheless went beyond the authority that it gave him. The appointment order said that the special counsel could investigate matters that "arose or may arise directly from the investigation," but Manafort said the indictment isn't related at all to the Russia investigation. It charges him with financial crimes and other criminal activity that largely predated his work on Trump's campaign, and that the Justice Department reportedly knew about, at least in part, before Mueller's appointment.
"The charges therefore cannot 'arise out of' the original investigation. And they certainly do not 'arise from' it directly," Manafort's lawyers wrote.
Manafort's lawyers also separately filed motions to dismiss individual counts in the indictment. On the money laundering charge, they argued that income from his work on behalf of Ukraine and the personal items he spent that money on — prosecutors said those purchases included antique rugs, clothing, cars, and real estate — didn't "promote" the other criminal activity he was accused of. And they asked the judge to dismiss one of the two counts alleging that he lied to investigators, arguing that they should count as a single offense.
A spokesman for the special counsel's office did not immediately return a request for comment.
A federal grand jury in Washington returned an indictment against Manafort and his longtime associate Rick Gates, who was also Trump's deputy campaign manager, in late October. They were charged with conspiring to defraud the US government, money laundering, failing to register with the government as agents for foreign entities, failing to report foreign bank accounts, and making false statements.
The grand jury returned a superseding indictment against Manafort in late February, which added new allegations — it upped the amount he was accused of laundering from $18 million to $30 million — and removed the counts related to foreign bank accounts, which special counsel prosecutors are now pursuing in another criminal case against Manafort in Virginia. Manafort again pleaded not guilty.
In a court filing in the Virginia case last month, the special counsel's office estimated that in the DC case alone, Manafort faced an estimated sentencing guidelines range of between 188 to 235 months in prison — roughly 15 to 19 years.
Manafort in January filed a separate civil lawsuit against the Justice Department and the special counsel's office, arguing that Mueller's appointment was invalid and that Mueller had since exceeded the scope of his authority as special counsel.

The lawsuit asked for the judge to declare the order appointing Mueller as special counsel invalid, to set aside "all actions taken against Mr. Manafort pursuant to the Appointment Order," and to declare that Mueller lacks authority to probe matters beyond the issue of Russian interference in the 2016 presidential election and any collusion with the Trump campaign. The Justice Department has asked the judge to dismiss the lawsuit, defending Mueller's appointment and his exercise of authority to date. The judge has yet to rule.
Manafort's civil lawsuit and his criminal case in the US District Court for the District of Columbia are both before the same judge, US District Judge Amy Berman Jackson. Gates, who has agreed to cooperate with the special counsel's office as part of a plea deal, did not join the civil suit.
Manafort is also facing criminal charges in the US District Court for the Eastern District of Virginia. At his first court appearance there on March 8, his lawyer told the judge that Manafort also planned to challenge the Virginia indictment on the grounds that the special counsel's appointment was invalid.
Manafort notified the DC judge on Wednesday that he had added a new defense lawyer to his team, Richard Westling, a member of the law firm Epstein Becker & Green. A spokesman for Manafort declined to comment on why Westling was brought on and whether he'd have a particular focus, but he brings experience as a former federal prosecutor in New Orleans and as an attorney in the Justice Department's Tax Division — experience that's especially notable now that Manafort faces a new set of tax-related charges in the Virginia case.
Westling did not return a request for comment. He also has experience with high-profile political cases, having represented former federal judge G. Thomas Porteous Jr. in impeachment proceedings. Porteous, accused of corruption and other allegations of misconduct in office, was found guilty by the US Senate in December 2010 and removed from office.
Before Porteous's trial, however, a Senate committee removed Westling, finding he had a conflict of interest because he represented two witnesses in the impeachment case against Porteous, as well as in a civil lawsuit, according to news reports at the time.