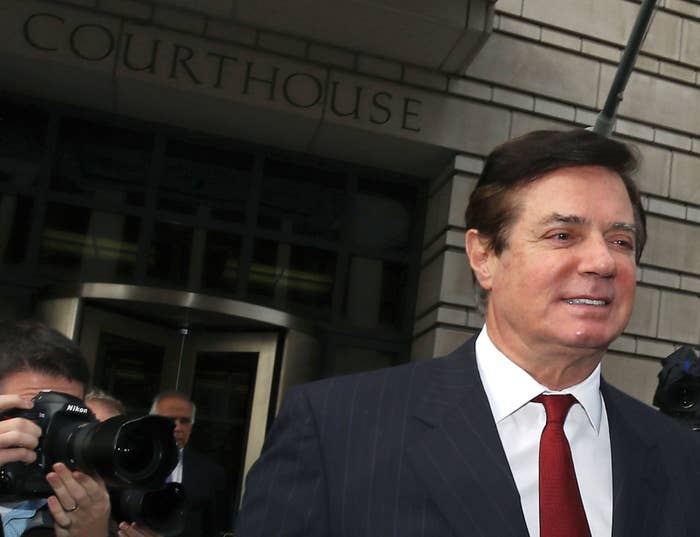 Former Trump campaign manager Paul Manafort is pledging to put up four properties with a net value of $11.65 million in exchange for having his home confinement and GPS monitoring lifted while the criminal case against him goes forward.
According to court papers filed on Thursday, special counsel Robert Mueller's team has agreed that if Manafort posts the four properties — two in New York, one in Florida, and one in Virginia — it would be enough to ensure he doesn't flee the country or otherwise violate bail conditions. If Manafort violated bail, he would forfeit those assets.
It's not a done deal — the judge still has to sign off. And while Manafort was able to reach an agreement with the special counsel's office about bail, it does not mean that he's reached any agreement with respect to the 12-count indictment that a grand jury returned last month against him and his longtime associate Rick Gates.
Under the proposed release conditions, Manafort would be allowed to travel to Florida, Virginia, and New York — where he has homes and does business — without needing special permission from the court, but he would need approval to travel elsewhere in the United States. He would not seek to travel abroad.
Manafort is prepared to put up the following properties, with the values estimated based on the market value minus what is owed: an eight-bedroom house in Bridgehampton, New York, valued at $4 million; a condo in Manhattan valued at $3.7 million; a home in Palm Beach Gardens, Florida, valued at $1.25 million; and a condo in Alexandria, Virginia, valued at $2.7 million.
Notably not on the list is a property on East 5th Avenue in Manhattan — identified by several media outlets as being in Trump Tower — that Manafort previously said in court papers he was willing to post in exchange for his release from home confinement. Manafort's attorney Kevin Downing did not immediately return a request for comment.
US District Judge Amy Berman Jackson has expressed hesitation about lifting the GPS monitoring. Special counsel office lawyers have argued in court filings that Manafort and Gates pose serious flight risks, prompting Jackson at a hearing earlier this month to ask how Mueller's team could support getting rid of GPS monitoring. Special counsel lawyer Greg Andres replied that because Manafort and Gates had surrendered their passports, GPS monitoring wouldn't be necessary as long as they faced significant financial conditions.

Manafort and Gates have been under home confinement since their first court appearance on Oct. 30. The judge has allowed them to go outside on a handful of occasions, most recently for Thanksgiving.