Paul Manafort Said On A Monitored Phone Call In Jail That He's Being Treated Like A "VIP," According To Prosecutors
Manafort's jail conditions include private living and bathroom quarters, his own laptop and phone, and a "workaround" for the jail's no-email rule.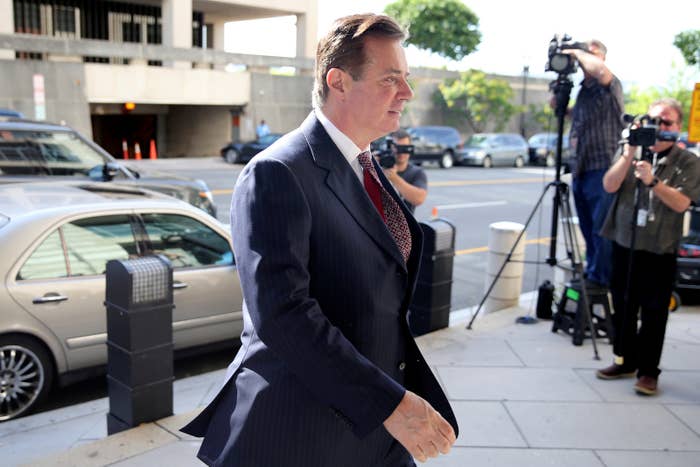 To hear special counsel Robert Mueller's office tell it, Paul Manafort has a relatively comfortable setup at Northern Neck Regional Jail in Warsaw, Virginia, where he's been held for nearly a month.

Manafort is housed in a private living unit that is bigger than his fellow inmates' unit, prosecutors said in court papers on Wednesday. He has his own bathroom and shower facility, his own telephone, his own laptop — complete with an extension cord so he can move it around — and his own workspace that he can use to prepare for trial. He also has access to a separate workroom to meet with his lawyers.
Manafort himself even said that he was being treated like a "VIP," according to prosecutors, who cited his monitored phone calls from prison.
Manafort's lawyers are arguing that his incarceration since June 15 has significantly hurt their ability to prepare for the trial scheduled to start July 25 in the US District Court for the Eastern District of Virginia. They asked US District Judge T.S. Ellis III to postpone the trial until after Manafort has his trial in federal court in Washington, DC, which is set to start in September.
Mueller's office pushed back in papers filed Wednesday, saying that Manafort's jail conditions haven't been more restrictive than those of other inmates' facing trial, and, in fact, in some ways had been "less restrictive." Days before his lawyers asked Ellis to delay the trial, Manafort said on a taped prison call, "I've gone through all the discovery now," which prosecutors argued was a sign that he hadn't had a problem reviewing evidence.
When Manafort first arrived at Northern Neck Regional Jail, he was classified in their system as "VIP." In an interview with BuzzFeed News, the jail's superintendent Ted Hull said the title was a misnomer — it meant that Manafort was housed alone, but it did not mean there was a "qualitative" difference in his conditions of confinement. Manafort was placed in the VIP unit because of the "management challenges" associated with a high-profile inmate, he said.
Manafort landed in jail after Mueller's office accused Manafort of attempting to interfere with potential witnesses by phone and text. US District Judge Amy Berman Jackson, who is presiding over Manafort's DC case, found that detention would be the only way to protect the community going forward — she said she couldn't take away his cell phone, quipping, "This is not middle school."
But being in jail hasn't stopped Manafort from making calls or even sending emails, notwithstanding the fact that inmates don't have access to email, according to Mueller's office. Prosecutors said that Manafort can use the personal phone in his unit for more than 12 hours each day to talk to his lawyers, and that although each phone session is limited to 15 minutes, he can just call back when time is up. In the past three weeks, Manafort had more than 100 calls with his lawyers and an additional 200 calls with other people.
Prosecutors also said that Manafort reads emails on a second computer brought in by his team and then composes emails that are sent once the laptop is reconnected to the internet outside of the jail. Manafort's lawyers countered in a reply filed Wednesday that prosecutors' description of his email access was wrong — it was possible for Manafort to tell his lawyers what information he wanted communicated, but any emails sent were "consistent with the rules of the detention facility."
The government noted that Manafort hadn't yet asked to postpone his trial in DC. Several days after arriving at Northern Neck, prosecutors said Manafort had a call in which he suggested there was a strategy to going to trial first in Washington. Manafort told the person on the line to "think about how it'll play elsewhere. ... There is a strategy to it, even in failure, but there's a hope in it."
A spokesperson for Manafort declined to comment. In their response on Wednesday, Manafort's lawyers wrote that the government's filing "does not generally misrepresent the confinement conditions." But they argued that the government's opposition showed "a lack of concern with fairness or due process."
"Moreover, the Special Counsel's opposition further demonstrates its unlimited resources. Apparently, but unsurprisingly, the Special Counsel has taken the time to assign personnel to listen to all of the non-privileged phone calls Mr. Manafort makes from jail. Armed with personal conversations between Mr. Manafort and his family, the Special Counsel selects snippets to support its version of events. The Special Counsel does not pause to consider the reasons a detained defendant might have to make his situation sound better when speaking with concerned friends and family," Manafort's lawyers wrote.
Manafort's lawyers in earlier filings had asked to waive Manafort's presence in court leading up to the Virginia trial, noting the hours-long travel between Northern Neck and Alexandria. They also cited the distance in describing the pretrial preparation difficulties posed by Manafort being in jail and asking to postpone the trial. But when Ellis earlier this week ordered Manafort to be moved to the Alexandria Detention Center, Manafort's lawyers balked, saying they'd rather he stay at Northern Neck. The problem wasn't really the distance, they said, but rather just his incarceration. They said there were concerns about his safety and the difficulty of adjusting to a new place so soon before trial.

But Ellis stuck by his decision to move Manafort. The judge said Manafort's lawyers hadn't identified any specific security issue at the Alexandria facility, which he noted had a track record of housing high-profile inmates, "including foreign and domestic terrorists, spies and traitors."
Manafort has also asked Ellis to consider moving the trial from Alexandria to Roanoke, Virginia, citing the intense publicity surrounding his case. Ellis scheduled a hearing for July 17 on Manafort's motions to move and postpone the trial.