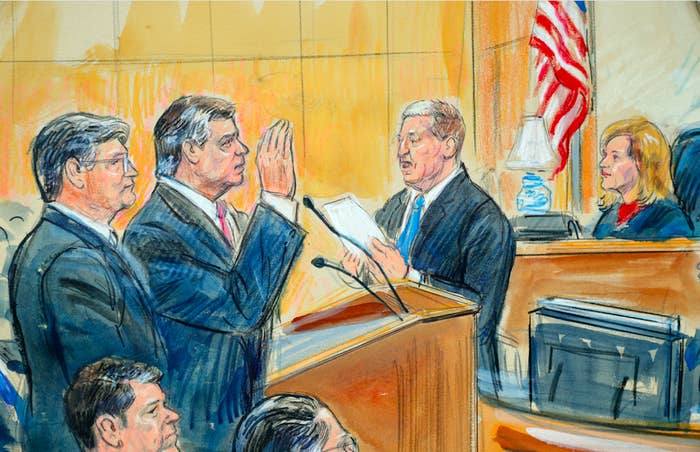 WASHINGTON – Prosecutors in special counsel Robert Mueller's office say former Trump campaign chair Paul Manafort lied to them and to the FBI after signing a plea deal in September, violating the terms of the agreement.
In court papers filed Monday night, prosecutors did not specify what information Manafort gave them that was allegedly false, but said it covered "a variety of subject matters." They said they'd be submitting more information to the court later.
Manafort has been obligated to cooperate with federal prosecutors since he entered a guilty plea in September in one of the two criminal cases filed against him by the special counsel's office. As part of his plea deal, Manafort agreed to delay sentencing until he was finished working with the government.
Manafort's lawyers disputed the government's claim, writing that Manafort "believes he has provided truthful information and does not agree with the government's characterization or that he has breached the agreement."
Prosecutors said they were done working with Manafort, and asked the judge to set a date for sentencing. Manafort's lawyers wrote that they agreed there was no reason to delay sentencing, "given the conflict in the parties' positions."
In Manafort's plea deal, the government agreed to advocate for a lower sentence if they thought he provided "substantial assistance in the form of truthful information." Monday's filling likely means that's off the table.
Manafort is already scheduled to be sentenced on Feb. 8 in federal district court in Alexandria, Virginia, where a jury found him guilty in August of eight tax and bank fraud charges. At a hearing in October in the Virginia case, Manafort's lawyers asked the judge to speed up the sentencing process, saying Manafort was suffering from "significant" health issues; Manafort attended the hearing in a wheelchair and appeared to be wearing a thick white sock or wrapping on his right foot.

On the eve of his second trial in federal district court in Washington, DC, Manafort took a plea deal. He pleaded guilty to two counts — conspiring to defraud the United States through a range of financial crimes, and conspiring to attempt to interfere with potential witnesses in Mueller's investigation. He agreed to "cooperate fully, truthfully, completely, and forthrightly with the Government ... in any and all matters as to which the Government deems the cooperation relevant."
Manafort wasn't charged in connection with his work running Trump's campaign in the summer of 2016. His cooperation agreement was broad, and didn't specify what information prosecutors wanted him to share; the agreement didn't limit his cooperation to Mueller's office, so he also could have been assisting other prosecutors and law enforcement officials across the Justice Department.
At the plea hearing on Sept. 14, Mueller's office asked the court for 60 days until they updated the judge on the status of Manafort's case. The first report was due Nov. 16. One day before, however, lawyers for the government and for Manafort asked the court for another 10 days, saying the brief delay would allow them "to provide the Court with a report that will be of greater assistance in the Court's management of this matter."
Manafort has been in jail since June, when the judge in his DC case, US District Judge Amy Berman Jackson, ordered him held pending trial after prosecutors raised new allegations of attempted witness tampering.
As the special counsel's office prepares for Manafort's sentencing hearings, Jackson is figuring out what will happen to real estate and other assets that Manafort agreed to forfeit to the US government as part of his plea deal. Two banks have filed petitions with the court saying that Manafort owes them millions of dollars for mortgages that are in default, and they want the court to take into account their interests when finalizing the forfeiture terms.
Earlier this month, UBS Bank petitioned the court to recognize its interest in Manafort's condominium in Trump Tower in New York, since it holds the mortgage on the property. The mortgage is in default, according to the bank, and as of Nov. 1, Manafort owed the $3 million loan plus $108,437 in interest and other fees.
Federal Savings Bank also filed a petition, saying it had an interest in two houses that Manafort was set to forfeit to the government — one in Water Mill, New York, and one in Brooklyn. Manafort was also in default on those properties, according to the bank, owing more than $10.6 million on the Water Mill house and more than $6.7 million for the Brooklyn property. National Bancorp Holdings, which owns Federal Savings Bank, also filed a petition with the court about the Water Mill and Brooklyn properties.
The person serving as trustee for a life insurance policy that Manafort and his wife took out to benefit their daughters and other family members also filed a petition seeking $73,853, saying he hadn't been paid for his work.
Jackson set deadlines for Mueller's office to respond to the petitions later this week and in January.