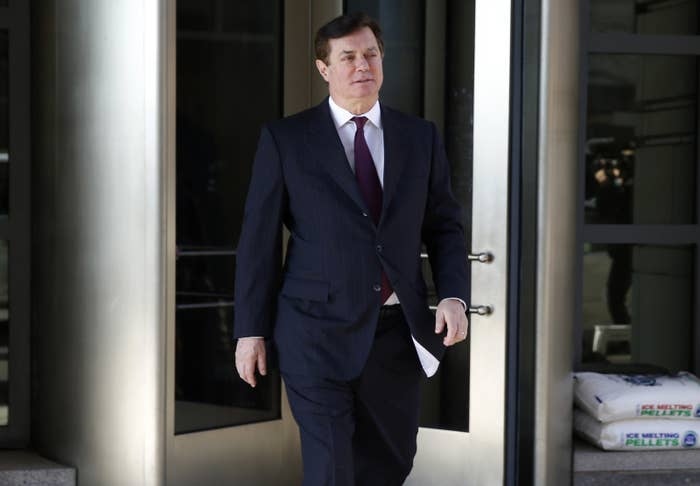 Former Trump campaign chair Paul Manafort filed a lawsuit on Tuesday asking a judge to declare the appointment of special counsel Robert Mueller invalid and to stop the criminal case Mueller's team is pursuing against Manafort.
Manafort — who is facing a slew of criminal charges in connection with his past work overseas — is arguing that Deputy Attorney General Rod Rosenstein went too far when he gave Mueller authority in May to investigate not only any possible collusion between the Trump campaign and Russia, but also any other matters that "arose or may arise" from the investigation.

"The Appointment Order purports to grant authority to the Special Counsel to expand the scope of his investigation to new matters without the consent of — indeed, without even consulting — any politically accountable officer of the United States," Manafort's lawyers wrote.
Manafort wants a judge to declare Rosenstein's original appointment order invalid, to block Mueller's office from investigating issues outside of Russian collusion, and to set aside "all actions taken against Mr. Manafort pursuant to the Appointment Order."
A spokesperson for the special counsel's office declined to comment. A Justice Department spokesperson wrote in an email to BuzzFeed News: "The lawsuit is frivolous but the defendant is entitled to file whatever he wants."
The lawsuit was filed on Tuesday in the US District Court for the District of Columbia by the same lawyers representing Manafort in the criminal case, Kevin Downing and Thomas Zehnle.
Manafort and his longtime associate Rick Gates were charged in late October with money laundering, failing to report overseas bank accounts, failing to register as lobbyists for foreign entities, and making false statements. They've pleaded not guilty.
The criminal case is still in its early stages — Manafort and Gates have been fighting in court most recently over the conditions of their release while the case is pending. Both are still under home confinement, although the judge has ruled on the pretrial release conditions for Manafort. The judge has yet to set a trial date. Gates is not part of Manafort's civil lawsuit against the Justice Department.
Appearing before the House Judiciary Committee on Dec. 13, Rosenstein was asked if Mueller had ever asked to expand the scope of the special counsel's investigation. Rosenstein said that he and Mueller talked early on about what the special counsel's team would investigate, and that Mueller had acted within the bounds of that understanding.
To the extent there was any ambiguity in Mueller's May appointment order, Rosenstein said, he had given Mueller permission to include those matters in the investigation. Rosenstein declined to discuss the specifics of what topics beyond Russian collusion he had given Mueller permission to explore.
"There are a lot of media stories speculating about what the special counsel may or may not be doing. I know what he's doing," Rosenstein said at the hearing. "I'm appropriately exercising my oversight responsibilities. So I can assure you that the special counsel is conducting himself consistently with our understanding about the scope of his investigation."
In the new lawsuit, Manafort's lawyers argue that under federal regulations, the attorney general — or, in this case, Rosenstein, since Attorney General Jeff Sessions is recused from the Russia probe — has to provide a "specific factual statement" about what a special counsel will investigate. In this case, Manafort's lawyers said, Mueller was given clear jurisdiction to investigate Russian interference in the election.
For anything beyond the Russia probe, however, Manafort's lawyers wrote that the regulations require the special counsel to consult with the DOJ official in charge to determine if the matter falls under the special counsel's authority. Rosenstein couldn't preemptively give Mueller that authority in the original appointment order, they argue.
The indictment against Manafort and Gates primarily concerns their work on behalf of the Ukrainian government and Ukrainian officials from 2006 to 2015, before their involvement with Trump's campaign. The indictment does accuse them of making false statements to the government in late 2016 and early 2017 about the nature of that work, after Manafort had left Trump's campaign amid scrutiny over his ties to Ukraine.
Manafort's lawyers wrote in the lawsuit that they sent a letter to Rosenstein on Sept. 12 asking if he gave Mueller authority to investigate Manafort for potential crimes going back to 2006. Rosenstein hasn't responded, they said.
UPDATE
This story was updated with additional information about Paul Manafort's lawsuit and about Deputy Attorney General Rod Rosenstein's Dec. 13, 2017, testimony.