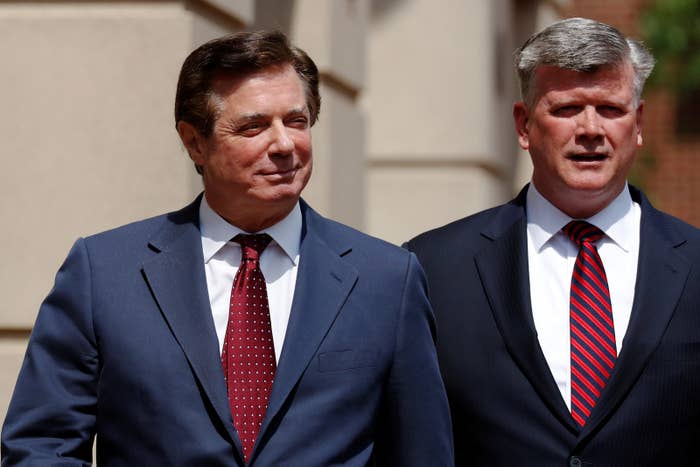 A federal judge said Friday that he would not dismiss the charges against former Trump campaign chair Paul Manafort in Virginia based on allegations that prosecutors leaked grand jury information, knocking out one of Manafort's last hopes at dismissal less than a month from trial.
Jury selection in the federal district court in Alexandria, Virginia, is scheduled to start on July 25. The leak issue isn't over — the judge hasn't ruled yet on whether prosecutors shared information they weren't supposed to — but US District Judge T.S. Ellis III made clear on Friday that he didn't see enough in Manafort's court papers to merit outright dismissal. Manafort's lawyer said they would consider asking the judge to move the trial to another city if he did find violations of grand jury secrecy rules.
Friday's hearing before Ellis covered not only the leaks issue but also Manafort's motions to suppress evidence seized from his storage unit and his home in Virginia. An FBI special agent who testified in court revealed that special counsel Robert Mueller's office and the FBI may have learned that Manafort had a storage unit during a meeting in April 2017 with four Associated Press reporters, who came to the government with questions about information they uncovered while investigating Manafort.
Manafort has questioned the relationship between special counsel Robert Mueller's office and the press, but it was not immediately clear how the April 11, 2017, meeting described by FBI special agent Jeffrey Pfeiffer on Friday would factor into that dispute. According to the agent's account, the reporters did most of the talking, and the government lawyers and agents present — a group that included special counsel prosecutor Andrew Weissmann — largely declined to comment. Pfeiffer testified that they learned about the unit either from his investigative efforts or the AP meeting, and later said they subpoenaed the storage company after the AP meeting.
However, Pfeiffer did say that the reporters asked if they were off track at all with the information they presented, and they were "advised" that they had a good handle on Manafort's business dealings. Manafort's lawyer Thomas Zehnle asked Pfeiffer who told the reporters that; Pfeiffer said he did not recall.
A spokesperson for the AP said in a statement after the hearing, "Associated Press journalists met with representatives from the Department of Justice in an effort to get information on stories they were reporting, as reporters do. During the course of the meeting, they asked DOJ representatives about a storage locker belonging to Paul Manafort, without sharing its name or location."
The judge gave the lawyers one week to file additional papers on the leak issue; he said he would not hold another hearing on the issue. Manafort's lead attorney Kevin Downing argued that false information about Manafort had spread in the media, and Ellis asked him to elaborate on that. Judges are loathe to change venue except in extreme circumstances where they find a jury pool is so tainted by information about a case that a defendant could not get a fair trial.
Manafort did not attend Friday's hearing; he waived his appearance, citing the long trip from Northern Neck Regional Jail, where he's been held since a judge ordered him detained on June 15 pending trial amid allegations that he attempted to tamper with potential witnesses. He's suffered a string of losses in recent weeks in the cases filed against him by Mueller's office in Virginia and Washington, DC. Earlier this week, Ellis rejected Manafort's arguments that the indictment should be dismissed because Mueller's appointment was unlawful.
Ellis did not rule on the motions to suppress on Friday. Manafort has argued that the initial, warrantless search of the storage unit — agents later obtained a search warrant to do a more thorough search and to seize evidence — was unlawful; Mueller's office contends it was valid because they had permission to go in from Alexander Trusko, a former Manafort employee listed as the occupant of the unit on the lease.

Zehnle asked if Trusko had only signed the lease because Manafort was not available to do so. Pfeiffer replied that he could not speak to the reason, but he did acknowledge writing in his search warrant application that Trusko had said he performed duties for Manafort and his companies at Manafort's direction.
On the home search issue, Manafort is arguing that the search warrant was too broad and that investigators had failed to explain at the outset why they reason to believe there would be evidence on various electronic media devices that they seized.
Looking ahead to the trial next month, Ellis denied a request by the government to have prospective jurors fill out a written questionnaire that included questions about what they had heard about the case and what they thought about Mueller. Ellis, who has sat on the court since 1987, said he had done enough trials to conclude that written questionnaires weren't necessary for a case like this. He said he expected most jurors would have heard about the case — he said he would ask the questions and make a judgment about whether a juror could be fair and impartial while "looking at them."
Ellis did say that he would keep questions as focused on the case as possible — he would not ask jurors who they voted for, for instance, he said.
Ellis said he expected to keep the trial date in place, barring a personal need to reschedule. When Uzo Asonye, a federal prosecutor in Virginia who is working with Mueller's office, told the judge that the government expected to need three weeks, instead of the two weeks they originally estimated, to put on their case, Ellis told them to reconsider.
Ellis has run a tight courtroom, admonishing lawyers to keep their arguments brief, although the judge himself is prone to digressions and colorful quips — in chastising Asonye for asking leading questions of Pfeiffer on Friday, he told the story of a successful former colleague who never asked leading questions, a lawyer who is now deceased and in the "great litigation land in the sky," the judge said.
UPDATE
Updated with comment from the Associated Press.