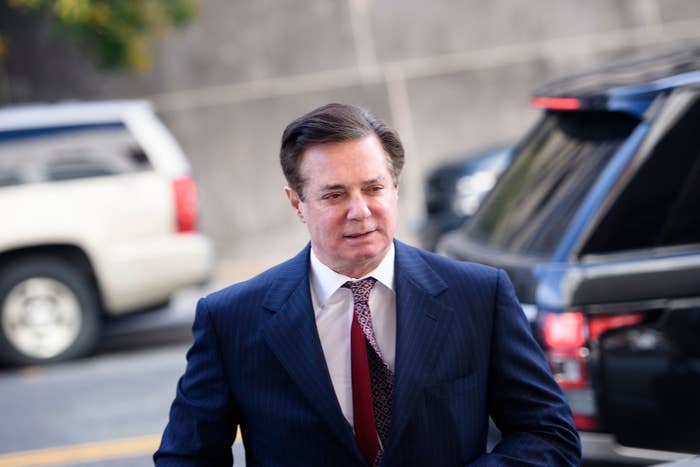 Paul Manafort is going to jail pending his trial — a decision a federal judge in Washington, DC, made on Friday after the Special Counsel's Office accused President Donald Trump's former campaign chair of attempting to tamper with potential witnesses in his criminal trial.
US District Judge Amy Berman Jackson announced the ruling in court. Manafort was immediately taken into custody. He appeared calm. He was led to a nonpublic area behind the courtroom, turning to briefly wave at his wife before going back.

Jackson found that in light of the new allegations from special counsel Robert Mueller's office, she could not craft release conditions that she thought would be sufficient to protect the community. Those allegations said that Manafort and his longtime associate Konstantin Kilimnik had repeatedly attempted to call and text two former business associates starting in February — an effort that one of those associates told an investigator he understood as an attempt to "suborn perjury." Manafort did not pose a physical danger, she said, but he presented a danger to "the administration of justice."
"I cannot turn a blind eye to these allegations ... You have abused the trust placed in you six months ago," Jackson said.
In a 19-page order issued a little before 8 p.m. Friday night, Jackson laid out the reasoning for her decision in more detail, concluding that — in light of the allegations and evidence presented by the special counsel's office regarding the jury tampering charges — "there are no conditions that would assure that the defendant will comply with the most fundamental condition of release under the Bail Reform Act: that he not commit a Federal, State, or local crime during the period of release."

Also at the hearing, Jackson denied a request by Manafort's lawyer to put her order on hold to give the defense an opportunity to appeal her decision, a request that special counsel prosecutor Greg Andres opposed. Jackson said she was concerned that in light of her order, Manafort's risk of flight had just "multiplied."
Manafort's lawyers declined to comment after the hearing. A spokesperson for the Special Counsel's Office also declined to comment.

A couple hours after Jackson ruled at the hearing, Trump tweeted — inaccurately — that Manafort had received a "tough sentence."
In ordering Manafort jailed pending his trial, Jackson rejected a request at the hearing by Manafort's lawyer to consider imposing a clearer "no contact" order covering his communications going forward in lieu of incarceration, arguing he had "largely" been in compliance with her pretrial release conditions until now.
"This is not middle school. I can't take his cellphone," Jackson said.
Jackson chastised Manafort for his behavior in the case over the previous months, noting it was not the first time she had to address his compliance with her orders. Earlier in the hearing, she pointed to a previous incident in which prosecutors raised concerns that Manafort had violated Jackson's order against making public statements prejudicial to the case, citing his role in editing an op-ed that ran in a Ukrainian newspaper about his case. Jackson did not find him in violation of her order, but warned him to be careful going forward.
The judge said on Friday that she was troubled that Manafort seemed "to treat these proceedings as just another marketing exercise."
Jackson agreed with Manafort's lawyers that she had not entered a "no contact" order as a condition of his pretrial release. However, she noted that US District Judge T.S. Ellis III in Alexandria, Virginia — the judge presiding over the special counsel office's other case against Manafort — had imposed a "no contact" requirement as part of the release conditions there. And as a condition of his release in both cases, Manafort was ordered not to commit any other crimes while he was out.
Ellis's order stated that Manafort "must avoid all contact, directly or indirectly, with any person who is a victim or witness in the investigation or prosecution of the defense." Jackson said she would consider Manafort's alleged violation of that order in making her decision. Mueller's office notified Ellis of the witness tampering allegations, but Ellis has not held a hearing or issued a decision related to the new charges and the consequences for Manafort's release conditions.
Before the ruling on his detention pending trial, Manafort pleaded not guilty to the latest superseding indictment in his case in the US District Court for the District of Columbia — which added charges of obstruction of justice relating to the witness tampering allegations. Manafort already had been facing charges of conspiracy to defraud the United States, money laundering conspiracy, failing to disclose to the US government the extent of his work on behalf of former Ukrainian president Viktor Yanukovych and other Ukrainian entities, and making false statements.
Jackson then heard arguments on whether Manafort should be able to stay out of jail pending trial. As she described the events of the case so far, she hinted early on that she was displeased with Manafort's behavior, noting that his release conditions order had stated — "in bold," she emphasized — that he not commit other crimes while he was free.
Andres argued that the special counsel's office did not believe there were any conditions that could assure the court that Manafort would not commit more crimes and that he would comply with the court's order going forward.
Manafort engaged in a "sustained campaign" over a five-week period to influence testimony and obstruct justice while he was free on bond, Andres said.
According to the government, after a grand jury returned a superseding indictment against Manafort in late February, he and Kilimnik tried to reach out to the two former business associates via text message and phone calls. Those former associates had served as a link between Manafort and Kilimnik and a group of former European officials known as the "Hapsburg group." Prosecutors have alleged that Manafort tapped these officials to engage in an illegal lobbying scheme in the United States on behalf of Ukraine, which he did work for prior to joining Trump's campaign in the summer of 2016.
In a text to one of the individuals — originally referred to as "D1" but now identified in mistakenly unsealed court filings as journalist Alan Friedman — Manafort wrote, "We should talk. I have made clear that they worked in Europe." But Friedman told a federal investigator that he thought Manafort was trying to "suborn perjury" because Friedman knew the Hapsburg group worked in the United States, according to the government's filings.
Andres introduced a new piece of evidence on Friday, a statement from Friedman about a one minute and twenty-four second phone call that Manafort placed to Friedman on February 24. According to Andres, Friedman said that he received Manafort's call while he was in a car on a rural road in Italy. Friedman said Manafort told him that he needed to give him a "heads up" about the Hapsburg group, and that Manafort told him it was important that they talk. Friedman said he wanted to get off the phone and told Manafort he couldn't talk, and hung up on Manafort while Manafort was still talking.
Andres also brought up Manafort's use of encrypted messaging apps such as WhatsApp as well as a tactic known as "foldering," in which multiple people have access to a draft email so that outsiders can't tell who the message is meant for.
Manafort's lawyer Richard Westling accused Andres of overselling the significance of Manafort's use of apps, saying that more than a billion people use WhatsApp, including Westling's children. Westling argued that it hadn't been clear to Manafort who he could or could not contact, and that a direct order from the judge would resolve any issues going forward.
There was no evidence that Manafort tried to threaten anyone or offered them a reward for giving certain testimony, Westling said. Most of the communications cited by prosecutors were one-sided — Manafort and Kilimnik sending messages with no reply or unanswered phone calls — and it was not clear what the context was behind the messages that Manafort did send, he argued.
Jackson was unconvinced, noting that there were several messages that clearly referenced the Hapsburg group.
"I feel like you're somewhat understating what we have," the judge said.
Westling told Jackson he understood that this was the type of decision judges did not want to have to make. On that point, Jackson agreed.
The question of Manafort's release "continues to be, to this minute, an extraordinarily difficult decision," the judge said.
This is a developing story. Check back for updates and follow BuzzFeed News on Twitter.‏