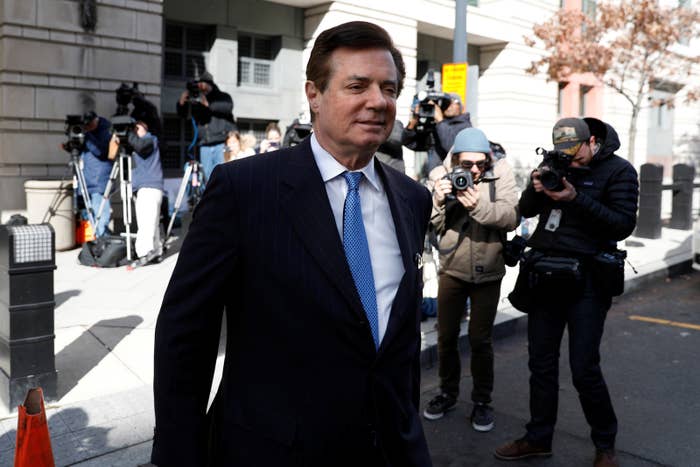 Former Trump campaign chair Paul Manafort filed papers late Monday asking a judge to suppress evidence seized last summer from his home in Virginia, arguing that the search warrant was "overbroad" and that the agents who executed it went beyond its parameters.
The motion to suppress evidence in the criminal case against him in federal court in Washington, DC, follows a similar challenge that Manafort lodged late last week to suppress evidence seized from a storage unit. Both searches are part of special counsel Robert Mueller's investigation into Russian interference in the 2016 presidential election, which has led to indictments against Manafort in DC and Virginia.
Manafort hasn't been charged with any crimes related to his work on Trump's campaign, but the search warrant documents included with his motion to suppress on Monday showed that Mueller's team was investigating his work on the campaign last year. One area of interest that the search warrant application listed was the June 9, 2016, meeting at Trump Tower between campaign officials — including Manafort — and a Russian lawyer.
The FBI agent who signed the warrant application wrote that there was probable cause at the time to believe that Manafort's home contained evidence of various crimes. Manafort was ultimately charged with some of those violations — such as failing to report foreign bank accounts, failing to register as a foreign agent, and money laundering — but the affidavit also lists some crimes that Manafort wasn't charged with, including violations of the ban on campaign contributions by foreign nationals.
Manafort has pleaded not guilty to the indictments returned by federal grand juries in Washington and Virginia.
A federal judge in Virginia signed off on the search warrant for Manafort's condo in Alexandria, Virginia, in July. Manafort says the agents who searched his home "seized or imaged every electronic device and storage device." He contends that nine months later, the special counsel's office has kept everything that was seized, and failed to return materials that didn't fall under the warrant.
The search warrant was too broad, Manafort's lawyers wrote, allowing agents to take "any and all financial records" that belonged to Manafort, his wife Kathleen Manafort, his longtime associate and former deputy campaign chair Rick Gates, and any companies associated with the three of them. It also directed agents to seize evidence pertaining to Manafort's "state of mind" in connection with the crimes that Mueller's team was investigating.
"While seizing agents naturally look for evidence of the subject's guilt, the
role of the warrant is to limit their discretion to determine what constitutes such evidence," Manafort's lawyers wrote. "This warrant did no such thing."
The affidavit that the FBI presented to the Virginia judge in asking for the warrant failed to show that the devices investigators believed were used in connection with criminal activity were actually in the Manafort home, his lawyers argued. They also accused agents of going beyond the scope of the warrant by taking all electronics that they found, including Apple "music and video devices."
Manafort's motions to suppress evidence in the DC case were due on April 6, but late that evening he asked the judge for an extension over the weekend. He filed his motion to suppress evidence taken from the storage unit in the meantime. On Monday, US District Judge Amy Berman Jackson gave Manafort until the end of the day to file the challenge to evidence taken from his home.
Manafort's motion includes a copy of a document that lists the evidence agents seized from his Virginia home, but it is almost entirely redacted.
Investigators were looking for evidence on Manafort's work for former Ukrainian president Viktor Yanukovych and the pro-Russia Party of Regions, whether he had made false statements to the Justice Department or the Internal Revenue Service, his foreign financial holdings, his taxes, and the Trump Tower meeting.
The application listed as one subject area of interest: "Communications, records, documents, and other files involving any of the attendees of the June 9, 2016 meeting at Trump Tower, as well as Aras and Amin Agalorov." Amin appears to be a reference to Emin Agalarov, Aras Agalarov's son. The two men had worked with Trump on the Miss Universe pageant in Moscow in 2013. When music producer Rob Goldstone emailed Donald Trump Jr. in June 2016 about setting up the meeting with the Russian lawyer at Trump Tower, Goldstone wrote that he was making the contact via Emin and Aras.
In the application, the agent also wrote that there was reason to believe the apartment would contain evidence of items that Manafort allegedly bought using money from foreign bank accounts, such as clothing and rugs.