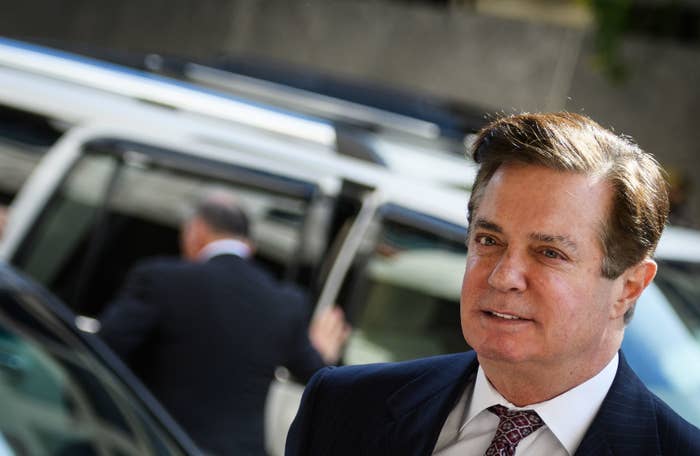 Former Trump campaign chair Paul Manafort is appealing a judge's order sending him to jail while his case is pending.
Manafort's lawyers filed court papers Monday notifying the judge in Washington, DC, presiding over Manafort's case that they are appealing her June 15 order revoking his pretrial release. The case will now go to the US Court of Appeals for the DC Circuit.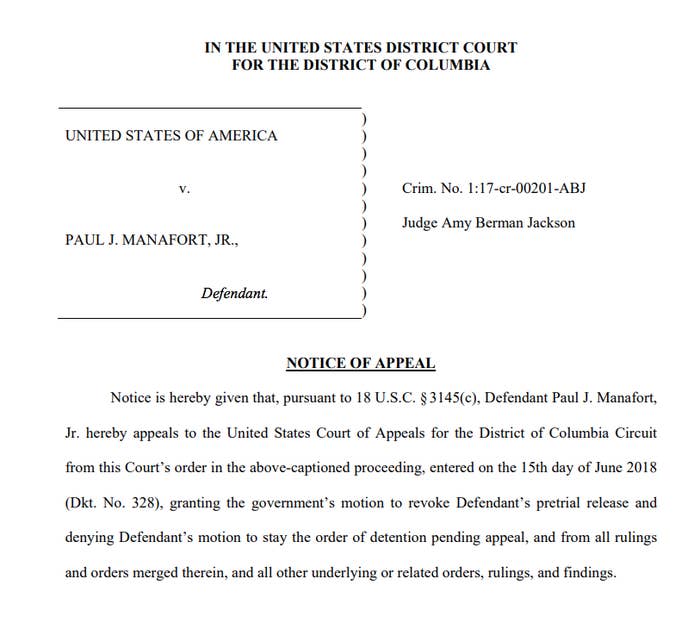 Manafort is also appealing a judge's order in April dismissing his civil lawsuit challenging the validity of special counsel Robert Mueller's appointment.
Manafort was released on home confinement after a federal grand jury in DC first returned an indictment against him in late October. He had been attempting to negotiate looser release conditions when Mueller's office filed papers in early June alerting US District Judge Amy Berman Jackson that they had evidence that Manafort tried to contact potential witnesses.
Manafort's lawyers downplayed the significance of the communications — the bulk of his attempts at contact weren't even successful, they noted — and they argued that, at most, the judge should issue an order making clear who he could and could not talk to leading up to his trial in September.
Prosecutors countered that there were no release conditions that would ensure Manafort wouldn't try to contact other potential witnesses in the future. They pointed out that one recipient of Manafort's messages told investigators that he understood Manafort's outreach as an attempt to "suborn perjury."
Since June 15, Manafort has been held at the Northern Neck Regional Jail in Warsaw, Virginia. Jail records indicated that Manafort had "VIP" status at the facility, but in a recent interview with BuzzFeed News, jail superintendent Ted Hull pushed back on the idea that this meant Manafort is enjoying luxury accommodations.
Manafort is set to go to trial next month in the other case that Mueller's office is pursuing against him in Alexandria, Virginia. Manafort has pleaded not guilty in both cases.
According to prosecutors, Manafort and his codefendant and business associate Konstantin Kilimnik made repeated efforts to contact two former business associates after the grand jury returned a new version of the indictment against Manafort in late February.
Those former associates had been a link between Manafort and Kilimnik and a group of former European officials known as the "Hapsburg group." Prosecutors have alleged that Manafort organized efforts to have these officials engage in an illegal lobbying scheme in the United States on behalf of Ukraine, which he did work for before joining Trump's campaign in the summer of 2016.
In a text to one of the individuals — originally referred to as "D1" but now identified in mistakenly unsealed court filings as journalist Alan Friedman — Manafort wrote, "We should talk. I have made clear that they worked in Europe." But Friedman told a federal investigator that he thought Manafort was trying to "suborn perjury" because Friedman knew the Hapsburg group worked in the United States, according to the government's filings.
At the June 15 hearing, Jackson told Manafort that he had "abused the trust" placed in him when he was released pending trial.
"I cannot turn a blind eye to these allegations," the judge said.