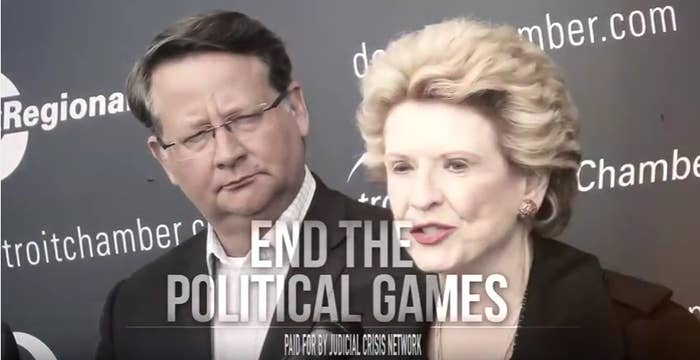 The Judicial Crisis Network, a conservative advocacy group, on Friday announced a $140,000 ad campaign backing one of President Trump's lower court nominees.
It's the latest infusion of cash into the escalating political fight over Trump's picks for the federal courts. Earlier this month, NARAL Pro-Choice America announced a six-figure campaign, including ad buys, opposing one of Trump's judicial nominees. LGBT rights group Lambda Legal just invested in opening a Washington office, with lower court nominees a top priority for its small but growing staff there.
If big-dollar campaigns over US Supreme Court nominees have become standard, it's been less so for the lower courts, which rarely command the same level of public attention. But with the White House pushing out a steady stream of judicial nominees, and scoring some early wins, groups on the left and the right are focusing energy and dollars on the courts.
The Judicial Crisis Network's new ad campaign in Michigan supports Michigan Supreme Court Justice Joan Larsen's nomination to the US Court of Appeals for the 6th Circuit. Senate Judiciary Committee Chairman Chuck Grassley previously said he would not move on judicial nominees without the okay from their home state senators, although he has signaled he might reevaluate that practice in the future — and Michigan's senators, both Democrats, have yet to sign off on Larsen.
Under a practice known as the "blue-slip process," home state senators turn in a form — historically on blue paper — indicating their approval or disapproval of a nominee. Depending on the Judiciary Committee chairman's preferences at a given time, an unreturned or negative blue slip could mean the committee did not act on that nominee.
Michigan senators Debbie Stabenow and Gary Peters have yet to return blue slips for Larsen and are still reviewing her paperwork, representatives of their offices told BuzzFeed News. At a hearing earlier this week on other judicial and Department of Justice nominees, Grassley mentioned that he wasn't moving on certain court nominees because Democrats hadn't returned blue slips.
Judicial Crisis Network's new ad highlights Larsen's credentials, and calls on Stabenow and Peters to stop the "political games." The group's chief counsel and policy director, Carrie Severino, told BuzzFeed News that the goal of the ad is to increase pressure on the senators to return their blue slips, and that the network would be directing its resources to "push back" in similar situations going forward.
"We want to stand up against the partisan politics aspect of it and try to encourage this really qualified woman to have her hearing and move forward to a seat on the 6th Circuit," Severino said.
Grassley observed the blue-slip process when Republicans controlled the Senate under President Obama, and the non-return of blue slips by Republicans was in part what kept a number of Obama's lower court nominees from getting out of committee by the end of his second term. Democrats attempted to use blue slips to hold up some of President George W. Bush's nominees, but former Judiciary Committee chairman Sen. Orrin Hatch went ahead with those nominations over their objections.
The Judicial Crisis Network has marshaled substantial sums in the past on judiciary-related issues. In early January, it announced that it would spend $10 million to support Trump's Supreme Court nominee, who hadn't yet been revealed. The nominee, Justice Neil Gorsuch, was confirmed in April.
Russell Wheeler, a visiting fellow at the Brookings Institution who tracks federal court nominations, said that high-dollar campaigns for or against lower court nominees historically have been rare occurrences.
"You could expect that once the process became more divisive and controversial and polarized, that groups would go into business spending money trying to promote among senators anywhere candidates that are controversial," Wheeler said.
NARAL's recent ad buy was about Kentucky lawyer John Bush's nomination to the 6th Circuit. The ads spotlight Bush's time blogging about politics under the pseudonym G. Morris, when he wrote, among other things, that slavery and abortion were the "two greatest tragedies in our country." Bush said at his confirmation hearing that there were some posts he wished he had phrased differently, and that he would not bring his politics to the bench, but his responses have not mollified Democrats or liberal and civil rights groups. The Republican-led Judiciary Committee is expected to vote on whether to send Bush's nomination to the full Senate in July.
Lambda Legal recently announced a $100 million campaign to oppose anti-LGBT policies and nominees under Trump — and a "significant percentage" of those funds will go to its new DC office, Sharon McGowan, a former top Justice Department Civil Rights Division official tapped to lead Lambda's DC operation, told BuzzFeed News. The lawyers in DC will be reviewing the records of Trump's court nominees and organizing opposition campaigns as needed, which could include ad buys, McGowan said.
"A significant portion of what we will be doing is not only reaching out to the Hill … but also engaging in a larger public education campaign so people understand the gravity of the threat we're facing, when you have people being put forth for a lifetime appointment," McGowan said. "We're talking about one or more generations of people affected by the nominees that Trump puts on the court."