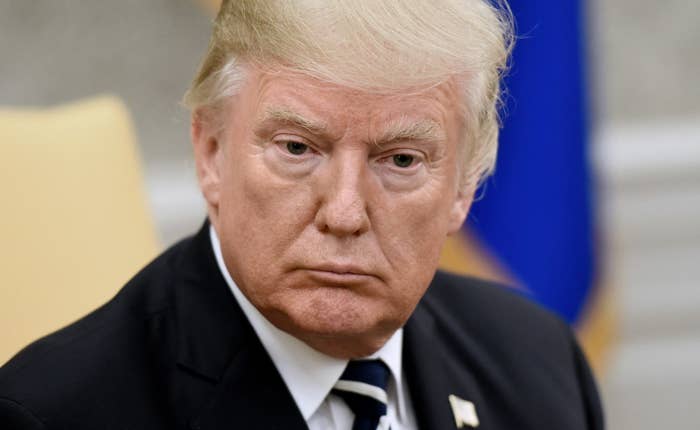 One of President Trump's judicial nominees has received a rare "not qualified" rating from the American Bar Association.
Charles Goodwin, who serves as a federal magistrate judge in Oklahoma City, is the first of Trump's judicial nominees to receive a "not qualified" rating from the ABA's Standing Committee on the Federal Judiciary, which vets all federal court nominees.
It's also the first time that a lower court nominee has received that rating since 2006.
The ABA committee evaluates judicial nominees on their integrity, professional competence, and judicial temperament. The committee typically does not provide explanations for its ratings for lower court judges unless a representative testifies before the Senate. An ABA spokesperson declined to comment on Goodwin.
A letter obtained by BuzzFeed News that the ABA sent Monday to Senate Judiciary Committee Chairman Chuck Grassley and ranking Democrat California Sen. Dianne Feinstein about Goodwin's rating did not note why the ABA views him as being unqualified.
Goodwin declined to comment on the rating through a member of his court chambers.
Goodwin was nominated in July to serve as a US district judge in the US District Court for the Western District of Oklahoma. In a joint statement, Oklahoma Sens. Jim Inhofe and James Lankford said that they would continue to support Goodwin's nomination.
"Charles Goodwin was appointed by his peers and has served as a U.S. magistrate judge in the Western District of Oklahoma for four years, demonstrating a strong reputation for being fair and ethical," the senators said. "While we recognize the evaluation given by the American Bar Association, the fact remains that the ABA uses limited criteria and their opinion should not impede a successful Senate Judiciary Committee hearing."
According to the White House, Goodwin worked in private practice at a law firm before he was appointed as a magistrate judge in the Oklahoma City federal court. Goodwin's Senate questionnaire detailing his work history and personal background is not yet publicly available because the committee hasn't received it, according to a spokesperson. He doesn't have a hearing scheduled yet before the committee.
Unlike most of his predecessors in the White House, Trump is not submitting his judicial nominees to the ABA for review in advance of announcing nominations. The ABA is instead doing its review after the nominations become public. President George W. Bush had a similar practice of not sending his nominees in advance, but according to the ABA, every other president since President Dwight Eisenhower has done so.
The ABA's federal judiciary committee has 15 members representing each of the federal judicial circuits in the United States. They give judicial nominees one of three ratings: Well qualified, qualified, or not qualified. A majority of members voted Goodwin "not qualified," while a minority voted him "qualified." One member abstained from voting.
Some conservatives have charged that the ABA has a liberal bias in rating judicial nominees, and earlier studies found that nominees chosen by Democratic presidents were more likely to receive a higher rating. But numerous Republican nominees have received the highest rating, including 24 of the 32 Trump nominees that the ABA has reviewed to date.
No judicial nominee received a "not qualified" rating while President Barack Obama was in office, according to a review of the ABA's records by BuzzFeed News. The New York Times reported in 2011 that the Obama administration was not nominating potential picks who received a "not qualified" rating from the ABA during the preannouncement review process. Eight of Bush's nominees received the "not qualified" rating, as did four of President Bill Clinton's nominees. Bush and Clinton respectively nominated hundreds of federal judges.
Judges who received "not qualified" ratings in the past have gone on to confirmation, but a 2014 study by political scientist Maya Sen found that nominees who receive the lowest rating are less likely than their higher-rated peers to make it onto the bench.

UPDATE
This story was updated with additional information about the review of judicial nominees during the Obama administration.