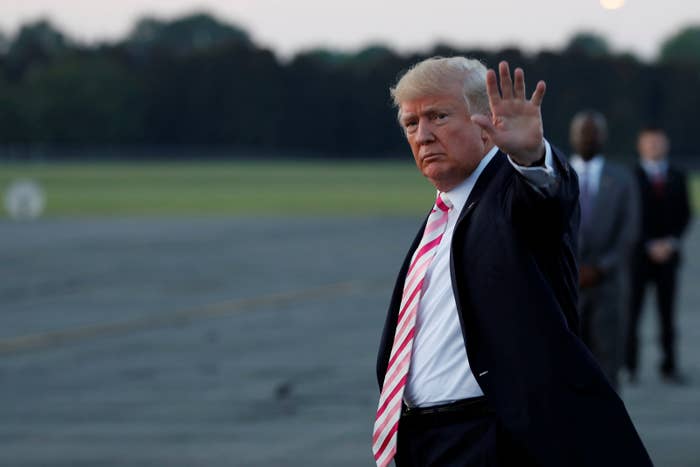 One of President Trump's judicial nominees, Leonard Grasz, has served since 2015 on the board of a Nebraska nonprofit that has defended so-called "conversion" therapy for minors.
Grasz was nominated in August to serve on the US Court of Appeals for the Eighth Circuit. According to a questionnaire that Grasz submitted to the US Senate, he has served since August 2015 as a board member of Nebraska Family Alliance, a conservative nonprofit that in 2017 published two pieces on its website criticizing states that banned so-called conversion therapy, also known as "reparative therapy," for minors.
Therapies aimed at changing an individual's sexual orientation have been widely disavowed by mainstream US scientific and medical organizations, including the American Psychological Association and the American Medical Association.
Grasz did not immediately return a request for comment, nor did the White House.
In July, Nate Grasz, policy director of the Nebraska Family Alliance, published a piece on the group's website calling state bans on conversion therapy for minors "extreme." He wrote that the science behind these types of therapies is "far from settled" and that bans deny parents the right "to seek a counselor for their children that aligns with their family values." Reached by phone on Monday afternoon, Nate Grasz confirmed to BuzzFeed News that he is Leonard Grasz's son.
"If a young person is asking questions about their sexuality or gender, outlawing a form of talk therapy helps no one. Forcing children to reach conclusions about these sensitive and important issues without even the option of talking through their questions or feelings with a licensed mental health professional serves the interests of a political agenda over those of a child," he wrote in July.
In a statement, the group's executive director Karen Bowling said that the organization "does not have an official position on conversion therapy. We have written articles expressing the belief that mental health professionals should not be criminalized for providing talk therapy."
Last month, the organization published a piece on its website by Paul Weber, president and CEO of Family Policy Alliance, who called state bans on conversion therapy for minors "a stunning attack on parental rights and religious freedom."
LGBT groups have long criticized conversion therapy as dangerous, especially to children and teenagers. The American Psychological Association in 2009 adopted a resolution saying that mental health professionals should not tell clients that they can change their sexual orientation through therapy — there was insufficient evidence backing the practice and some research suggested it could be harmful, an APA task force had found.
The most recent policy statement from the American Medical Association on the subject opposes the practice and states that the association "believes that the physician's nonjudgmental recognition of patients' sexual orientations, sexual behaviors, and gender identities enhances the ability to render optimal patient care in health as well as in illness."
Nine states and the District of Columbia have banned licensed mental health professionals from practicing conversion therapy for minors, according to a survey by the Movement Advancement Project, an LGBT rights group. In 2015, former President Barack Obama announced that he supported an end to the practice.
The elder Grasz, who professionally goes by the name Steve (his middle name is Steven), has worked at a law firm in Nebraska, Husch Blackwell, since 2002. He previously served in the Nebraska attorney general's office. He has yet to have a hearing before the Senate Judiciary Committee.
The White House has faced criticism over its judicial nominees on a number of fronts, including for their stances on LGBT rights. Earlier this month, CNN reported that one of Trump's nominees for a federal judgeship in Texas, Jeff Mateer, gave a speech in 2015 that described transgender children as evidence of "Satan's plan." Mateer also reportedly criticized state bans on conversion therapy.
Civil rights groups are opposing Mateer's nomination, as well as that of Damien Schiff for the US Court of Federal Claims. His opponents have cited, among other things, a blog post he wrote in 2009 that criticized a school district in California for a proposed anti-bullying program, writing that, "Until consensus is reached on the moral implications of homosexuality, any attempt on the part of the public schools to take sides on those implications is wrongheaded." In written responses submitted to the Senate this year, he said that his personal views on same-sex marriage would not be relevant to his job as a judge, and that he did not believe efforts by schools to protect LGBT students through anti-bullying initiatives were wrong.
Schiff was voted out of the Senate Judiciary Committee and is waiting for a vote by the full Senate.