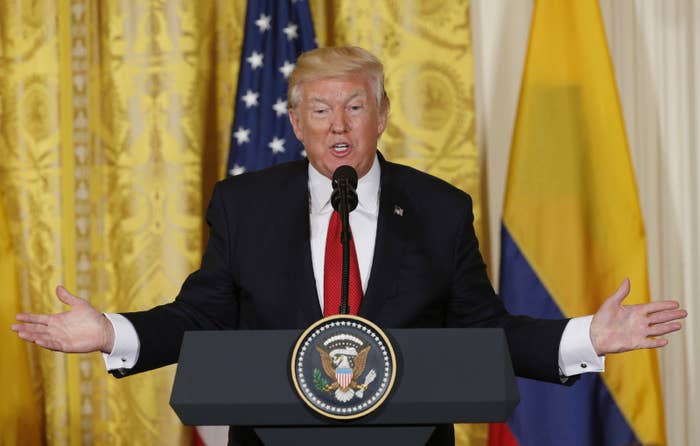 John Bush is not a fan of Sen. Ted Cruz. Bush, a conservative political blogger who went by the pseudonym "G. Morris," wrote last year during the Republican National Convention that the Texas senator was a "sore loser" for not endorsing Trump and had exercised "poor judgment."
Bush isn't just a blogger, though. A prominent lawyer in Kentucky, he's one of President Trump's nominees for a federal appeals court judgeship. Which means he'll have to testify before the Senate Judiciary Committee — of which Cruz is a member.
From 2007 to 2016, Bush wrote more than 400 posts on the blog Elephants in the Bluegrass. Most of his posts are about politics — on the national stage and in his home state of Kentucky — leaving him with a long, politically charged paper trail for the Senate to dissect as they consider his nomination to the US Court of Appeals for the Sixth Circuit.
Lawyers can deflect criticism about controversial cases they've handled by saying that they were representing the interests of their client. Sitting judges nominated to other courts can say that opinions they've written were based on earlier precedent and established law. But Bush's blog posts reflect his personal opinions, and they touch on a number of issues that could come up at his confirmation hearing.
Bush wrote about his opposition to the Affordable Care Act, which is still the subject of litigation, and in September he called for it to be repealed and replaced. He's expressed opposition to public financing of political campaigns, called the idea of trying terrorists in civilian courts "bone-headed," and wrote in 2008 that the "two greatest tragedies in our country" were slavery and abortion.
There are also some off-color remarks. Bush, as G. Morris, live-blogged the GOP convention last year, and in a July 17 post noted that there was a protest by naked women.
"You know Trump is onto something huge when he causes people to shed their underwear," Bush wrote, a few months before the Washington Post released the now-infamous tape from 2005 in which Trump bragged about sexually assaulting women.
Bush also wrote that, "The Democrats are trying to win with the same game plan as in 2008, only substitute woman for Black."
Bush did not return a request for comment on Friday. The White House and Cruz's office also did not immediately respond to questions about Bush's blogging.
Bush was a Trump supporter, according to his blog posts, although he volunteered for and contributed to Kentucky Sen. Rand Paul's presidential campaign. (Paul ended his campaign in February 2016.) During the Republican convention Bush wrote, "The decision of who will replace Justice Scalia — and perhaps others on the high court — is the top reason why the choice between Trump and Hillary is a no brainier."
Bush disclosed his blogger identity in a questionnaire that all judicial nominees submit to the Senate Judiciary Committee. He is one of five contributors listed on Elephants in the Grass; his wife, Bridget Bush, also an attorney, is the founder. His pen name, G. Morris, is a likely homage to Gouverneur Morris, a founding father who was involved in drafting the US Constitution. Bush noted in his questionnaire that he had written a historical novel about Morris that he hoped would be published.
Bush has worked at the Louisville, Kentucky–based law firm Bingham Greenebaum Doll since 1996. Before that, he spent six years in Washington, DC, at another law firm, Gibson, Dunn & Crutcher. While at Gibson Dunn, he was part of a team of lawyers who wrote President Reagan's response to an independent counsel's report about the Iran-Contra affair. He clerked for a federal appeals judge after graduating from Harvard Law School in 1989.
Bush has long been involved in Kentucky politics, and volunteered for Senate Majority Leader Mitch McConnell's re-election campaigns in 2008 and 2014. According to his questionnaire, Bush expressed his interest in a federal judgeship to McConnell and a member of Paul's staff in late 2016 and early 2017. He said that he was interviewed by lawyers from the White House and the Justice Department in February.
His nomination has already faced some pushback. Shortly after the White House announced the nomination on May 8, the liberal advocacy group Alliance for Justice highlighted remarks that Bush gave in 2009 that appeared to express his disagreement with the US Supreme Court's 1964 opinion New York Times v. Sullivan, which established protections for journalists against certain libel claims.