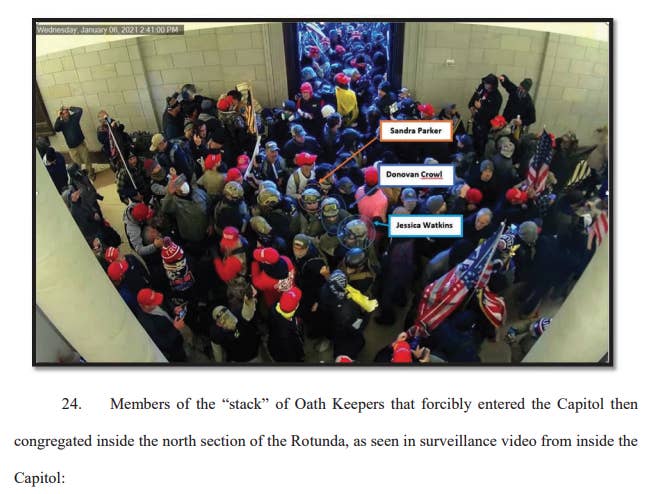 WASHINGTON — Three days after allegedly joining a mob that descended on the US Capitol on Jan. 6, Jessica Watkins wrote in a text that she'd been following the FBI's investigation as it unfolded and wasn't concerned about being arrested.
"[S]eems they're only interested in people who destroyed things," Watkins texted fellow Ohio resident Bennie Parker, 70, on Jan. 9, according to messages quoted by prosecutors in recently unsealed court documents. According to prosecutors, Parker and his wife, Sandra Parker, 60, accompanied Watkins to Washington D.C. and into the Capitol on Jan. 6. "I wouldn't worry about them coming after us," Watkins allegedly added.
Just over a week later, Watkins was arrested in Ohio. An Army veteran and member of the Oath Keepers, a right-wing militia organization that focuses recruitment on the military and law enforcement, Watkins was accused of joining a conspiracy of Oath Keepers members who planned in advance for violence on Jan. 6 and descended on the Capitol in an "organized and practiced fashion." She and two others were indicted on Jan. 27.
On Friday, a grand jury in Washington, DC, handed down a new indictment that added six more people from around the country to the case, including the Parkers. Others included a Florida couple, Kelly Meggs, the "self-described leader" of the Oath Keepers' chapter in Florida and his wife, Connie, as well as Graydon Young, 54, of Englewood, Florida, and his sister, Laura Steele, 52, from Thomasville, North Carolina. All six are charged with conspiring with Watkins and her original co-defendants, Thomas Caldwell and Donovan Crowl, to attack the Capitol to stop Congress from certifying the results of the presidential election
Prosecutors wrote that Parker, 70, texted at length with Watkins leading up to Jan. 6 and was listed in Watkins' phone as "Recruit Ben - OSRM," an acronym that the government says stood for Ohio State Regular Militia.
In the indictment, prosecutors describe the Oath Keepers as a "large but loosely organized collection of individuals, some of whom are associated with militias," and note that some Oath Keepers members "believe that the federal government has been coopted by a cabal of elites actively trying to strip American citizens of their rights." The document lays out a small but energetic effort to recruit and organize people willing to travel to Washington in tactical gear and body armor to protest what they felt was a stolen election.
As early as Nov. 9 — less than a week after the election — Watkins was sending text messages inviting people to her group's basic training in Ohio, telling one person, "l need you fighting fit by innaugeration."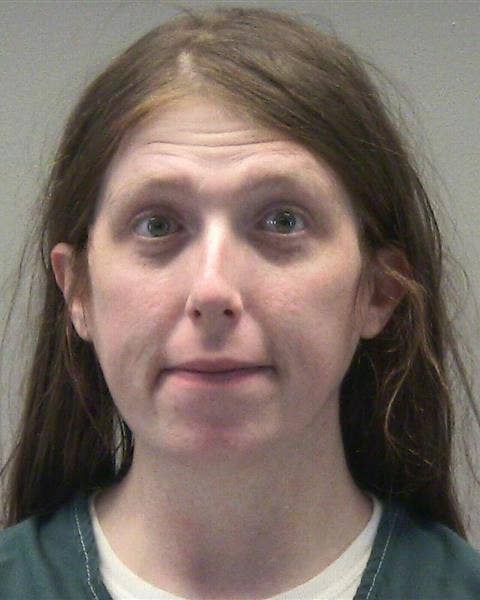 On Dec. 27, according to the indictment, Parker, who lives about 75 miles from Watkins in Ohio, texted her, "I may have to see what it takes to join your militia, our is about gone." He added that he and his wife, Sandra Parker, 60, were "like minded."
On Jan. 3, prosecutors said, Watkins texted Bennie Parker that the group they'd be traveling with to Washington would not be bringing firearms, and that a separate group known as "QRF," or "quick reaction force," would be the "law enforcement members of Oathkeepers." Later that day, however, Watkins sent another message telling him to pack khaki or tan pants and clarified, "Weapons are ok now as well. Sorry for the confusion."
Parker replied: "We don't have any khakis We have jeans and our b d u's So I can bring my gun?" (Prosecutors wrote in a footnote that "B.D.U." appeared to refer to camouflaged combat clothing, or "Battle Dress Uniform.") Prosecutors didn't say if Watkins responded to his question about bringing a gun, but he's not charged with a weapons offense.
According to the Justice Department, Meggs also informed his group in advance of Jan. 6 that they did not need to bring their own weapons because a "quick reaction force" would be 10 minutes away. Last week prosecutors said that Caldwell had at one point discussed plans to use a boat to ferry weapons across the Potomac River to Washington, a city that prohibits most firearms.
"Trump said It's gonna be wild!!!!!!! It's gonna be wild!!!!!!! He wants us to make it WILD that's what he's saying. He called us all to the Capitol and wants us to make it wild!!! Sir Yes Sir!!! Gentlemen we are heading to DC pack your shit!!" Meggs posted on Facebook in late December, according to prosecutors.
FBI documents unsealed on Thursday included images from a surveillance camera at a Virginia hotel that prosecutors say show Meggs and his wife with Watkins and Crowl early in the morning on Jan. 6, as well as photos of them outside the Capitol.
Prosecutors also alleged that surveillance footage inside the Capitol captured several members of the group as part of a line, or "stack," of people wearing military fatigues and helmets who moved together into the Capitol. Caldwell was not among them, but allegedly participated in planning their trip to DC, communicated with other people about strategizing to bring weapons, and sent messages about participating in the assault. Prosecutors have conceded that he was not a dues-paying member of the Oath Keepers but have forwarded evidence that he was in close communication with the group's leadership. Caldwell, for his part, has denied all the charges against him.
Like Caldwell, Bennie Parker did not appear to enter the Capitol building. According to prosecutors, he remained outside, texting Watkins at 5:43 p.m. to ask if she and his wife were OK.
Prosecutors seem particularly concerned about the potential destruction of evidence in the case. The new indictment charges both Caldwell and Young with tampering with documents, a form of obstruction. Caldwell is accused of retracting and deleting messages containing photographs on Facebook soon after the Capitol insurgency, while Young is accused of deleting his Facebook account entirely on Jan. 8.
UPDATE
This post has been updated with new information from the Justice Department about the superseding indictment.