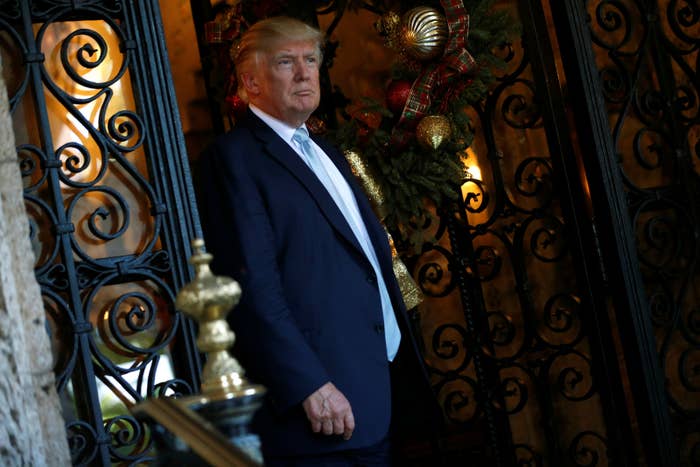 WASHINGTON — President-elect Donald Trump has no plans to settle his lawsuit against a celebrity chef who pulled out of opening a restaurant in one of Trump's hotels, a lawyer for the Trump Organization told a judge on Tuesday.
Trump is suing restaurateur Geoffrey Zakarian, who canceled a deal for a restaurant in Trump's hotel in downtown Washington after Trump made disparaging comments about Mexicans and immigrants at a campaign event in 2015.
Trump has resolved several lawsuits that involve his eponymous companies since the election in November. But Rebecca Woods, a lawyer in Washington representing the Trump Organization in the lawsuit against Zakarian, told a DC Superior Court judge on Tuesday that mediation had been unsuccessful so far and that the two sides had reached an "impasse."
The lawyer representing Zakarian's company, Deborah Baum, said she agreed with Woods.
A bench trial before DC Superior Court Judge Brian Holeman could take place by the end of 2017. No trial date has been set, but the parties are due back in court on May 17 for a pretrial hearing.
The Trump Organization is pursuing multiple cases in Superior Court related to the DC hotel. Trump is suing restaurateur Jose Andrés, who, like Zakarian, pulled out of plans for a restaurant at the hotel because of Trump's campaign remarks about immigrants.
Trump accused Zakarian and Andrés of breaching their contracts. The chefs say that Trump broke the deal with his campaign comments, arguing that his remarks imperiled the future success of the restaurants.
Trump also is challenging taxes assessed by the District of Columbia on the hotel property, which Trump is leasing from the US General Services Administration.

Trump during the campaign spoke about his aversion to settling lawsuits, but since the election he's done just that. In November, Trump agreed to pay $25 million to settle three lawsuits that accused the now-defunct Trump University of fraud. Trump tweeted at the time that he thought he could have won the cases, but agreed to settle in order to "focus on our country."
Trump last month resolved disputes with labor unions representing workers at his Las Vegas hotel, and dropped a case in the US Court of Appeals for the DC Circuit challenging a finding by the National Labor Relations Board of labor law violations.
But the suits against Zakarian and Andrés press on. Last month, the judge in the Andrés case denied Trump's request to stop Andrés' lawyers from questioning him. The deposition is slated to take place next week in New York. Trump was already deposed by Zakarian's lawyers over the summer.
A pretrial court hearing in the Andrés case is scheduled for March 7.