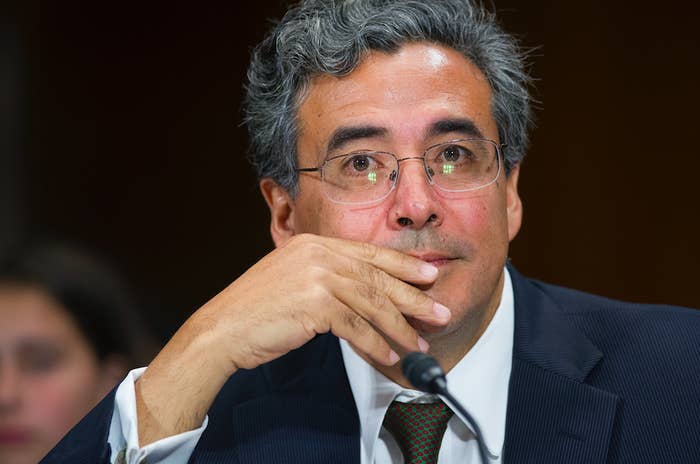 Newly released Justice Department emails shed light on how the Department of Justice responds to ethical dilemmas — and who makes the final call about whether to grant ethics waivers for senior officials.
The emails, disclosed on Friday in a public records lawsuit, involve former Acting Solicitor General Noel Francisco's role in litigation over President Trump's first attempt at a temporary ban on travel to the United States from several majority-Muslim countries. Lawyers from Francisco's former law firm, Jones Day, had filed a brief in the case in early February. Jones Day's participation raised questions about whether that created impartiality issues for Francisco.
The emails show that Scott Schools, an associate deputy attorney general and the highest-ranking Justice Department official not serving as a political appointee, granted a waiver to Francisco that allowed him to continue working on the case. Schools agreed at the time with the recommendation of the head of the department's ethics office, Cynthia Shaw.
Schools is responsible for deciding whether to grant certain types of ethics waivers to senior-level officials, DOJ spokesperson Sarah Isgur Flores said in an email. Former officials told BuzzFeed News that Schools is a respected DOJ veteran, having previously spent nearly two decades in the department. He returned to the department in the fall after three years in private practice, a move that former officials said was widely met with approval from department lawyers and alumni.
It isn't clear whether Schools and Shaw were involved in reviewing ethics issues associated with former FBI director Robert Mueller III's new job as special counsel in charge of the investigation into Russian influence in the 2016 election. A spokesperson said, however, that a similar process was employed.
Peter Carr, the DOJ spokesman for the special counsel team, said in an email only that "Department ethics experts" reviewed Mueller's situation — lawyers at Mueller's former firm, Wilmer Cutler Pickering Hale and Dorr, represent individuals who are reportedly part of the Russia investigation, including Trump's son-in-law and senior adviser Jared Kushner — "and determined that Mr. Mueller's participation in the matters assigned to him is appropriate."
Schools oversees a broad range of ethics issues at the Department of Justice. Former DOJ lawyers said that the top career official is traditionally tasked with handling sensitive personnel matters. Peter Keisler, a former acting US attorney general, said that lawyers in Schools' position serve as the "institutional voice for the standards and practices and ideals of the department" across political administrations.
"On … experience and judgment and integrity, everyone always gave [Schools] the highest marks," Keisler said.
Schools served as an assistant US attorney, a US attorney in South Carolina and California, and a senior official at the Justice Department before he left in 2013 to work at a private law firm in Charleston. He came back to DOJ in the fall to serve under then-Deputy Attorney General Sally Yates, replacing the late David Margolis, a revered career official who died in July 2016.
Schools has been involved in high-profile matters over the years. In the aftermath of Trump's firing of Yates as acting attorney general at the end of January, it was Schools who sent a letter to Yates' lawyer in March advising him that Yates would need to consult with the White House about testifying before a congressional committee.
In 2012, Schools ordered the suspensions of two federal prosecutors accused of ethical misconduct in connection with the prosecution of the late Alaska senator Ted Stevens. (The suspensions were later reversed by an administrative judge.) Ken Wainstein, a former senior DOJ official now in private practice, represented one of the prosecutors, putting him at odds with Schools, but in a phone call with BuzzFeed News on Tuesday he only had positive things to say.
"The fact that people mention Scott in the same breath as David Margolis tells you everything you need to know about the guy and the quality of his character," Wainstein said. (Wainstein is reportedly a candidate for the FBI director job.)
"Exigencies of the matter"

The ethics regulation at issue for Francisco is a catch-all provision that bars federal employees from participating in matters that involve a former employer or business partner within a year of leaving that job. If there is a conflict or concerns about the appearance of impartiality, the regulation allows agency officials to grant an exception if the government's interests outweigh ethical concerns.
Francisco left Jones Day in mid-January to join the Justice Department as acting solicitor general, the department's top appellate lawyer. On Jan. 27, Trump signed the first version of the travel ban executive order. After a federal district judge in Seattle issued an injunction blocking the ban on Feb. 3, the Justice Department appealed to the US Court of Appeals for the Ninth Circuit. Francisco, along with other DOJ lawyers, entered his appearance in the Ninth Circuit on Feb. 4.
At around 2 p.m. on Feb. 6, lawyers from Jones Day filed an amicus, or "friend of the court," brief on behalf of law professors supporting challengers to the travel ban. The Justice Department was due to file papers in the case later that day.
According to emails released by DOJ, Cynthia Shaw, director of the Justice Department's Departmental Ethics Office, sent an email to Schools on Feb. 6 at 4:11 p.m. explaining the ethics issues at play. Shaw recommended authorizing Francisco to work on the brief. At 4:30 p.m., Schools replied saying he approved the waiver.
"In particular, the exigencies of the matter and his prior extensive work on the matter make it impractical to reassign the matter at this point," Schools wrote.
The government's brief was entered on the Ninth Circuit docket at 5:52 p.m., with a footnote explaining that Francisco and Chad Readler, the acting head of the Civil Division and a former Jones Day lawyer, wouldn't be signing it "out of an abundance of caution." A Justice Department spokesperson declined to comment on Francisco's decision not to sign the brief.
The emails show other ethics issues that came up over the next two weeks. On Feb. 7, Schools granted another waiver to Francisco — under a law that deals with financial conflicts of interest by federal employees — after Francisco told officials he realized he held stock in companies that had joined an amicus brief in the travel ban case.
The emails show that Shaw did a more in-depth analysis of possible ethics issues associated with Jones Day's involvement in travel ban-related immigration, beyond the "exigencies" at play in the hours before DOJ's brief was due on Feb. 6. She recommended Schools authorize Francisco to work on these cases, which he did on Feb. 9.
On Feb. 19, the emails show that Schools granted a waiver for Francisco to work on a case in the US Supreme Court, Jennings v. Rodriguez, that dealt with the detention of noncitizens facing removal from the US; Jones Day had filed an amicus brief.
The Justice Department published the emails between Shaw, Schools, and Francisco in a Freedom of Information Act lawsuit filed by the government watchdog group American Oversight.
Francisco is no longer the acting solicitor general. He was nominated for the permanent solicitor general job in March, and federal law bars him from continuing to serve in an acting capacity while his nomination is pending. The Senate Judiciary Committee is expected to vote this week on whether to send his nomination to the full Senate.