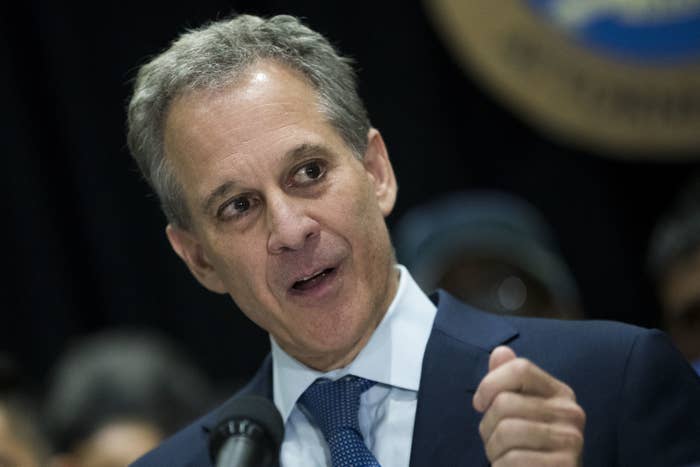 Democratic New York Attorney General Eric Schneiderman won't comment on whether his office is working with special counsel Robert Mueller III, but said it would be "politically catastrophic" if President Donald Trump tried to interfere with the probe.
In an interview on Wednesday for AM to DM, BuzzFeed News' new morning show, Schneiderman acknowledged that the president lacks the power to pardon people for state crime convictions — a fact that has fueled speculation about whether and to what extent his office might be working with Mueller's team. But Schneiderman said he hoped that wouldn't be a factor.
"I think it would politically catastrophic if [Trump] either tried to shut down the special counsel investigation or starts pardoning people that are indicted for serious federal crimes," Schneiderman told BuzzFeed News editor-in-chief Ben Smith.
In August, Politico reported that Mueller was working with Schneiderman on an investigation into former Trump campaign chairman Paul Manafort. Schneiderman said he could not comment on ongoing investigations, but that any communication among prosecutors would be "unremarkable."
"I have a lot of regard for the special counsel. He's got a broad mandate and appears to be pursuing it, and the fact that there's occasional communication with other prosecutors is really wholly unremarkable," he said.
Schneiderman has long been on Trump's bad side. Schneiderman pursued fraud claims against Trump over the now-defunct Trump University, which ended in a $25 million settlement earlier this year. Before Trump was calling Mueller's investigation into Russian influence in the 2016 election a "witch hunt" on Twitter, he was using the platform to lash out against Schneiderman, calling him, on different occasions, a "real dope," "total loser," and "lightweight."
Schneiderman called Trump a "master distractor" and had this advice for Mueller: "Don't let him distract you."
"If there are crimes there, special counsel Mueller should pursue them, go find them, and follow through with everything he's got," he said.
Schneiderman is part of a group of Democratic state attorneys general who are suing the Trump administration over the president's decision to end the Deferred Action for Childhood Arrivals, or DACA, program. He said he was "hopeful" that Congress would reach a deal on DACA, but if not, "we're in court and we'll pursue that aggressively."