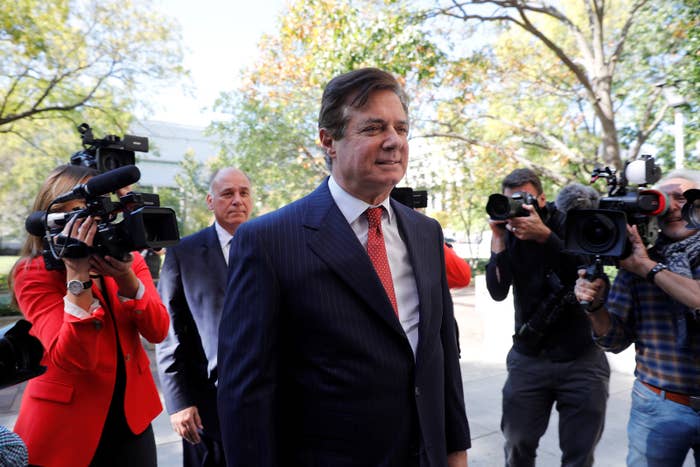 Former Trump campaign chair Paul Manafort — under house arrest since late October — was trying to ghostwrite an editorial in recent weeks about his political work for Ukraine, working with a "Russian colleague" with ties to a Russian intelligence service, special counsel prosecutors claimed in a court filing on Monday.
Such an editorial, if published, would have violated an order from the judge barring the parties and the lawyers from making statements about the case that might prejudice the proceedings, prosecutors said.
The editorial won't be published. Special counsel Robert Mueller's team told the court that Manafort's lawyers said they would stop the piece from being published after the government alerted them to the situation on Nov. 30.

But the revelation complicates Manafort's bid to have the judge lift the house arrest that he's been under since his first court appearance on Oct. 30. Prosecutors had agreed to support a proposed bail package Manafort submitted to the court last week — he proposed putting up four properties with a net value of $11.65 million — but on Monday the government said that given the editorial situation, they were no longer convinced that the proposed bail package would be enough.
"Because Manafort has now taken actions that reflect an intention to violate or circumvent the Court's existing Orders, at a time one would expect particularly scrupulous adherence, the government submits that the proposed bail package is insufficient reasonably to assure his appearance as required," special counsel prosecutor Andrew Weissmann wrote.
An attorney for Manafort did not immediately return a request for comment.
Prosecutors aren't asking for Manafort to be incarcerated while the criminal case against him goes forward, but they are asking the judge to now consider tougher release conditions, including continuing GPS monitoring and requiring him to post assets that aren't already subject to forfeiture in the criminal case. Manafort's eight-bedroom house in Bridgehampton, New York, which Manafort had proposed pledging as part of his bail package, is already covered under the government's forfeiture action, and prosecutors are asking for other assets.
The government's filing on Monday says that prosecutors learned about Manafort's alleged ghostwriting efforts late last week. He was working on the draft "with a long-time Russian colleague of Manafort's, who is currently based in Russia and assessed to have ties to a Russian intelligence service," according to the special counsel's office. The government did not name the Russian colleague, and has asked the judge to allow prosecutors to file evidence supporting the accusations under seal.
Even if the editorial were "entirely accurate, fair, and balanced," it would still violate US District Judge Amy Berman Jackson's gag order, because it was aimed at swaying public opinion, prosecutors argued.
"It compounds the problem that the proposed piece is not a dispassionate recitation of the facts," the government wrote.
Prosecutors did not provide any details about what the editorial would have said, beyond the fact that it would address Manafort's political work in Ukraine and would be in English.
Manafort and his longtime associate Rick Gates were charged in a 12-count indictment that accused them of working as unregistered agents for the Ukrainian government and Ukrainian officials, and of laundering millions of dollars to conceal their profits from that work. Manafort and Gates pleaded not guilty to the charges.